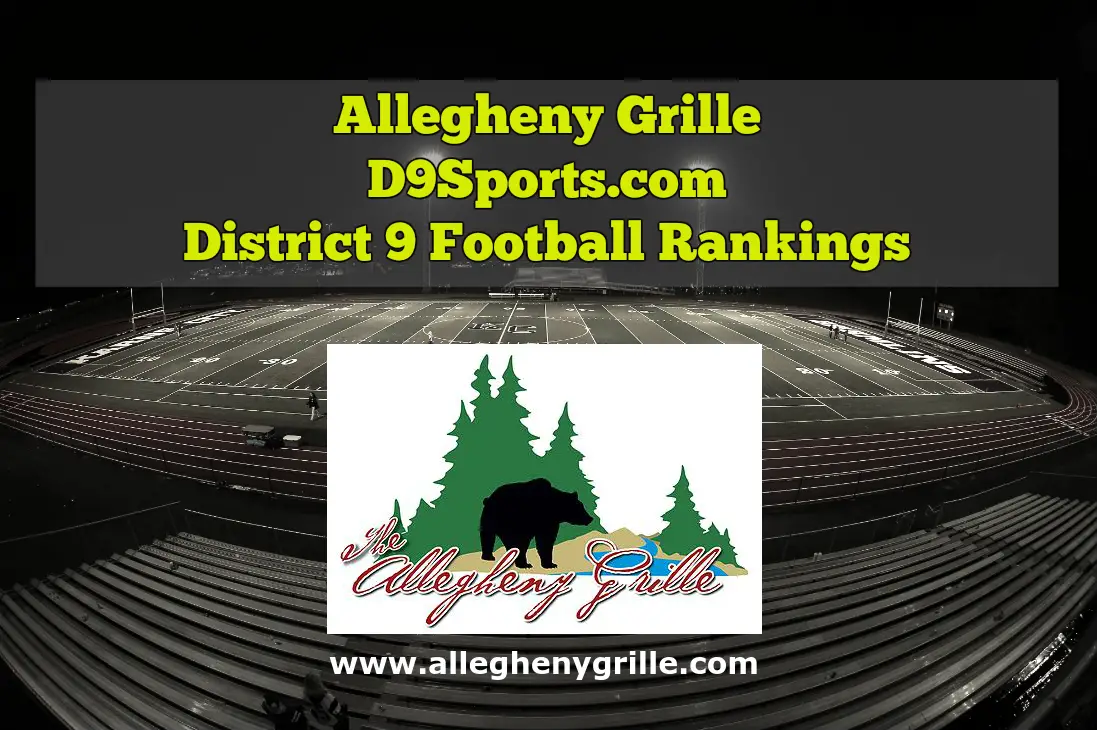 CLARION, Pa. – With eight of last week's ranked teams all winning this week, there is very little change in the Oct. 19 Allegheny Grille of Foxburg D9Sports.com District 9 Football Rankings.
One new team does move into the Top 10 with Port Allegany (4-3) making its first appearance in the rankings at No. 10 having won three straight and four of five.
The only other change in the rankings was St. Marys and Curwensville swapping places with the Dutch (6-1) moving up one spot to No. 6 after a win over Punxsutawney and the Tide (5-2) dropping one spot to No. 7 after a loss to No. 3 Kane (7-0).
Karns City (7-0) solidified its No. 1 spot with a big road win at Erie Central Tech, while Clearfield (6-1) is No. 2 after a win over Tyrone.  
Rounding out the Top 10 are Elk County Catholic (7-0) at No. 4, DuBois (4-3) at No. 5, Brockway (5-2) at No. 8 and Redbank Valley (5-2) at No. 9.   
The big matchup in the Top 10 this week occurs Saturday night in St. Mays when Kane travels to ECC with a chance to secure the AML South title with a victory. Meanwhile, Friday, Brockway is at Curwensville.
The Allegheny Grille is a restaurant situated alongside the Allegheny River in Foxburg with breathtaking views, stellar service and fine cuisine. It's open daily at 11 a.m. and on Sunday's features the "Best Brunch in Town" from 11 a.m. to 4 p.m. It's the perfect spot for your luncheons, dinner, meetings, wedding or anything your heart desires. For more information or to make a reservation, call the Allegheny Grille at 724-659-5701 or visit it on the web at www.alleghenygrille.com.
2015 ALLEGHENY GRILLE IN FOXBURG D9SPORTS.COM DISTRICT 9 FOOTBALL TOP 10 RANKINGS – Oct. 19 (After Week 7)
| | | | |
| --- | --- | --- | --- |
| RANK | TEAM | 2015 RECORD | PREVIOUS RANK |
| 1 | Karns City | 7-0 | 1 |
| 2 | Clearfield | 6-1 | 2 |
| 3 | Kane | 7-0 | 3 |
| 4 | Elk County Catholic | 7-0 | 4 |
| 5 | DuBois | 4-3 | 5 |
| 6 | St. Marys | 6-1 | 7 |
| 7 | Curwensville | 5-2 | 6 |
| 8 | Brockway | 5-2 | 8 |
| 9 | Redbank Valley | 5-2 | 9 |
| 10 | Port Allegany | 4-3 | NR |