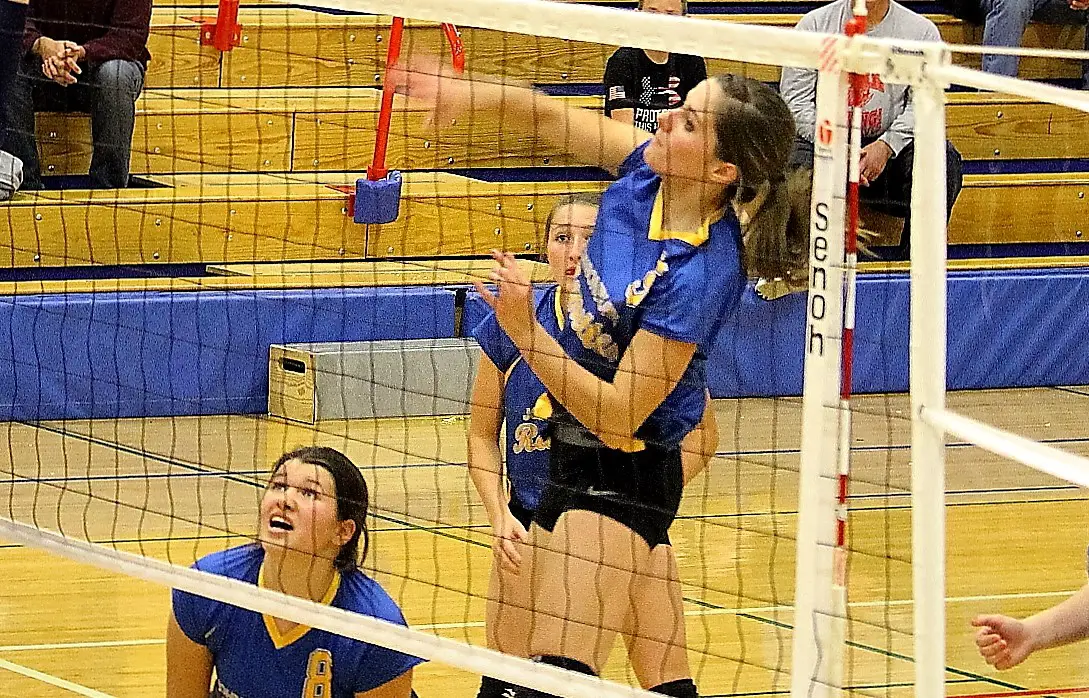 Oct. 25 volleyball recaps.
For soccer playoff recaps from Oct. 25, click here.
Photo of Johnsonburg's Nicole Myers in action Tuesday vs. Kane. Photo by Rich Quiggle. 
SMETHPORT 3, GALETON 0
GALETON, Pa. – Abbey Woodard and Katie Treat combined for 23 kills to lead visiting Smethport to a 3-0 (25-20, 25-16, 25-18) win at Galeton.
Woodard had 12 kills, three assists, three blocks and two aces for the Lady Hubbers, while Treat added 11 kills, eight aces, seven digs and six blocks.
Meagan DeLuca ran the Smethport offense with 16 set assists.
KANE 3, JOHNSONBURG 2
KANE, Pa. – In an exciting five-set match, Kane held off visiting Johnsonburg, 3-2 (18-25, 26-24, 25-14, 22-25, 15-9).
Alyssa Zampogna and Trinity Clark both had kills/digs double-doubles with Zampogna getting 13 kills and 12 digs to go with six blocks and Clark adding 11 kills and 18 digs.
Ella Marconi chipped in 14 kills and four blocks and Marcie Stanisch 23 digs for the Lady Wolves.
Ashley Jordan, 18 set assists, 18 digs, and Hannah Buhl, 24 set assists, eight digs, ran the Kane offense.
Nicole Myers led Johnsonburg with eight kills, six digs and two aces, while Brianna Quiggle added 22 digs and two aces. Also for the Ramettes, Skylar Sherry and Jensen Furlong each had seven kills, Rylee Casilo chipped in 11 set assists and Jenna Morgan had two aces.
ELK COUNTY CATHOLIC 3, RIDGWAY 0
ST. MARYS, Pa. – Elk County Catholic locked up the top seed in the upcoming District 9 1A girls' volleyball playoffs with a 3-0 (24-23, 25-18, 25-18) over visiting Ridgway.
The Lady Crusaders victory coupled with Clarion's loss to Altoona secured the top seed for unbeaten ECC, which gets the No. 1 seed based on having an unbeaten record through the volleyball seeding deadline of Tuesday.
Cassidy Cunningham led ECC with 12 kills, while Reilly Herzing added 11 kills and Taylor Newton six kills. Maggie Dinsmore chipped in three aces.
Casey Woodford and Emily Fullem each had four kills for Ridgway, while Kylee Wall added six set assists.
UNION 3, MONITEAU 0
RIMERSBURG, Pa. – Behind a monster night from Frankee Remmick, Union swept past visiting Moniteau, 3-0 (25-23, 25-23, 25-23) to most likely secure a District 9 1A playoff spot.
The win puts the Golden Damsels a game over .500 (8-7). The D9 playoffs is an open-system playoff (meaning anyone can go regardless of record) but most schools have a .500 rule.
Remmick had 20 kills to lead the victory while adding six digs.
Also for Union, Bryn Davis chipped in six kills, and Hannah Atzeni had 31 set assists and three aces.
REDBANK VALLEY 3, PUNXSUTAWNEY 1
PUNXSUTAWNEY, Pa. – Behind 10 kills, seven blocks and two aces from Heather Traister, visiting Redbank Valley overcame a first-set loss to beat Punxsutawney, 3-1 (16-25, 25-22, 26-24, 25-21).
Macy King added eight kills for the Lady Bulldogs, while Emily Gourley had four kills and four blocks. Hannah Adams chipped in 21 digs and three aces, and Carissa Rearick added 28 set assists and was key in serving in the fourth set.
A-C VALLEY 3, KEYSTONE 0
KNOX, Pa. – Josey Terwilliger 14 kills and eight digs helped visiting A-C Valley to a 3-0 (25-15, 25-5, 25-19) win at Keystone.
Olivia Boocks added nine kills, eight digs and four aces for the Lady Falcons who also got six kills from Cassie Schwalm and Kylee Eaton. Eaton also had 11 digs, while Sydney Rankin had 16 set assists.
On Senior Night for Keystone, senior Kaci Weaver had four kills.
COUDERSPORT 3, AUSTIN 0
AUSTIN, Pa. – Ally Easton and EmmaRae Easton both had eight kills to pace visiting Coudersport to a 3-0 (25-10, 25-9, 25-7) win at Austin.
Joplin Osgood paced the Lady Falcons defense with 14 digs and also served well with seven aces, Macy Gleason chipped in 13 digs, Ady Page had eight digs, three aces and two kills and Skyler Vanwagenen added three kills.
BRADFORD 3, ST. MARYS 2
ST. MARYS, Pa. – Morgan Roggenbaum had 46 set assists, three digs, six kills, two blocks and two aces to lead visiting Bradford to a 3-2 (25-21, 20-25, 19-25, 25-13, 15-11) win at St. Marys.
Kam Piscitelli led the offense with 29 kills while adding four aces, four digs and two blocks for the Owls, while Josie Kelly chipped in seven kills, a block and a dig. Bryn Manion chipped in eight digs, four assists and two kills, and Tori Moonan had four kills.
DUBOIS 3, BROCKWAY 0
DUBOIS, Pa. – Thanks to 10 kills and five aces from Danessa Allison, DuBois swept visiting Brockway, 3-0 (25-17, 25-9, 25-23).
Ashley McCluskey ran the offense for the Lady Beavers with 26 set assists while adding five aces, and Erin Crawford led the defense with 15 digs.
PORT ALLEGANY 3, CAMERON COUNTY 0
EMPORIUM, Pa. – Mackenzie Burr's 10 kills helped visiting Port Allegany to a 3-0 (25-12, 26-24, 25-14) win at Cameron County.
Erin Stauffer added eight kills, Kayla Pescock five kills and three blocks and Mira Terrette 29 set assists for the Lady Gators.
ALTOONA 3, CLARION 0
CLARION, Pa. – Despite 21 kills and 11 digs from Olivia Burns, shorthanded Clarion dropped a 3-0 (25-21, 27-25, 25-15) decision to visiting Altoona.
The loss, the Lady Cats first of the year, cost Clarion a shot at the top seed in the District 9 1A playoffs, which will now go to unbeaten Elk County Catholic.
Freshman Kate Constantino added four kills and eight digs for Clarion, which was playing its first match without Maya Thornton, who was hurt in the Lady Cats win over Erie McDowell Thursday.
Gloria Kroh also had 29 set assists and 10 digs for Clarion.
BROOKVILLE 3, DUBOIS CENTRAL CATHOLIC 0
BROOKVILLE, Pa. – Brookville rallied past visiting DuBois Central Catholic for a 3-2 victory.
The Lady Raiders trailed 2-1 but won won the fourth set 25-18 and the fifth 15-4. Brookville also took the first set, 26-24, before DCC went ahead with a pair of 25-23 wins in the second and third sets.
Caitlyn Park led Brookville with seven kills and six blocks , while Olivia Pearson added six kills and seven blocks. Elliette Park and Eden Craig both chipped in three aces with Craig adding five set assists.
Macey Hanes paced DCC with 11 kills, while Libby Maurer added nine kills. Ashley Wruble had seven aces.