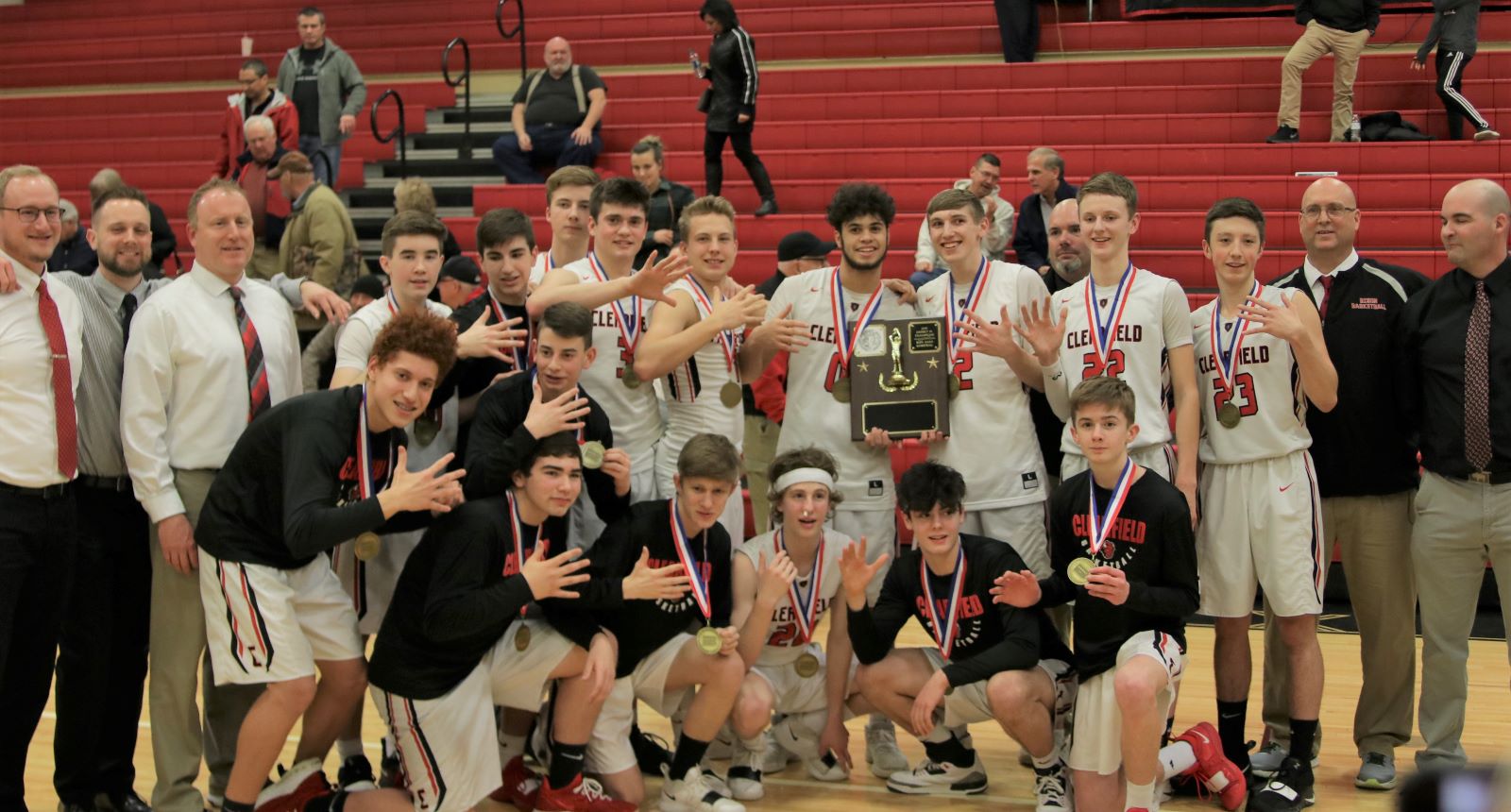 DUBOIS, Pa. – Late free throws helped top-seeded Clearfield claim its fifth consecutive District 9 title and its third in a row in Class 4A with a thrilling 63-61 victory over second-seeded Bradford at DuBois High School Wednesday.
(Photo by Jared Bakaysa of JB Graphics. See more of Bakaysa's work here)
"It means everything," Clearfield's Cade Walker said. "It's not just us, it's everyone who walked before us. It's a program thing and not just our team."
Watch all of Walker's postgame thoughts.
Leading 59-56 with 16 seconds left, Andrew Lopez went 2-for-2 at the line to give the Bison a 61-56 lead.
Tyler Gigliotti answered back for Bradford (11-13) with a quick two to make it 61-58, but the Owls were still forced to foul and Lopez found himself at the line with five seconds left. Just like before, he went 2-for-2 and the Bison were up 63-58.
"Huge," Clearfield head coach Nate Glunt said of Lopez' late free throws. "At one point, we missed (some) free throws. But he came in cold off the bench and makes the foul shots."
Lopez finished the game with 10 points, five of which came in the fourth quarter.
"He's a clutch player," Glunt said. "He really concentrates in practice. He shoots two game foul shots every day in practice and for him to step up its a credit to how hard he works."
Clearfield (13-10) jumped out to a 21-14 lead at the end of one that was highlighted by a behind the back pass from Keegan Hess to Taye Lynch, who finished with a reverse left-handed layup.
Cade Walker netted six of his game-high 13 points in the first quarter.
Bradford outscored the Bison 13-9 in the second quarter with Caleb Nuzzo hitting a three-pointer as time expired to cut the deficit to 30-27 going into halftime.
The Owls got the early edge to start the third going on a 9-3 run to put them up 36-33. Clearfield answered back with a Walker three to tie the game again followed by a Matt Pallo layup to put the Bison back up, 38-36.
A pair of free throws from Walker at the end of the quarter to give the Bison a 42-41 edge at the end of three.
The Owls reclaimed the lead in the fourth quarter after a Gavin Babcock layup to put them up 44-42 with 5:25 left to play.
However, back-to-back 3-point plays from Lynch and Hess put the Bison up 48-44 and the Owls were never able to reclaim the lead.
Walker, who was held scoreless in the fourth quarter, finished the game with a team-high 13 points for the Bison. Karson Rumsky and Hess each netted 12 apiece and Lynch added 10.
Despite the loss, Gigliotti tallied a game-high 30 points to pace the Owls and went eight for nine on his free-throws. Steven Knowlton added 15 points and Blake Bryant and Nuzzo chipped in for six apiece.
The Bison will play the WPIAL runner-up, either New Castle or Quaker Valley, in the first round of the PIAA playoffs Friday, March 8, at a site and time to be announced.
CLEARFIELD 63, BRADFORD 61
Score by Quarters
Bradford 14 13 14 20 – 61
Clearfield 21 9 12 21 – 63
BRADFORD – 61
Gavin Babcock 1 0-0 2, Donny Pattison 0 2-2 2, Steven Knowlton 3 2 2-2 15, Evan Schmidt 0 0-2 0, Tyler Gigliotti 11 8-9 30, Caleb Nuzzo 1 1 1-2 6, Blake Bryant 2 2-2 6. Totals 21 15-19 61
CLEARFIELD – 63
Taye Lynch 4 2-2 10, Cade Walker 2 2 3-3 13, Karson Rumsky 2 1 4-6 12, Keegan Hess 5 2-5 12, Andrew Lopez 2 6-8 10, Harrison Peacock 0 0-0 0, Matt Pallo 3 0-0 6, Barrett Kline 0 0-0 0, Luke Winters 0 0-0 0. Totals 21 17-24 63
Three-pointers:Bradford 4 (Knowlton 3, Nuzzo 1), Clearfield 4 (Rumsky 2, Walker 2)