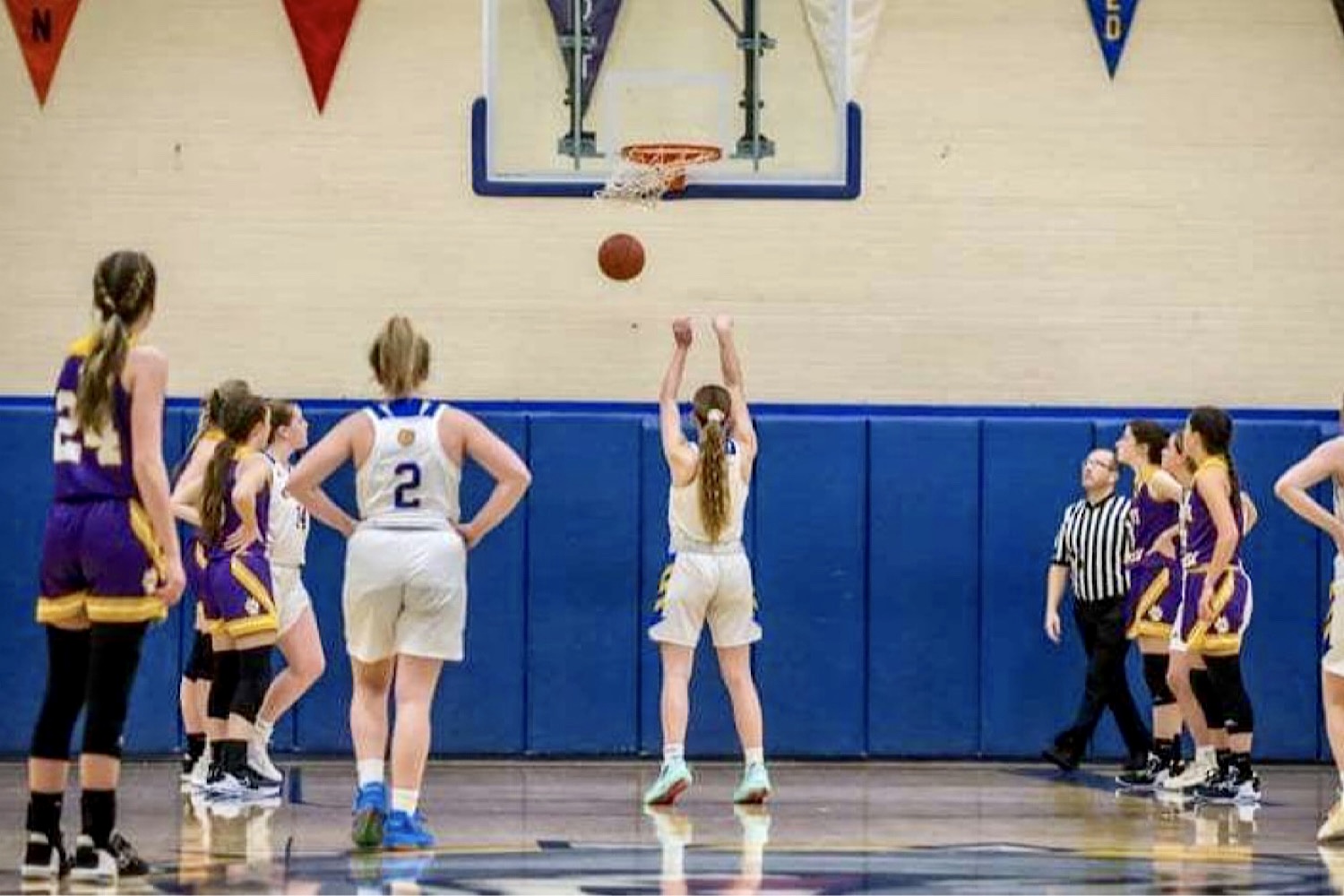 CLARION, Pa. (EYT/D9) — Tippin is sure to be rockin' on Saturday afternoon.
Otto-Eldred fans travel well and they should be on the campus of PennWest Clarion in full force for a pair of PIAA quarterfinal basketball games involving the Terrors.
(Pictured above, Katie Sheeler sinks a free throw against North Clarion/photo by Barb Close)
The Otto-Eldred boys open up the doubleheader with a quarterfinals clash with District 10 champion Erie First Christian Academy in the quarterfinal round of the Class 2A playoffs at 2 p.m..
The Terror girls then take on District 5 champ Berlin Brothersvalley in the quarterfinal round of the Class A tournament at 3:30 p.m.
Combined, the boys and girls teams are 50-4 this season.
The boys, the District 9 runner-up, will be making their first appearance in the state quarterfinals. The girls, the D9 champs, made it to the quarterfinals last year, but lost to Kennedy Catholic.
Here is a look at both games:
BOYS
CLASS 2A
WHO: Otto-Eldred (25-2) vs. Erie First Christian Academy (16-10)
WHERE: Tippin Gymnasium at PennWest Clarion
TIP-OFF: 2 p.m.
HOW THEY GOT HERE: Otto-Eldred beat Serra Catholic, 61-44; Erie First Academy beat Northgate, 67-52.
THE SKINNY: Erie First Christian Academy has a male enrollment of only 25, but play up in Class 2A. … The school's enrollment is a mix of Erie natives and foreign exchange students, who live on campus in dorms. That mix is reflected in the makeup of the team. Senior guard Anthony Collins (12.5 ppg) and freshman shooting guard Avery Collins (13.8 ppg) are from Erie. Their older brother, Aaron, was a 1,500-point scorer for the Eagles when he played. Louis Liu and Stefano Galiera, who are also starters, are foreign students. Sixth-man Jesse Jong (12.5 ppg) is from France. … The Eagles won their first-ever District 10 title, knocking off Mercer, 49-44, before winning two state playoff games to reach the quarterfinals for the first time in school history. … Don't let Erie First's record fool you. The schedule was challenging with the likes of much bigger schools such as Cathedral Prep (5A), General McLane (4A), Fort LeBoeuf (3A), North East (3A) and Mercyhurst Prep (3A) on the Eagles' docket. … A 21-8 third-quarter advantage broke open the game and helped Otto-Eldred move on with a win over Serra Catholic. … Shene Thomas led the way with 16 points for the Terrors, who are also playing in their first state quarterfinal game. … Landon Francis and Brax Caldwell each scored 13 in the second-round victory.
GIRLS
CLASS A
WHO: Otto-Eldred (25-2) vs. Berlin Brothersvalley (22-5)
WHERE: Tippin Gymnasium at PennWest Clarion
TIP-OFF: 3:30 p.m.
HOW THEY GOT HERE: Otto-Eldred downed Bishop Guilfoyle, 49-37; Berlin Brothersvalley beat Aquinas Academy, 49-35.
THE SKINNY: Berlin Brothersvalley senior guard Gracyn Sechler, a Seton Hill recruit, scored 19 points and added 13 rebounds in the win over Aquinas Academy. … The Mountaineers trailed by four late in the first half, but went on a 9-0 run to close the second quarter for a 26-22 halftime lead. They pulled away in the second half to move on. … Berlin has now won seven straight games. … Jenny Countryman added 13 points for the Mountaineers, the District 5 champions. … Berlin won the Class A state championship in 2018-19. … Katie Sheeler scored 20 points and Anna Merry hit three huge 3-pointers in the second half to aid Otto-Eldred on the way to its win over Bishop Guilfoyle. … Last year, Otto-Eldred lost to Kennedy Catholic, 77-30, in the quarterfinals.