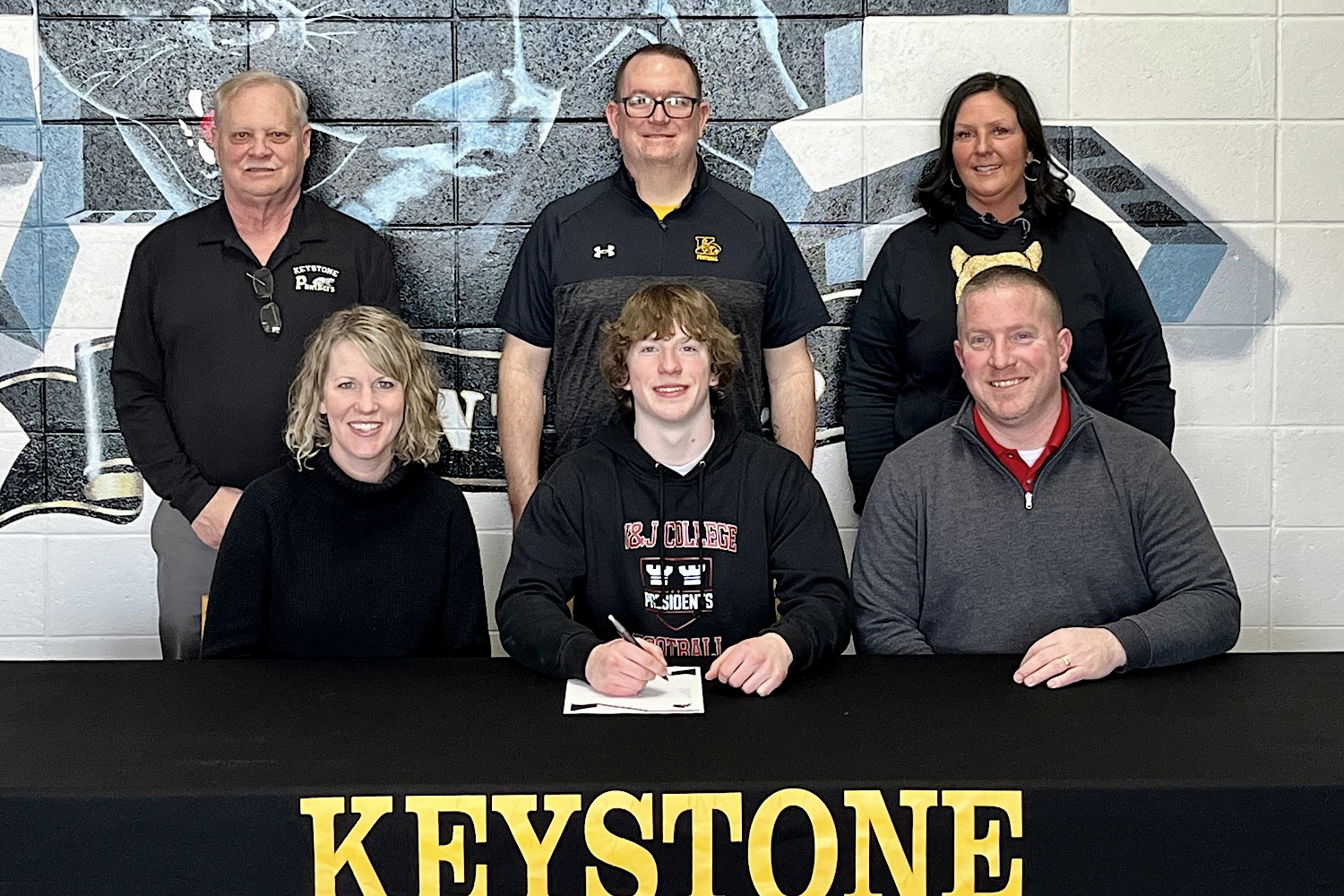 KNOX, Pa. (EYT/D9) — Tyler Albright entered his senior football season at Keystone unsure of his future.
He was split on whether he wanted to play in college or not.
"I wasn't 100% sure, but then after the season, I missed it a lot," Albright said. "That's when I really wanted to play."
Question was where? And at what position?
(Pictured above, Keystone's Tyler Albright signs on to play football at Washington & Jefferson College. Flanking him are his parents, Alison Albright and Josh Albright. Behind him, from left, are Keystone Athletic Director Bill Irwin, head football coach Todd Smith and high school principal Kelli McNaughton)
Albright was one of the most versatile players around, certainly in the Keystone Shortway Athletic Conference and throughout District 9.

Redbank Valley, Keystone, and Union/A-C Valley sports coverage on Explore and D9Sports.com is brought to you by Heeter Lumber.
On offense, he rushed for 716 yards and five touchdowns, averaging 7.2 yards per attempt.
He also led the Panthers with 32 receptions for 590 yards and 10 more TDs.
On defense, he was one of the best safeties in the district with seven interceptions, four passes defended and 40 tackles.
But as programs were shopping for his services, one school stood out above the rest.
Washington & Jefferson.
The Presidents have run a high-powered, spread attack for years under head coach Mike Sirianni.
Albright is a perfect fit at wide receiver in that system.
"I definitely got a good feeling whenever I went on my visit there," Albright said. "I really didn't feel too stressed out about the whole situation. It ended up coming down between W&J and Grove City. I decided W&J was the better fit for me."
"The head coach definitely wanted me for receiver there," Albright added. "I know the defensive backs coach was trying to get me to switch over and play safety for him. But the head coach wasn't going along with that."
W&J got in on the Albright sweepstakes thanks to Keystone coach Todd Smith, who reached out to the Presidents and sent them a highlight reel of Albright.
It was enough to intrigue them.
"I took a shot at it because a few years ago when I coached at Clarion, I had a really good wide receiver in Cody Hearst, and he went to Washington & Jefferson and he had a really good career there," Smith said. "It's one of the top Division III programs in the state."
Albright committed to W&J last week.
"I'm definitely very fortunate," Albright said. "A lot of people along the way helped me get into this situation to be able to go and play at the next level.
"Coach Smith was pushing for me to go (to Washington & Jefferson) because he really wanted to see me in that offense."
Albright is determined to get on the field there sooner rather than later.
Already no stranger to the weight room, Albright plans on ramping up his workouts to be in the best football shape he can be come training camp in the late summer.
He also plans on fine-tuning his skills as a wide receiver.
"I'm going to get out on the field and work on my footwork and route running," he said.
Albright helped the Panthers this fall win their first playoff game in 33 years.
Sure, he'll remember things like that, he said.
He'll remember being with his friends and teammates the most.
"I think spending time with my friends and going out and playing the game you love with them," Albright said. "A lot of good memories."
Smith is confident Albright will make many more good memories at Washington & Jefferson.
"He works hard, does his job and I think he's gonna go there and he's gonna do the same thing," Smith said. "He's gonna work hard for them. He's a great kid."

Redbank Valley, Keystone, and Union/A-C Valley sports coverage on Explore and D9Sports.com is brought to you by Heeter Lumber.