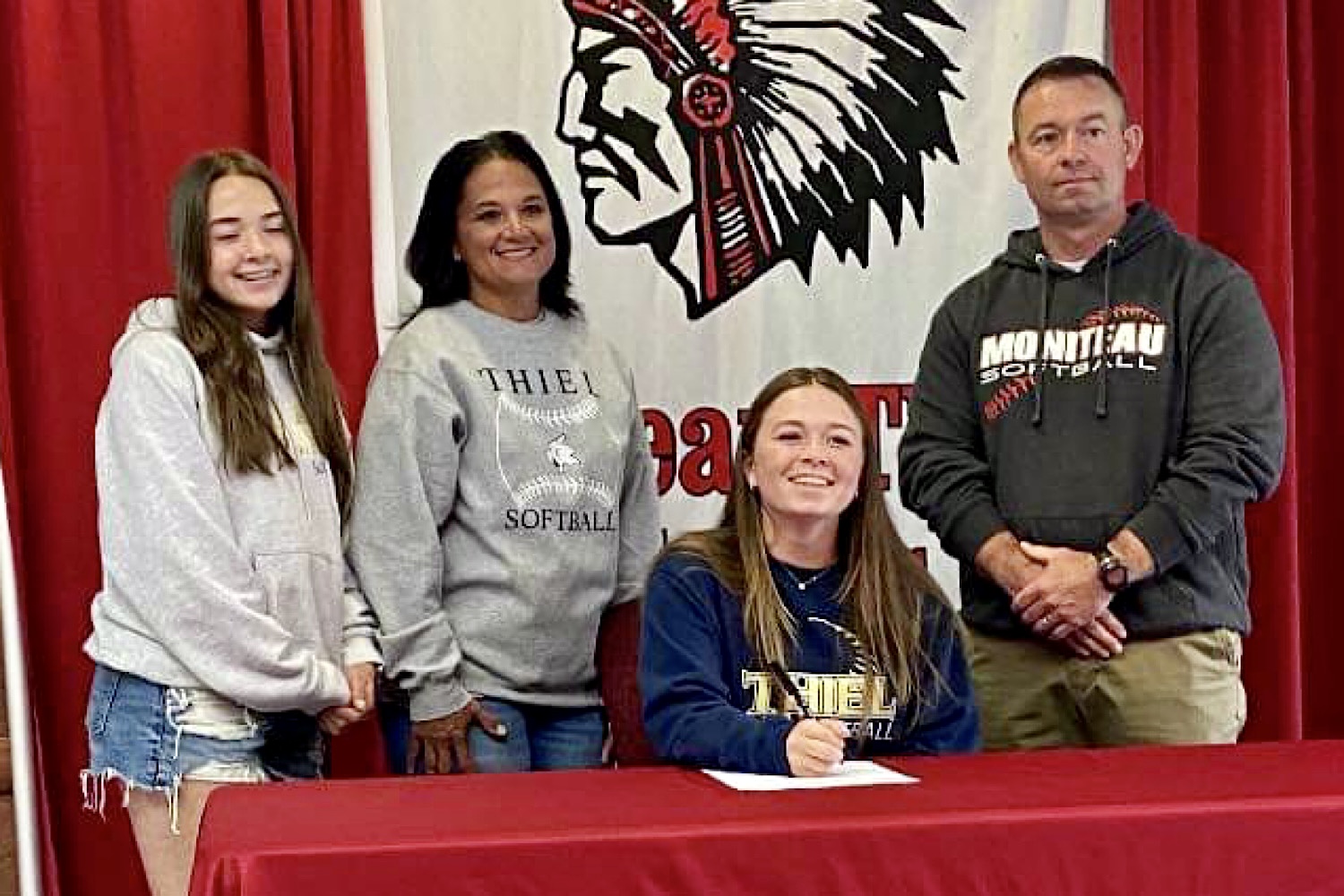 WEST SUNBURY, Pa. (EYT/D9) — A badly broken ankle when she was 12 may have been the best thing to ever happen to Moniteau senior Brianna Rottman.
(Pictured above, Brianna Rottman signs her letter of intent to play softball at Thiel College. With her are her younger sister, Graysen, mother, Jennifer, and father and Moniteau softball coach, Bob)
Sliding into third during a Little League game, Rottman caught her right foot under the bag. Her leg broke at the growth plate. The injury required extensive surgery and she was sidelined for seven months.
When she returned, she struggled to pivot on that leg from the right side of the batter's box and her play suffered.
Greatly.
Those troubles traveled with her to the softball field in junior high. At the plate she was completely lost.
"I stunk batting from the right side," Rottman said. "I was absolutely terrible."
There were times when Rottman contemplated quitting.
But former Moniteau High School softball coach Lenny Claypool had an idea.
He wanted to turn the then eighth-grader into a left-handed slap hitter.
"He was like, 'I need a new slap hitter and you really can't hit from the right side, but you are pretty fast,'" Rottman said, smiling. "'So let's try to do that.' I guess it worked out pretty well."
It certainly has.
Five years after making the switch — and threw a lot of struggles, doubts and growing pains — Rottman is a big threat as a slap hitter from the left side of the plate. The leadoff hitter for the Warriors is batting .385 this season and has scored a team-leading 24 runs as they get set to play Cranberry in the District 9 Class 2A semifinals on Wednesday.
She was named to the first-team all-Keystone Shorway Athletic Conference and will play college softball at Thiel next year.
Rottman's success certainly didn't happen overnight. It was a long and arduous process, one that she contemplated giving up on several times.
"The first year, I was a guaranteed out," she said. "Then the second year, I started coming around with some bunts. And then by the third year, I was getting it out there."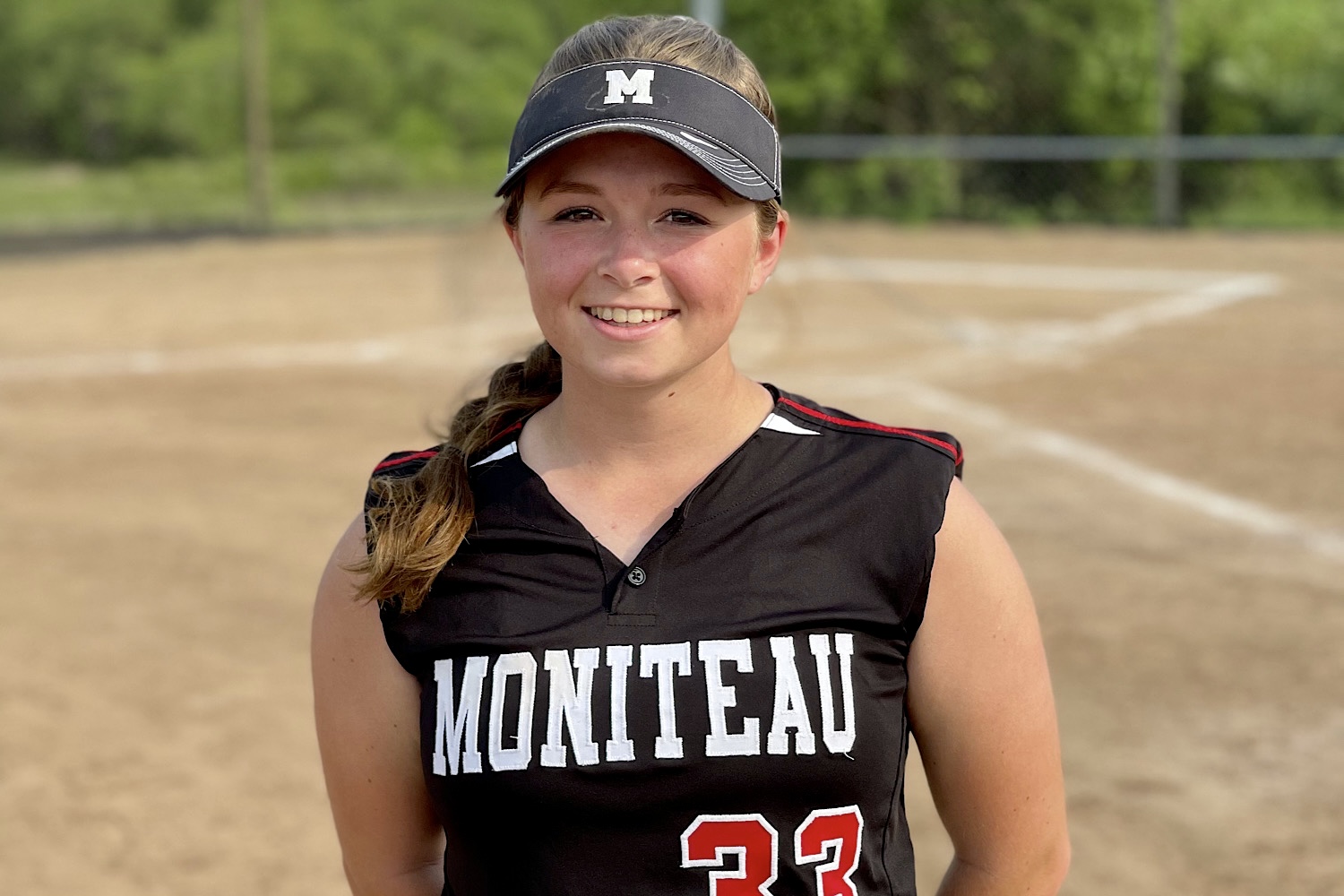 (Brianna Rottman)
There was a COVID-19 shutdown spring in there, too, which didn't help her progress.
Again, as Rottman struggled mightily, she had some thoughts of hanging up her cleats for good.
"I didn't think it was going to work. Not at all," Rottman admitted. "I thought, 'This is it. I'm done. I don't want to do this anymore,' But I stuck it out.
"I'd say mentally was the hardest part," Rottman added. "Whenever you're always getting out, you never get to run the bases. You get down on yourself. A lot. But once I realized if I work at this, I can be really good at this. That's when I knew it was going to be OK."
Rottman said all that hard work has finally paid off.
She sets the table for the ravenous mashers in the Moniteau lineup behind her.
Slap hitting has become something of a lost art, but can be a lethal weapon if done expertly. Rottman has developed a knack for it that is unmatched.
"It's a great feeling," Rottman said. "When my batting average finally went above .200, I was like, 'Let's go!'"
It's much higher than that now.
She continues to refine her approach.
"She's worked really hard at it," said Moniteau softball coach Bob Rottman and Brianna's father. "Now she can see the defense, how the players are aligned, and she can slap to the dead spots without me giving her signs to where to go. She's at a point where she can hit the ball over the infielder's heads when they come in too far. She's come a long way."
She'll be going to Thiel College next year to play again with a very familiar face.
Her older sister, Abby.
Thiel, though, appealed to Brianna more than just the chance to be reunited on the softball field with her sister.
Tomcats' softball coach Kelly Kirkpatrick is a former slap hitter herself. The two formed a quick bond through the recruiting process.
"She might have been influenced a little bit by some family factors," Bob Rottman said, grinning. "But the coach had a lot to do with recruiting her. Brianna will be one of the first slap hitters that she gets into the program and I think they're both equally excited about that and the opportunity to work with one another."
Rottman is just happy to get a chance to keep playing.
It was something she never thought would happen when she was an automatic out all those years ago.
"I guess sticking with it was a good choice," Brianna Rottman said, a smile creasing her face. "It was a really hard one. There were times when I thought it wasn't worth it and that it wasn't going to work out. But it did. I'm just so grateful."