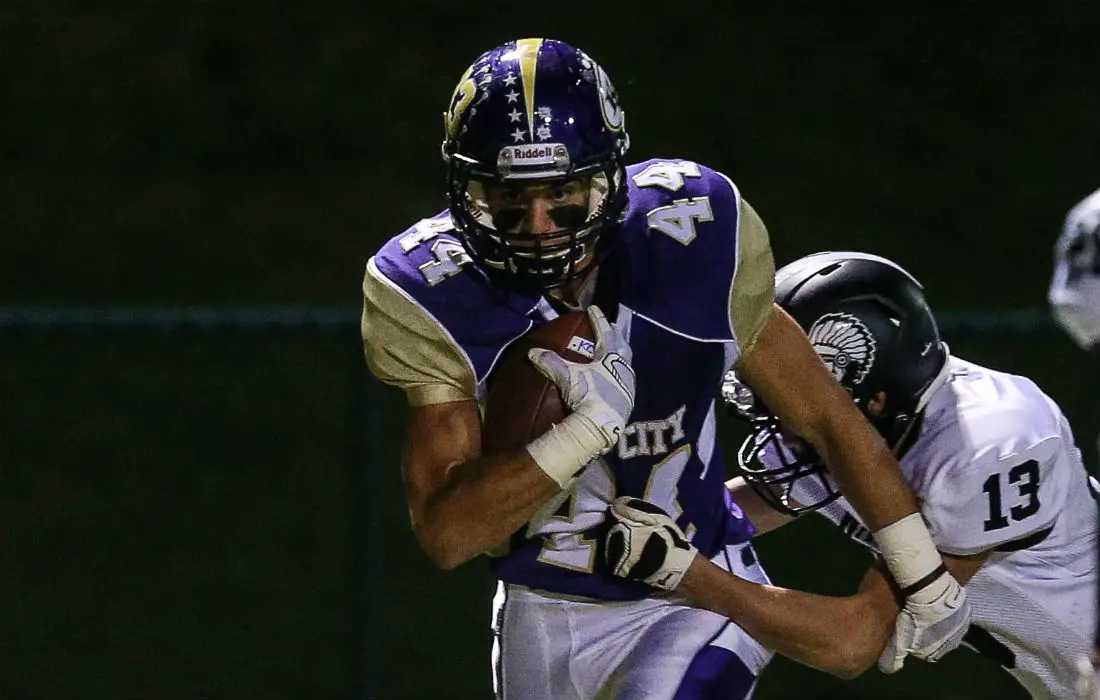 GAME INFORMATION 
When: 7 p.m. Friday, Nov. 27 • Where: Diehl Stadium, Karns City, Pa.
TEAM INFORMATION 
Starting Lineups • Bedford Roster • Karns City Roster
Bedford Stats • Karns City Stats •  Bedford Schedule • Karns City Schedule
GAME PREVIEW STORY
KARNS CITY — With the WPIAL champion awaiting the winner, the Karns City Gremlins and Bedford Bisons tangle in a District 5-8-10 Sub-Regional matchup Friday night.
In Karns City, that is.
It's not a traditional neutral site setup that you usually see in a late November playoff game. Last year, the Gremlins went to Chestnut Ridge and came away with a victory. So, head coach Ed Conto isn't necessarily banking on home-field advantage.
"I think at this time of the year, the better team wins," Conto said. "Those things go out the window. I think whichever team executes and doesn't turn the ball over … We traveled to Chestnut Ridge last year and beat them on their home field. It's like, hey, you have to get it done."
And with the Thanksgiving holiday right smack dab in the middle of pre-game preparations, it's how a team approaches things.
"It's more mental than anything else," Conto added. "It comes down to which team wants to play longer."
The 11-0 Gremlins take on another unbeaten squad in the 11-0 Bisons, who took care of last year's District 5 champion Chestnut Ridge, 42-7. Head coach Kevin Steele's team is loaded with returning players — 20 starters in all — from last year's 9-2 season that ended with a tight 17-14 loss to Chestnut Ridge.
Steele isn't guaranteeing a senior-laden lineup means success this late in the season.
"It certainly helps," he said. "We have a lot of three-year starters who have been starting since sophomores. They have a regular-season record of something like 26-4 and have played a lot of football. But they haven't played the kind of football we are going to play Friday night against a high profile, quality opponent in a win-or-go-home game. Senior leadership helps, but we haven't had a ton of playoff experience."
Both teams have dominated their foes this season. The Gremlins are scoring 50 points per game, allowing 12.8 points per game and have outgunned teams in regular-season tests against Erie Central (58-34) and DuBois (69-28) while surviving a double-overtime upset bid by Keystone (48-40). Nobody else has come close, including Moniteau in last week's 43-6 District 9 Class AA title game.
Bedford hasn't been easy to score on all season. The Bisons, averaging 40.4 points per game, have given up just 10 touchdowns all season and just 5.9 points per game. They had a stretch of four straight shutout wins covering 17 scoreless quarters.
"I think they're a very talented football team because pretty much every kid is a senior and some of their subs are seniors," Conto said. "So when you have an all-senior team, they're firing on all cylinders. They're usually executing pretty well and are disciplined. I expect them to be a very, very good football team."
Senior quarterback Austin Montgomery and senior running back August Cook lead the Bisons offense. Going into last week's game, Montgomery had passed for 1,219 yards and 17 touchdowns while completing 60 percent of his passes. He had also rushed for 391 yards and nine touchdowns.
For his career, the three-year starter is over 4,300 yards passing and 40 touchdowns and over 1,400 yards rushing and 35 touchdowns.
"The number one thing with him is his work ethic," Steele said. "He works really hard in the offseason and during the season. He does whatever he can to improve on the field. He's a smart player who makes a lot of good decisions. He throws the ball pretty well and for a Class AA quarterback, he's 6 foot, 200 to 210 pounds. He's a pretty big kid running downhill and that presents teams with problems in the option game."
Cook is over 1,200 yards on the ground this year with 18 touchdowns and 2,400 for his career with 30 TDs going into last week.
"He has a good combination of size and speed at 6-4, 220," Steele said. "To run the way he does with his speed is pretty impressive with his size. He has good vision and can run people over, but he can also make people miss as well."
Conto knows his defense will be tested.
"Their passing game is a lot of play-action passing," he said. "Usually you have a great running game if you have play-action passing and that's what they have. So we'll have assignments and the kids will need to read their run and pass keys … It's very important."
Senior linebacker Maverick Kelsea leads the Gremlins in tackles (75) with junior lineman Jimmy Thompson (55), senior defensive back Collin Dunmyre (49) and senior lineman Reese Barger (48) at the top of the team's tackle list.
Barger leads the team with six sacks, one ahead of Thompson's five while defensive backs Evan Stitt, a senior, and junior Chandler Turner have six and five interceptions respectively.
"It's a team defense," Conto said. "Everybody has to do their job and know their roles. You have to get everybody hustling because if you don't have one hustling, you have a hole and if they do that, they're not playing long for us. If you put all of that together, you have a good defense."
Offensively, it's been well-established that the Gremlins use a lot of bodies and do it successfully, averaging 424 yards of offense — 323 rushing, 101 passing — with two quarterbacks over 450 yards passing and four runners, including one quarterback, over 450 yards rushing.
Senior Jacob King (621 yards passing, 8 TDs) and junior Cullen Williams (468 yards, 3 TDs) have worked at quarterback. Williams has rushed for over 450 yards as well.
The Gremlins trio of backs over 500 yards consists of the senior Dunmyre (845 yards), junior Turner (749 yards) and senior Kelsea (527 yards).
Stitt is the top receiver with 24 catches for 360 yards, but he's one of six different pass-catchers with at least one touchdown.
"There are several challenges when you look at them," Steele said. "Defensively, we have to stop the rushing attack. They present so many challenges. They have so many weapons and so many kids who do so many different things. They have guys on the edge that present problems with speed and they can throw the ball effectively when they need too, although they haven't needed to often because they run the ball so well.
"It causes defensives problems in a variety of different ways."
Conto sees the game as any other evently-matched playoff game and the keys to advancing are familiar.
"No turnovers, very few penalties, tackle well and (avoid) the big plays, make them work and frustrate them, those kind of things," Conto said. "You never want to get into a horse race in a game like this. You want to be physical and control the ball. All of those things add up."
ODDS AND ENDS
— The winner meets the WPIAL champion, either Aliquippa or South Fayette, next week at a site and time to be determined. Last year, Karns City lost to South Fayette, 42-15. In 2013, it was South Fayette again in a 57-21 loss. In 2012, Aliquippa beat the Gremlins, 51-15.
— In the team's last playoff meeting in 2009, the game went three overtimes and the Bisons won, 28-26, in what is the second-longest postseason game involving at least one District 9 team. The game was 6-6 after regulation and both teams scored in all three overtime frames, the difference being the Gremlins coming up empty on their two-point conversion in the third overtime. The game was played in snowy conditions at Northern Bedford High School in Loysburg. The Bisons then lost to Greensburg Central Catholic in the next round, 49-12.
The game was actually the longest playoff game in D9 history involving at least one D9 team until 2010 when Port Allegany beat Elk County Catholic in four overtimes.
— Team defensive numbers:
Bedford defense vs. the run: 343 carries, 651 yards (1.9 per carry), 6 TDs
Bedford defense vs. the pass: 79-for-173, 983 yards, 1 TD, 14 Ints.
Karns City defense vs. the run: 319 carries, 948 yards (3.0 per carry), 6 TDs
Karns City defense vs. the pass: 97-for-188, 1,640 yards, 16 TDs, 15 Ints.
— Karns City's all-time playoff record in games beyond the District 9 playoffs: 4-11.
2014: South Fayette 42, Karns City 15
2014: Karns City 23, Chestnut Ridge 14
2013: South Fayette 57, Karns City 21
2013: Karns City 35, Chestnut Ridge 14
2012: Aliquippa 51, Karns City 15
2012: Karns City 35, Chestnut Ridge 29
2009: Bedford 28, Karns City 26, 3 OTs
2008: Aliquippa 42, Karns City 14
2008: Karns City 32, North Star 14
2007: Jeannette 35, Karns City 6
2001: Sharon 20, Karns City 13
2000: Sharon 14, Karns City 6
1999: Sharon 33, Karns City 9
1997: Wilmington 22, Karns City 17
1993: Northwestern 22, Karns City 0