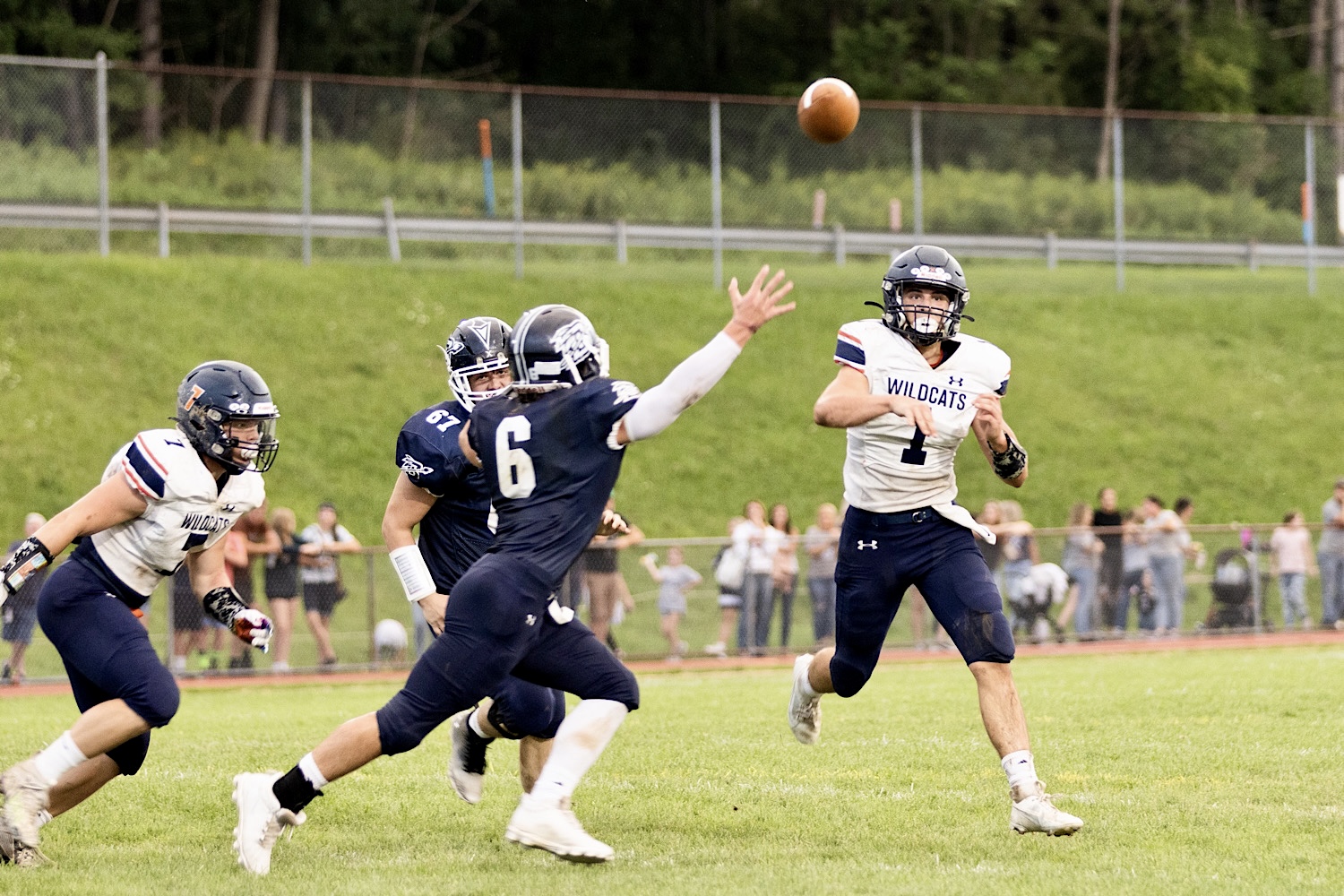 CLARION, Pa. (EYT/D9) — The days of three yards and a cloud of dust are largely over in District 9.
That strategy is being replaced by bubble screens, jet passes, mesh concepts and the occasional go route thanks to a bevy of talented young quarterbacks in the area.
And a seismic shift in offseason preparation.
(Pictured above, Central Clarion junior quarterback Jase Ferguson throws a pass on the run against Brookville in the season opener. Ferguson is completing 75% of his passes this season/photo by Kirkland Photography)
"The diversity of the passing game now is pretty impressive," said Brockway coach Jake Heigel. "People think passing game and they think it's vertical threats, but I mean, there's the screen game. We have a shuffle pass behind the line of scrimmage that's a pass play. The diversity of it has expanded in such a way that if you have a number of athletes, you can disguise it with the pass game a little better rather than just handing the ball off to the back where everyone in the stadium knows when a team has a good running back."
What the changing landscape has done is produce some prolific passers, such as Central Clarion junior Jase Ferguson, Brockway junior Brayden Fox and Redbank Valley sophomore Braylon Wagner, to name a few.
Those three are among the top passing leaders in the state after four games.
"We always say this at any position, but especially for the quarterbacks, if you've got a young kid that's even with a senior, per se, you always want to go with the young kid," Gold said. "I'm a firm believer that as long as you have a quarterback, you have a chance to win games, no matter what's around you.
"Braylon has always been able to make things happen, even when I was watching him at the seventh- and eighth-grade level."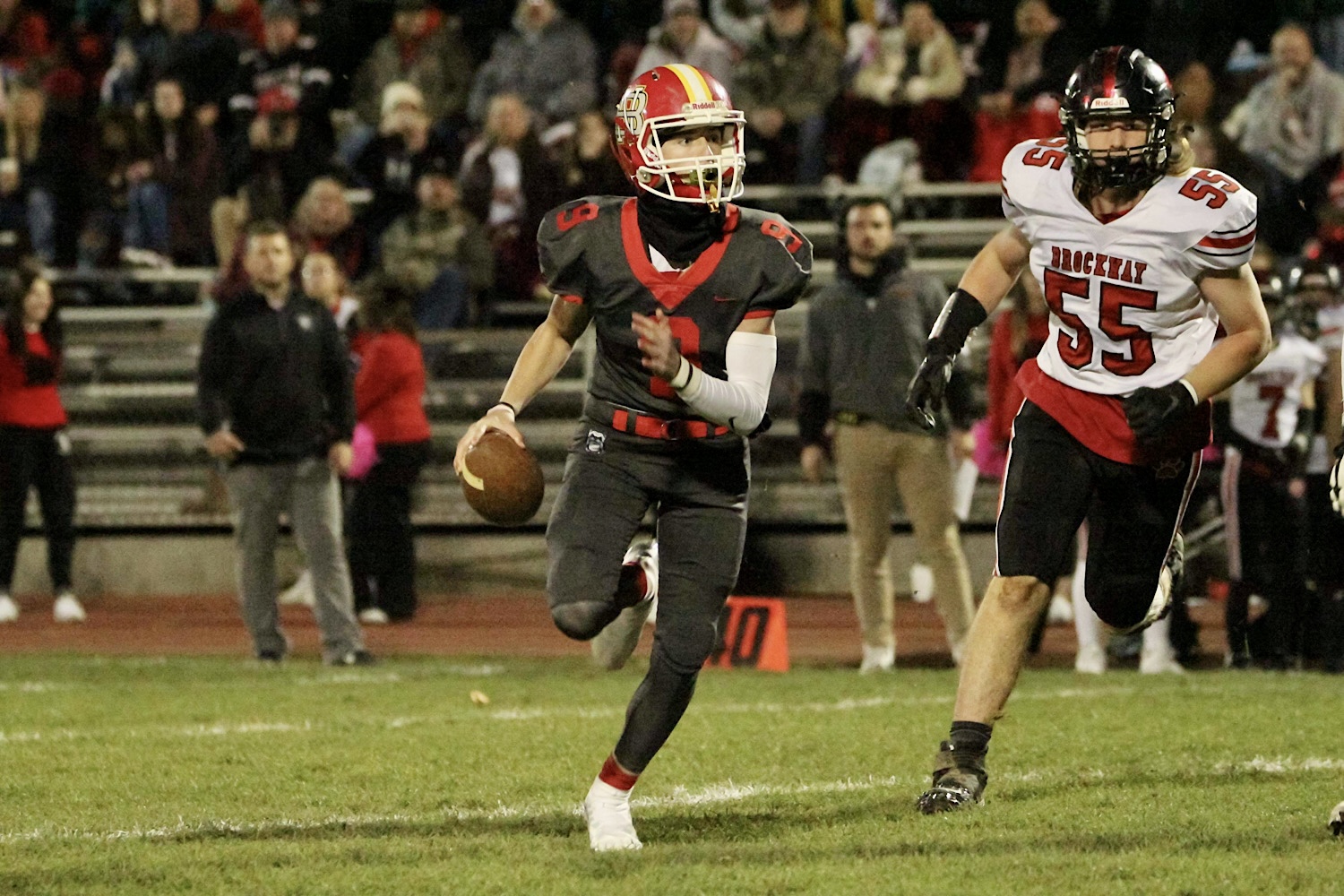 (Redbank Valley quarterback Braylon Wagner scrambles out of the pocket during a game against Brockway late last season/photo by Madison McFarland)
What is striking is how accurate the quarterbacks have been this season as they have piled up completions, yards, touchdowns — and most importantly wins.
Wagner has completed 75.6% of his passes for 1,104 yards and 14 touchdowns to just two interceptions for 4-0 Redbank Valley.
Ferguson has a 68.7 completion percentage with 878 yards and 15 touchdowns to just one pick for unbeaten Central Clarion.
Fox is completing more than 60 percent of his passes and is averaging better than 200 yards through the air per game for 3-1 Brockway.
Maddox Hetrick, a sophomore at Punxsutawney, has also been extremely efficient, completing two out of every three passes for 633 yards.
Before DuBois sophomore Trey Wingard was lost for the season due to injury early in the second game against Brockway, he had already thrown for 364 yards and five touchdowns.
"I was watching him on film against Karns City (in the opener) and I was like, 'It's Joe Montana out there,'" Heigel said.
It's become the age of the passer.
"There were a lot of young, talented quarterbacks in the league last year and we knew they were all coming back," said Central Clarion coach Dave Eggleton. "I think that's what we're seeing."
And those young guys have seen plenty of action.
Ferguson was a started the day he first stepped into the locker room as a freshman and he certainly took a few lumps in that initial season running the Central Clarion offense.
But last year, he had a breakout campaign, helping the Wildcats to a District 9 Class 2A title and the state playoffs.
This year, he has been at an entirely different level — with his arm, feet and his knowledge of the game.
"He's really finding the open receiver, and not a lot of guys can do that," Eggleton said. "Guys lock in on one guy and either throw it or not throw it. When you have a guy who can move from his first look, to his second look, to his third look, that's just a phenomenal ability for a high school quarterback. It's not very common."
Like Ferguson, Fox was a starter from day one of his freshman year and he excelled immediately.
Fox already has thrown for more 5,799 yards in his career.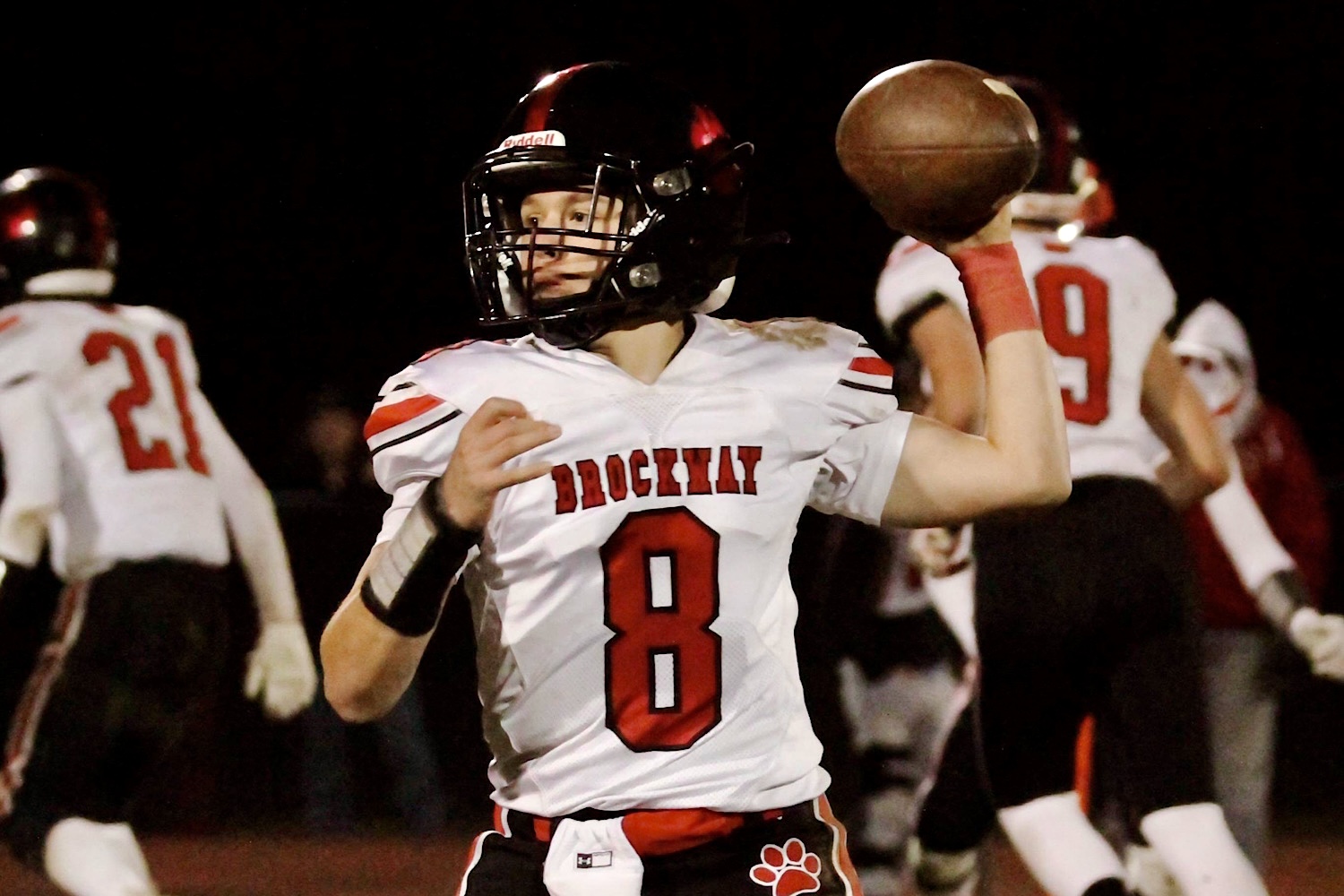 (Brockway junior quarterback Brayden Fox has been a starter since his freshman year and already has 5,799 yards passing in his career/photo by Madison McFarland)
"Those guys who played right away gave developed with the program," Heigel said. "The programs have gone as far as they have because those kids at those spots have progressed as the team has progressed and it's gotten better and better.
"In District 9, sometimes schools are just so small that if you have a kid you can slip in early, kind of throw him to the wolves, sometimes it's beneficial. With kids like Brayden and Braylon Wagner in Redbank and Jase Ferguson, when they play as freshmen, they're the type of people who can rise to the occasion."
Wagner got a taste of varsity football last season as a freshman, starting four games. He fared well, but has emerged this season as an even more dangerous weapon in the Bulldogs' offense.
This offseason, he developed a particular rapport with senior wide receiver Mason Clouse through 7-on-7 drills.
That combination has produced 20 completions for 449 yards and seven touchdowns already this season.
"A lot of people have spoken to Mason Clouse's early success this year and a lot of that has to do with the chemistry that Braylon and Mason built this offseason," Gold said. "And that can be said, too, with Ashton Kahle and Ashton George as well."
The proliferation of 7-on-7 competitions during the summer months has certainly aided the passing game.
"Seven-on-7s are football in shorts — it is what it is and you don't want to get too excited about it," Gold said. "But at the same time, the chemistry, as far as timing and getting the ball out on timing routes, it's definitely for us invaluable."
Redbank plays in several 7-on-7 tournaments against bigger schools.
So does Brockway.
But like Gold, Heigel tries to temper what those 7-on-7s really mean.
"I think it helps chemistry a lot, but I don't put so much stock into it," Heigel said. "It's actually funny that we're talking about this because we were just talking the other day with (Rover running back Jendy Cuello). We went down to Richland tournament and we got into the final four down there and we were playing Bishop McCort slash Carroll and they were running this hokey defense that is only realistic in 7-on-7s. Jendy is screaming at their defensive coordinator, 'I'm running for 1,000 yards in one game on you if you run this defense against us.'
"That's the thing about 7-on-7s. You see some hokey stuff."
But most teams do it because it is valuable to the passing game.
And quarterbacks may have to deal with "hokey stuff" during a game in the fall, especially now as passing games have flourished.
"If you use it for what its purpose is, it's really a good thing," Heigel said. "Your quarterback can use their brain a little bit, but you can't invest everything into them."