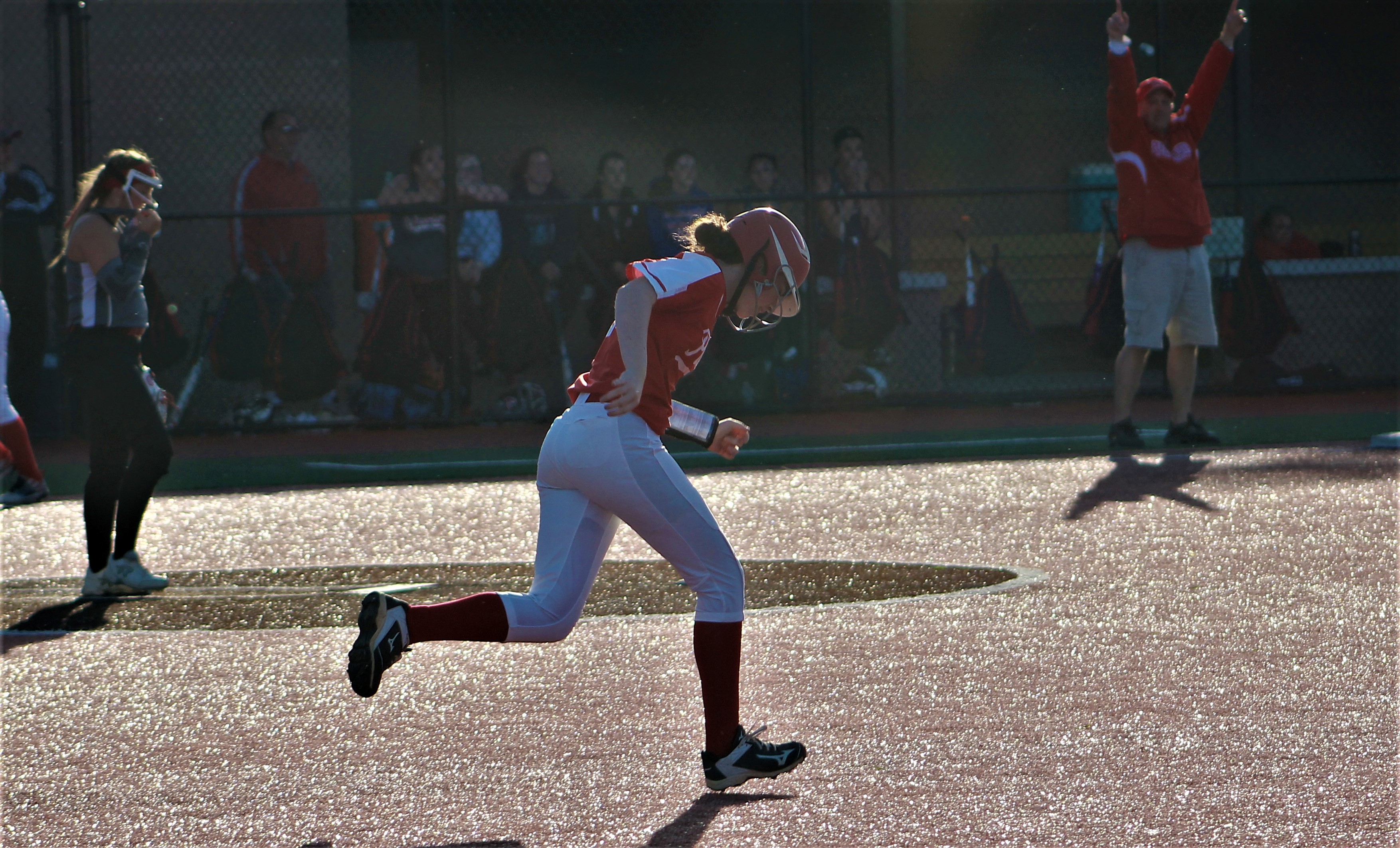 PUNXSUTAWNEY, Pa. – Punxsutawney and DuBois Central Catholic will both look to advance to the PIAA softball semifinals in their respective classifications when they play quarterfinal games Thursday.
(Photo: Holly Hartman of Punxsutawney rounds the bases after hitting a home run vs. Elizabeth Forward in the opening round of the PIAA Tournament as her manager, Alan Pifer, celebrates in the background. Photo by Jared Bakaysa of JB Graphics. See more of Bakaysa's work here)(9-1) PUNXSUTAWNEY (15-3) VS. (3-1) WEST PERRY (21-3)
4 p.m. Thursday, June 7, at Milesburg Little League Complex
Punxsutawney's success starts with senior pitcher Kylee Lingenfelter, who is headed to Penn State next season.
Lingenfelter is 13-2 on the season with a save and a 0.81 ERA. She has tossed six shutouts in her 94 ⅔ innings of work while allowing just 37 hits and 21 walks. She has recorded 194 strikeouts and allowed just nine extra-base hits on the season while giving up 22 totals runs, 11 earned.
Even more impressive, Lingenfelter hasn't allowed a run in 12 playoff innings and has struck out 29 while walking just four and giving up three hits. Her scoreless innings streak is at 14 ⅓. In addition, seven of the runs she has allowed this season and six of the 11 earned runs came in the season opener against Clearfield. Since then, she has given up 15 runs and five earned runs in 87 ⅔ innings of work for a 0.40 ERA, and she has allowed just seven runs, two earned, over her last nine appearances, including eight starts, covering 50 ⅔ innings.
Adding to the Lady Chucks success has been an offense that has scored 18 runs in two postseason games, including an 8-0 win over WPIAL runner-up Elizabeth Forward in the PIAA first round Monday.
Junior first baseman Grace Aikens has racked all season and is batting .587 with five doubles, three home runs and a team-leading 20 RBIs.
Aikens is one of four Punxsutawney hitters with at least 50 plate appearances who are hitting over .400.
Lingenfelter is helping herself with a .491 average with 10 doubles, a triple, a home run and 16 RBIs, while freshman centerfielder Sarah Weaver is hitting .436 with four doubles, 14 RBIs and a team-leading 20 runs scored. Sophomore catcher Madison Stonbraker is adding a .418 average with three doubles and 15 RBIs.
Another young player, Kendall Johnston, has worked her way into the lineup recently and is hitting .545 in seven games with two doubles, four RBIs and four runs scored.
West Perry is coming off a 17-0, four-inning win over Arts Academy of Benjamin Rush Monday in the PIAA first round. The Mustangs beat East Pennsboro, 3-1, to win the school's first-ever District 3 softball title.
Cori Ritter leads things for West Perry from the circle. In her last two playoff games, Ritter has allowed one run and four hits while striking out 14. She is coming off a 4-inning no-hitter in the win over Benjamin Rush, a game that saw her strikeout 11 of the 14 batters she faced. She allowed one run on four hits and three walks while striking out three in the District 3 title-game win.
Ritter has also hit well in those games getting a pair of doubles and an RBI against East Pennsboro and then hitting a home run in the PIAA victory.
As a team, West Perry has three home runs over its last two games with Tiara Johnson hitting a three-run shot to end the game against Benjamin Rush and Cheyenne Shuhart hitting a key two-run bomb in the District 3 title game.
Other key hitters for the Mustangs include Morgan Ceprish, Kayla Weaver and Gretchen Frederick.
The winner gets the winner of the game between WPIAL champion Belle Vernon and WPIAL third-place finisher and defending state champion Mt. Pleasant. The other quarterfinals contests feature District 2 champion Tunkhannock vs. District 11 champion Bethlehem Catholic and District 3 runner-up East Pennsboro vs. District 2 runner-up Nanticoke.
(9-3) DUBOIS CENTRAL CATHOLIC (20-2) VS. (6-1) CLAYSBURG-KIMMEL (18-4)
2:30 p.m. Thursday, June 7, at St. Francis University in Loretto
DCC, which was upset in the District 9 1A semifinals by Elk County Catholic before beating A-C Valley in the consolation game to claim the third and final PIAA playoff spot awarded to District 9, is looking for its third straight PIAA semifinal appearance in 1A but it's first on the "eastern" half of the bracket.
The Lady Cardinals are coming off an 8-1 victory over District 5 champion Meyersdale in the opening round of the PIAA tournament and face a Claysburg-Kimmel squad that won the District 6 title with an 8-4 win over Glendale and then beat Sullivan County, 11-1 in five innings, in the opening round of the PIAA tournament.
DCC's team this year has a bit of a different look than the last two years with some key members of those two teams, including pitcher Riley Assalone and catcher Jordy Frank, both having graduated.
Junior Ashley Wruble has taken over in the circle for the Lady Cardinals and has been fantastic all season going 19-2 with a 1.25 ERA. In 118 innings of work, she has allowed 75 hits and 22 walks while striking out 115.
Wruble also brings it with the bat and is the team's leading hitter with a .661 batting average. She has six doubles, six triples and five home runs while driving in 30 and scoring 44 times.
Two additional DCC players are hitting over .500, as the Lady Cardinals are hitting .438 as a team.
Sophomore Shayleigh Gulvas is batting .532 with 10 doubles, five triples, a home run, 18 RBIs and a team-leading 45 runs scored with freshman Mia Meholick hitting .507 with eight doubles, four triples, two home runs, 40 RBIs and 31 runs scored.
Additional key contributors for DCC, who have just one senior – Maddie Nasuti – on the roster are junior Carely Semancik (.470, 3 2B, 4 3B, 5 HR, 35 RBIs), freshman Chelsea Busatto (.441, 1 2B, 1 3B, 3 HR, 23 RBIs), freshman Natasha Kunselman (.429 in 15 games, 2 2B, 2 RBI) and sophomore Maia Cogley (.411, 2 2B, 13 RBIs).
Claysburg-Kimmel might have trouble with the DCC lineup considering the Bulldogs as a team have a 4.12 ERA with freshman Olivia Bushore and junior Madison Knisley being the main hurlers.
Through the District 6 title game, an 8-4 win over Glendale, Bushore has pitched 17 games (12 starts) and had a 3.20 ERA with 68 strikeouts and 48 walks in 76 ⅔ innings of work.
Knisley, meanwhile, had a 6.41 ERA in 11 appearances (7 starts) covering 31 ⅔ innings. She had struck out 18 and walked 12.
The Bulldogs do most of their damage with their offense hitting .384 as a team.
A young team as well with only two seniors, six regulars are hitting .400 or better for Claysburg-Kimmel.
Freshman Haleigh Reed leads the offense hitting .453 with seven doubles, two triples, a home run and 26 RBIs.
Jasmine Kennedy, a junior, adds a .429 average with five doubles, a triple and 16 RBIs with fellow junior Emily Claar hitting .421 with six doubles, a triple, two home runs and 25 RBIs.
Knisley chips in a .417 average with eight doubles, two home runs and a team-leading 32 RBIs with freshman Madison Frye and senior Mikalynn Bauman are each hitting .400. Frye has a triple, a homer and 21 RBIs and Bauman has five doubles, a triple, a home run and 23 RBIs.
The winner gets the winner of the game between District 11 champion Williams Valley and District 3 champion Greenwood Monday, June 11, in the semifinals.
The other quarterfinal games feature defending state champion and WPIAL champion West Greene, who beat DCC in each of the last two semifinals, taking on District 5 runner-up McConnellsburg and WPIAl third-place finisher Union-New Castle tangling with WPIAL runner-up Monessen.