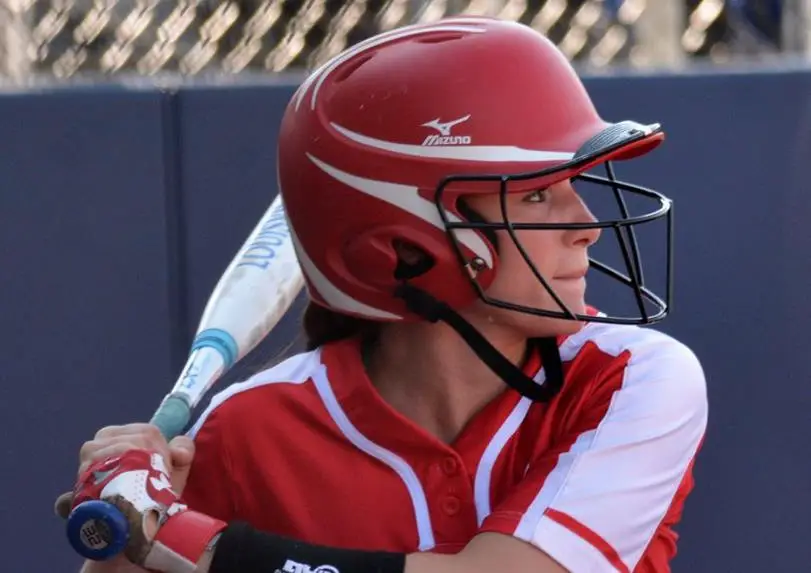 MECHANICSBURG, Pa. – Punxsutawney's quest for a PIAA Class 4A softball title will continue Monday, June 11, in the semifinals against defending 4A champion Mt. Pleasant at St. Francis University in Loretto, Pa., the PIAA announced Friday.
(Photo of Punxsutawney senior Toya Jones. Photo by Don Cameron.)
The Lady Chucks and Lady Vikings are scheduled for a 2:30 p.m. first pitch.
Here are the complete PIAA baseball and softball semifinals schedules.
All games to take place, Monday, June 11.
BASEBALL
Class 1A
(4-1) Sayre vs. (5-2) Southern Fulton, 4 p.m. at Bald Eagle Area High School in Bellefonte
(7-3) Greensburg Central Catholic vs. (7-1) Vincentian Academy, 4 p.m. at Wild Things Park, Washington
Class 2A
(3-1) Camp Hill vs. (11-1) Schuylkill Haven or (12-1) Neumann-Goretti, 4 p.m. at Ephrata High School
(10-1) Rocky Grove vs. (7-1) Cardinal Wuerl North Catholic, 4 p.m. at Jack Critchfield Park at Slippery Rock University
Class 3A
(3-1) Lancaster Catholic vs. (4-1) Montoursville, 4 p.m. at Walter Stump Stadium, Pine Grove
(7-3) South Side Beaver vs. (7-1) Brownsville, 6:30 p.m. at Wild Things Park, Washington
Class 4A
(2-1) Valley View vs. (11-1) Northwestern Lehigh, 4 p.m. at Central Columbia High School, Bloomsburg
(10-2) Meadville vs. (7-2) Ringgold, 6:30 p.m. at Jack Critchfield Park at Slippery Rock University
Class 5A
(3-3) Lower Dauphin vs. (12-1) Archbishop Carroll, 6:30 p.m. at Ephrata High School
(1-2) Marple Newtown vs. (7-3) West Allegheny, 2 p.m. at Greene Township Park, Scotland
Class 6A
(1-1) Bensalem vs. (12-1) La Salle College, 4 p.m. at Neumann University, Aston
(1-2) Council Rock vs. (7-1) Cannon-McMillan, 4:30 p.m. at Greene Township Park, Scotland
SOFTBALL
Class 1A
(1-1) Williams Valley vs. (6-1) Claysburg-Kimmel, 4 p.m. at Milesburg Little League Complex
(7-1) West Greene vs. (7-2) Monessen, 2 p.m. at Peterswood Park Field 8, McMurray
Class 2A
(1-1) Bristol vs. (3-1) Upper Dauphin, 6 p.m. at Lyons Field, Fleetwood
(7-4) Mohawk vs. (6-1) Mount Union, 5 p.m. at Heindl Memorial Field, DuBois
Class 3A
(2-1) Holy Redeemer vs. (11-1) North Schuylkill, 6 p.m. at Central Columbia High School, Bloomsburg
(6-1) Philipsburg-Osceola vs. (7-1) Southmoreland, 5 p.m. at St. Francis University, Loretto
Class 4A
(11-1) Bethlehem Catholic vs. (2-2) Nanticoke, Noon at Pine Grove High School
(9-1) Punxsutawney vs. (7-3) Mt. Pleasant, 2:30 p.m. at St. Francis University, Loretto
Class 5A
(3-3) Solanco vs. (3-2) Lampeter Strasburg, 6 p.m. at Millersville University
(7-2) Thomas Jefferson vs. (7-1) West Allegheny, 2 p.n. at Peters Township High School, McMurray
Class 6A
(1-5) Neshaminy vs. (11-1) Parkland, 1 p.m. at Patriots Park, Allentown
(11-2) Nazareth vs. (7-1) Hempfield, 3 p.m. at Mechanicsburg High School