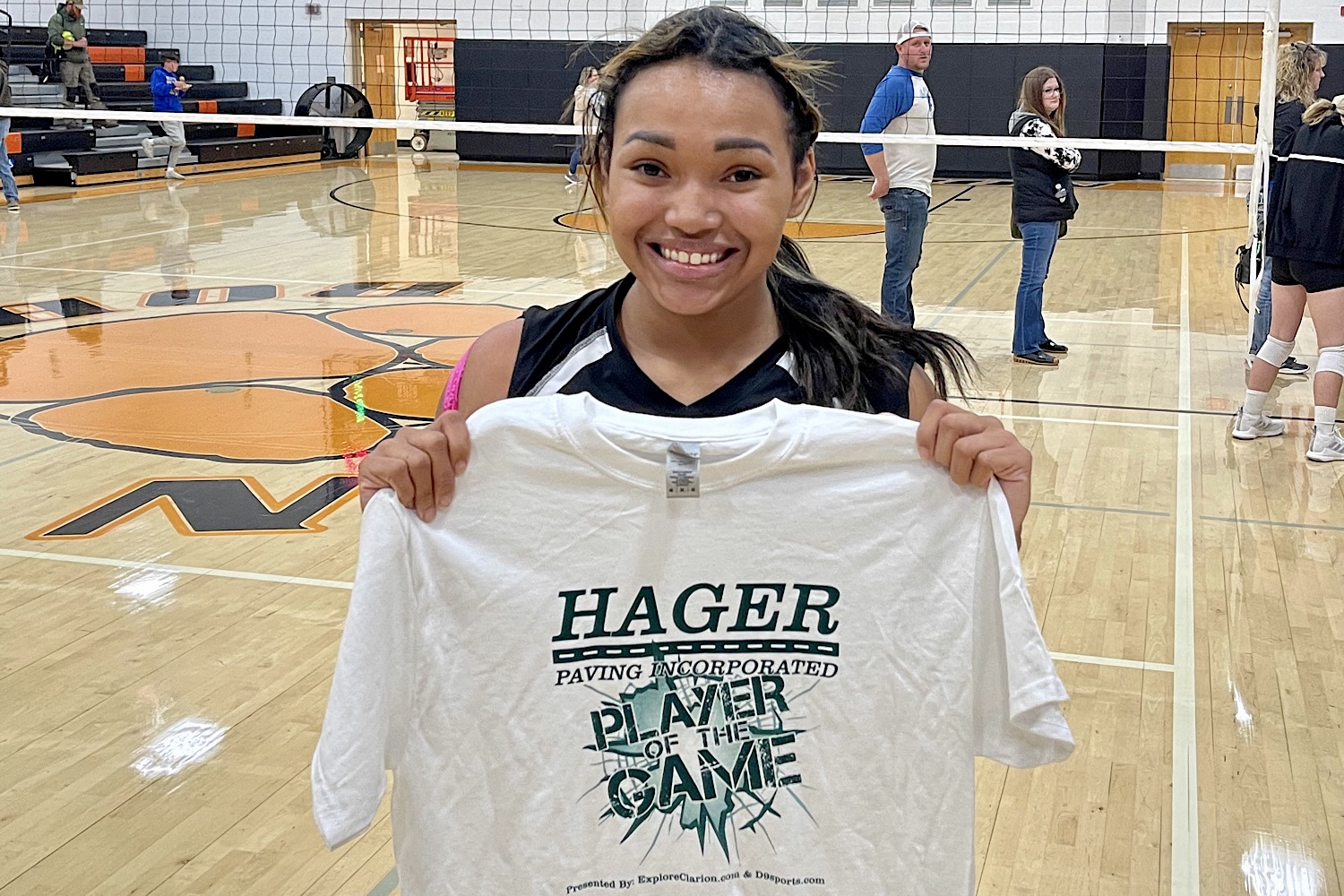 CLARION, Pa. (EYT/D9) — The outside noise is muted.
The Clarion volleyball team isn't particularly concerned with what is said beyond their own gym walls.
(Above, Aryana Girvan had 15 kills in a 3-0 sweep of A-C Valley and was named Hager Paving Incorporated Player of the Game.)
When a 48-match winning streak ended earlier this season, the Bobcats basically shrugged.
"It didn't bother us that much," said senior outside hitter Aryana Girvan. "We didn't know what the streak was to begin with."
Those three losses to District 10 powers Warren, Conneaut and Corry served a larger purpose for a young team finding its own path in the wake of two consecutive PIAA Class A championships.
This is a new team with new parts. Comparing them to the teams of the past seems unfair.
But Clarion played a lot like those Bobcat teams from the last two seasons on Tuesday night at home against A-C Valley, overcoming a big deficit in the first set to rally to win it on the way to a 25-20, 25-14, 25-21 sweep of the Falcons.
Clarion Area High School sports coverage on Explore and D9Sports.com is brought to you by Redbank Chevrolet and DuBrook.
"You know, a lot of people focus on, 'Oh, Clarion lost. Clarion lost,'" said Clarion coach Shari Campbell. "Well, a loss can teach you a lot, and it better teach you a lot. We made this schedule for a reason, and that was to grow up a bunch of young kids in some five set matches that feel pretty important. They've been in those. I'm hoping that, down the line, they're like, 'Oh, been here, done this before.'"
Clarion has also played in two big overnight weekend tournament to expose a team that has three freshmen and four sophomores seeing a good bit of floor time some exposure to top volleyball.
It seems to have worked.
Clarion looked crisp and fast offensively with Girvan piling up 15 kills against A-C Valley.
But she wasn't the only one doing damage at the net.
Hadlee Campbell, a sophomore, had nine kills. Senior Adia Needham, playing right-side, added six kills and junior Taylor Alston pitched in another five.
A-C Valley struggled against all those threats. That was the point.
"If you can spread it out from antenna to antenna, that's what you want," Campbell said. "And with Adia and Taylor in the back row, you have a back row attack coming from that side. That's something that we're developing.
"The goal of a team that's young and inexperienced is to continually get better," Campbell added. "And can you get better faster than everybody else? That's what we're trying to do."
A-C Valley (7-4) had Clarion on the ropes in the first set, leading 14-8. But the Bobcats begin a huge rally, keyed by Girvan, that scored 13 of the next 14 points for a 21-15 lead on the way to taking the first set.
That seemed to take the wind out of the sails of the Falcons.
"We got a little bit flat and hung our heads a little bit after that," said A-C Valley coach Mike Meals. "That carried over into the second set."
Clarion (6-3) played about as well as it has all season in that second set with Girvan, Needham, Campbell and Alston all earning multiple kills as the Bobcats cruised after falling down 3-0.
A-C Valley, though, nearly rallied to steal the third set after falling behind 18-11. The Falcons tied it 19-19 before Clarion pulled away.
"We can we can be proud we we hung with them," Meals said. "We didn't beat them, but all in all it was ab OK night."
Lexi Ruckdeschel had seven kills, three blocks and 11 digs for A-C Valley.
Jenna Stefanacci pitched in 14 assists and nine digs and Mackenzie Parks 19 digs and four kills for the Falcons.
Grace Ochs had 32 assists for Clarion.
"We're definitely working a lot in the gym and we're getting a lot more comfortable, not only with each other, but just with our rotations. We're also changing some things up a little bit, trying to get some knew personnel and it's working really well. It's nice that we're very versatile."
Clarion Area High School sports coverage on Explore and D9Sports.com is brought to you by Redbank Chevrolet and DuBrook.