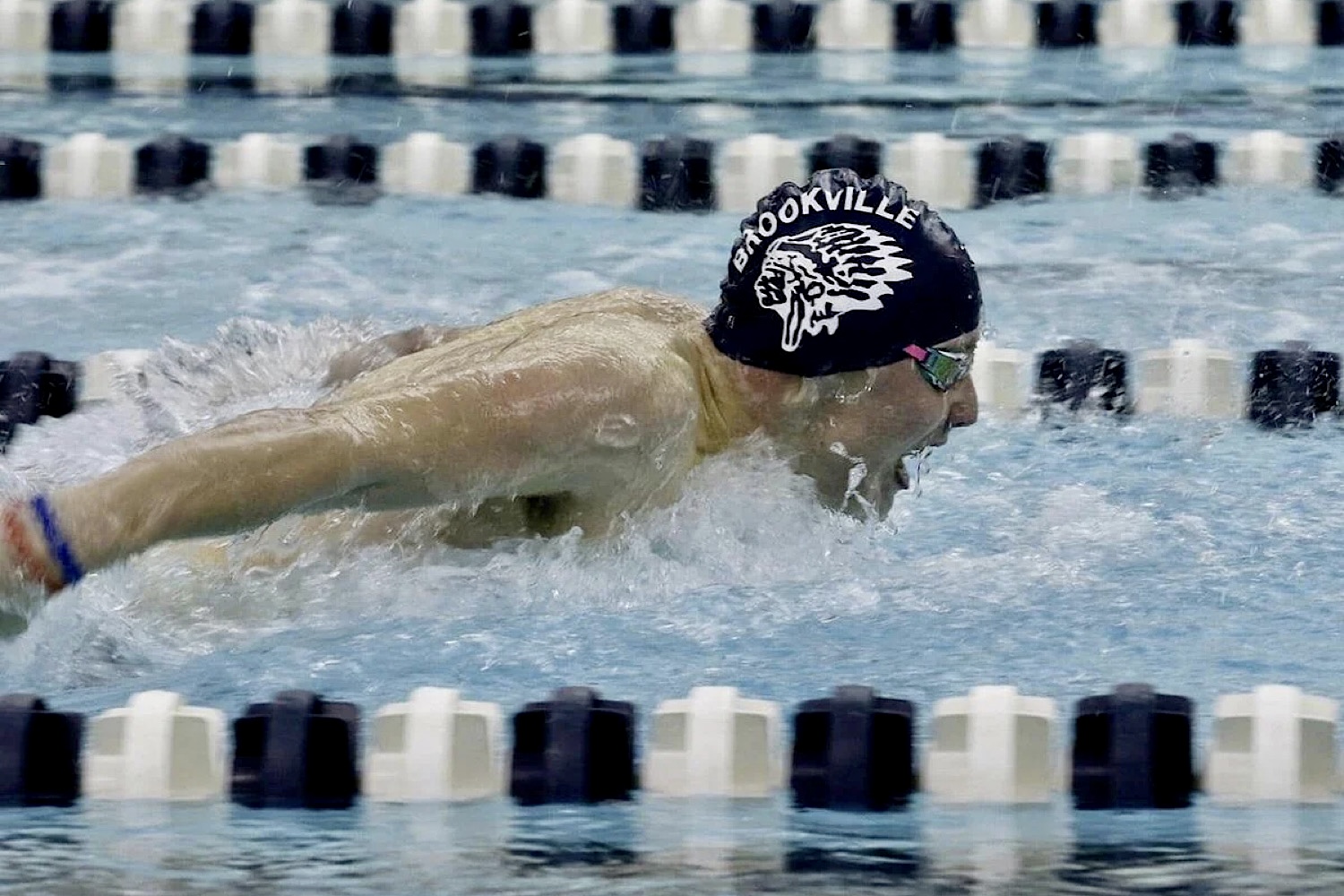 LUCINDA, Pa. (EYT/D9) — Before Patrick Young even hits the water, he knows if he's going to have a great race or not.
It's a feeling that's usually spot on for the North Clarion junior and swimmer for the Brookville High School and YMCA teams.
He had such a feeling on Saturday at Tippin Natatorium at PennWest Clarion.
(Pictured above, Patrick Young swims for Brookville/photo by Susanne Fenske)
Young swam the 100-yard breaststroke in 58.2 seconds, breaking the pool record — by a lot. The previous mark was 1 minute, 1.79 seconds set in 2021.
That's no small feat, considering all of the marks on the big board are held by collegiate swimmers.
Until now.
Brookville Area High School sports coverage on Explore and D9Sports.com is brought to you by Redbank Chevrolet and DuBrook.
"Whenever I jumped off for the 100 breast, I knew it was gonna be great," Young said. "Having my teammates at the end of the lane cheering me on, I knew I could do it."
One thing continued to swirl around in Young's mind during his swim.
"I'm breaking a college record," he said.
It's just one of a slew of marks Young holds in his standout swimming career.
Young, who is only able to swim at Brookville because of a co-op that also includes Clarion and Clarion-Limestone, hold Raiders records in the 200 individual medley (2:02.48), the 100 butterfly (52.37), 100 backstroke (56.31) and the 100 breaststroke (59.64).
Young broke the Clarion pool record while swimming for the Brookville YMCA team.
"I wasn't expecting all these record to come down as fast as they're coming down," he said.


North Clarion sports on Explore and D9Sports.com are brought to you by First United National Bank – The FUN Bank!
But they have, and in two short years.
The COVID-19 pandemic took away most of Young's opportunities as a freshman.
Last year, he emerged as a key member of Brookville's boys team, anchoring the 200 freestyle relay that also included Brookville students Brody Barto, Calvin Doolittle and Bay Harper that finished eighth at the PIAA Class 2A Swimming and Diving Championships with a time of 1:29.69.
"It was awesome to be a part of that, how they allowed me to become a part of that," Young said. "It was really nice for me to be able to come in and be that extra piece and really help everyone achieve the same goal."
Young has his sights set on returning from Bucknell University this year with even more medals.
He's doing that by committing to his craft, in and out of the pool.
When Young isn't putting in hours in the water, he's lifting weights to make himself stronger.
"I think it's worth it. That's why I do it every day," Young said. "At the end of the year, whenever you can say, 'Hey, I broke these records. Hey, I was able to achieve this at the state meet,' that's why I do it. That's why I've been doing all the work."
Brookville coach Ray Doolittle said Young does nothing without a purpose.
"I watch him during practice and he's always experimenting just a little bit with his hand position or his arm position or his head position, always looking to maximize power or to get just a little more out of his streamline," Doolittle said. "It's never just going through the motions. Every length, every set, every rep, every little nuance he can do with every aspect of his stroke — he's working on it constantly."
Young was a basketball player when he was a 9-year-old and decided he needed a change.
So, at the urging of his father, Steve, he joined the YMCA swim team at Clarion.
It didn't take him long to realize swimming was going to be his sport.
As he improved markedly, he decided to focus on swimming year-round, traveling to Grove City during the offseason to continue to hone his skills.
But by the time he got to high school, North Clarion didn't have its own team. With the co-op in place with Brookville, Young was curious to see what he could do with the Raiders.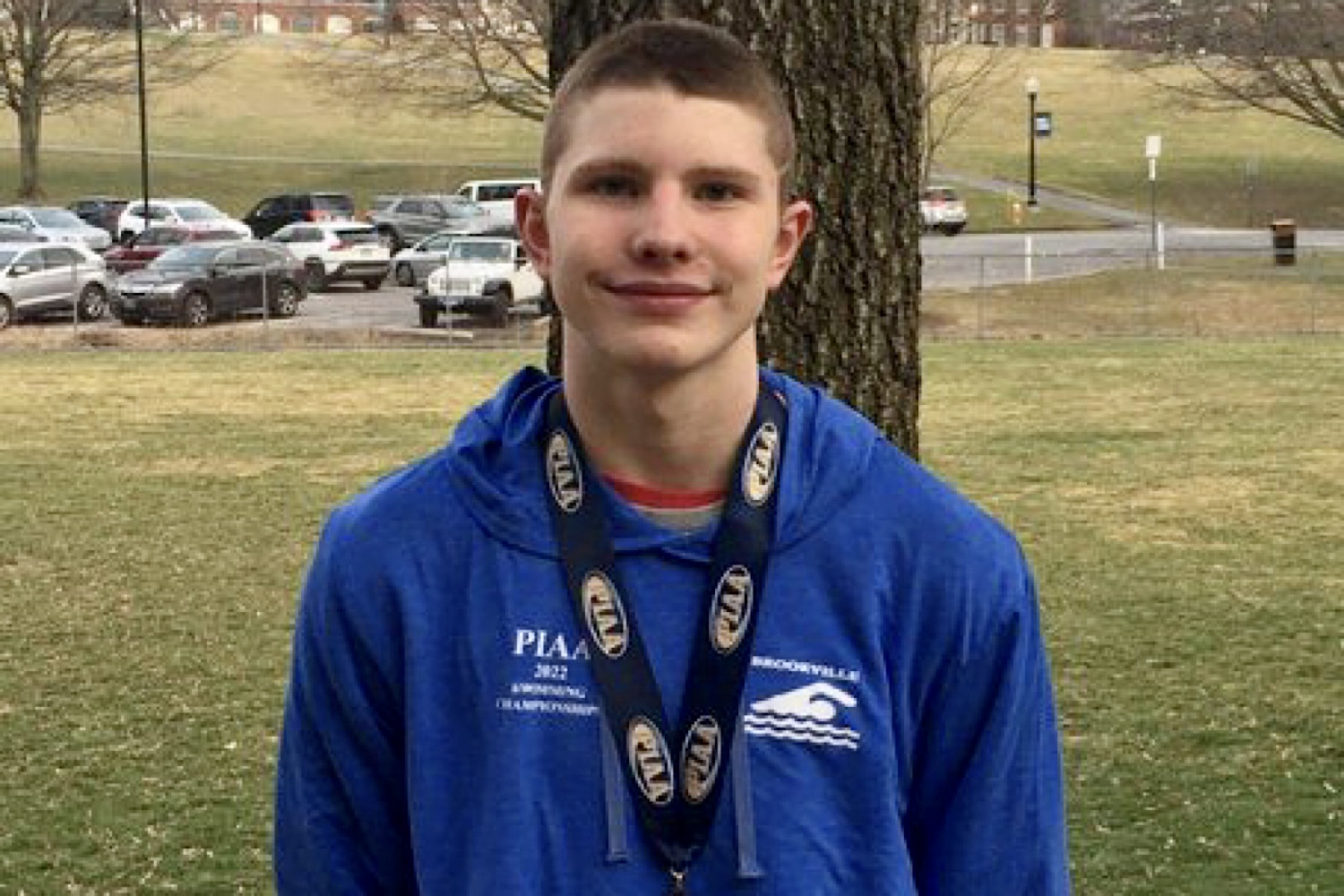 What he found was a team that accepted him, as well as the other swimmers from other schools on the co-op.
"At first, everyone really doesn't know each other and it kind of takes a week or two, but now it's kind of like a family," Young said. "The guy's team is like a brotherly bond, and it's great to learn about and meet all these new people from these different schools that I wouldn't have met without the swim team."
Young thinks the melding of swimmers from different schools in the co-op has become a distinct advantage for Brookville, which also opens its doors to independent swimmers from around District 9, like Evie Bliss from Union.
"It does because everyone is trying to get to know each other even more because they're not at the same school," Young said. "They're trying to learn where you live, what you're like as a person. It's really gotten to make us as close-knit as you could be then if we were all from the same school."
Doolittle has also facilitated that with the way he coaches the team.
"When they join Brookville swimming, they're not even looked at as you're the co-op kid, or you're the co-op family, or you're an outsider," Doolittle said. "They become part of our family instantly. When they walk through the doors here, they're not a North Clarion kid or a Clarion kid or a C-L kid anymore. They're a Raider swimmer. They're my swimmer and I'm their coach."
Doolittle has seen a lot of swimmers come through the Brookville program. His own son, Calvin, was a standout and is now competing at Grove City College.
Young, though, is built a little different, especially when it has come to smashing records as a matter of routine.
"Usually kids are scratching and clawing and sometimes then even get within a couple of tenths of a second and then never quite crack it," Doolittle said. "He just decided go after the 100 back and nailed it.
"What he did over at Clarion," Doolittle added, "was out of this world for an eleventh-grade student."
That's why Doolittle hesitates to say what Young is capable of doing as the district and state meet rapidly approach.
"I don't think I would ever want to make a prediction as far as what the ceiling is for Patrick in terms of his potential," Doolittle said. "It's just amazing. Whenever he starts thinking about a record, it's like he'll swim it once to see where he is at, then he'll come back two weeks later having worked on whatever he needs to work on, he'll say, 'Give me another shot, coach," and then, boom, it's gone. He annihilates the record.
"So, if the trajectory of what he's been doing in the breaststroke continues, even remotely, he could really make some serious noise at the state level."
At this time of the year, swimmers aren't supposed to be shaving so much time off their races.
But Young is, even with the heavy workload in the pool.
"He has a lot of accumulated fatigue from a lot of yardage and hard workouts on his muscles right now," Doolittle said. "You're not supposed to see the time drops that he has.
"I never take anything for granted," Doolittle added. "but what we could potentially see at the state meet this year — it's just really exciting to let my imagination go."
Brookville Area High School sports coverage on Explore and D9Sports.com is brought to you by Redbank Chevrolet and DuBrook.