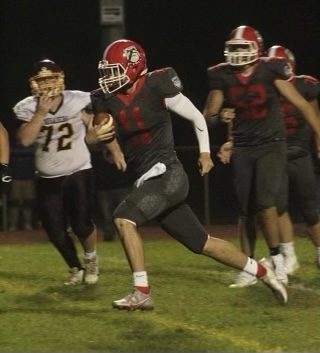 NEW BETHLEHEM, Pa. (EYT/D9) — The "Cheat Code" is licking his chops.
For the first time this season, Redbank Valley defensive end Joe Mansfield is squaring off against a team that throws the ball more than it runs it when Brockway comes to town Friday night.
(Above, Redbank Valley quarterback Bryson Bain scrambles for yardage/photo by Madison McFarland.)
Mansfield, a three-time all-state selection, hasn't had much chance to hunt the quarterback against the likes of Keystone, Otto-Eldred, Elk County Catholic and Sheffield.
Those four opponents have averaged just 12 passes per game. Brockway has put the ball in the air 156 times already in four games.

Redbank Valley, Keystone, and Union/A-C Valley sports coverage on Explore and D9Sports.com is brought to you by Heeter Lumber.
"They've had some success running the ball, but I believe they're 71% pass," said Redbank Valley coach Blane Gold. "So, obviously, we're prepared for that. We really changed our identity defensively this year for playing teams like this, going to the 4-2-5. Our DBs haven't really been challenged, up front as well.
"It's kind of not his fault, but Joe Mansfield has had a slow start to the year because we haven't had a lot of teams throwing the football against us," Gold added.
That should change this week for both Mansfield and the other Bulldog defensive end, Brandon Ross.
The onus of the pass rush will be on them.
Getting pressure on Brockway freshman quarterback Brayden Fox will be paramount in this matchup.
Fox, a left-hander, has already thrown for 871 yards this season.
He's used a variety of weapons.
Alex Carlson leads the Rovers with 25 receptions. Blake Pisarcik, also a freshman, has 17 catches, followed by Jalen Kosko (15) and Matt Pyne (13) in double digits.
Brockway's offense is again run by Frank Varischetti, who returned this year as an assistant under head coach Jake Heigel after stints at DuBois as the head coach and Brookville as the offensive coordinator.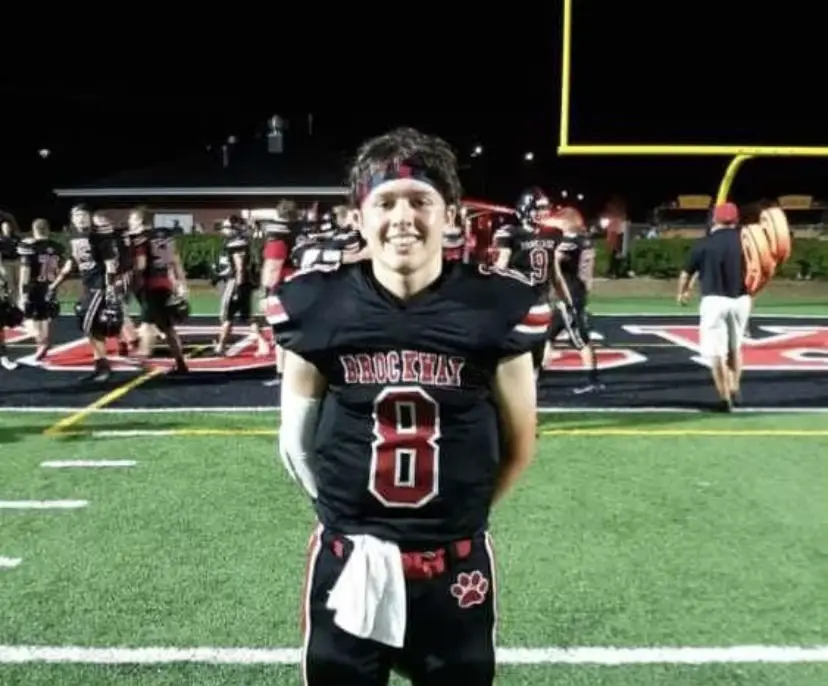 (Brayden Fox)
Varsichetti first unveiled his spread passing attack as the head coach at Brockway from 2007-10.
"Defensively, we're matching up against the best offensive mind in District 9 in Coach Varischetti," Gold said. "There's definitely a lot for us to respect and prepare for."
The same is true for Brockway, which will have to deal with Redbank Valley's explosive offense.
Like the Rovers, the Bulldogs have a first-year starter at quarterback. But that's where the similarities end.
Senior Bryson Bain won the job in camp after not playing football since junior high. Bain has shook off an auspicious debut with two interceptions returned for touchdowns against Keystone in a Week 1 loss to throw for nine touchdowns and just one pick in the three victories since.
Bain has completed 32 of 45 for 574 yards and 11 touchdowns this season.
"After the loss to open the year, we knew we had some kinks to work out," Gold said. "We're excited to see how he and the receiving corps continue to develop against a good defense."
Bain may get one of his big receiving threats back.
Chris Marshall was injured on the first play of the game against Elk County Catholic two weeks ago and was held out Saturday against Sheffield.
The 6-foot-3 Marshall had 10 receptions for 167 yards and four touchdowns before his injury.
"Chris is the type of athlete you can't replace," Gold said. "His athleticism. His speed. His ability to go get the ball. He's a really a special type of talent. But we do have in Mason (Clouse) and Ashton (Kahle) guys that are able to replace him and be reliable. They may not be catching balls and juking three guys out of their shoes, but they are definitely guys who we trust."

Redbank Valley, Keystone, and Union/A-C Valley sports coverage on Explore and D9Sports.com is brought to you by Heeter Lumber.