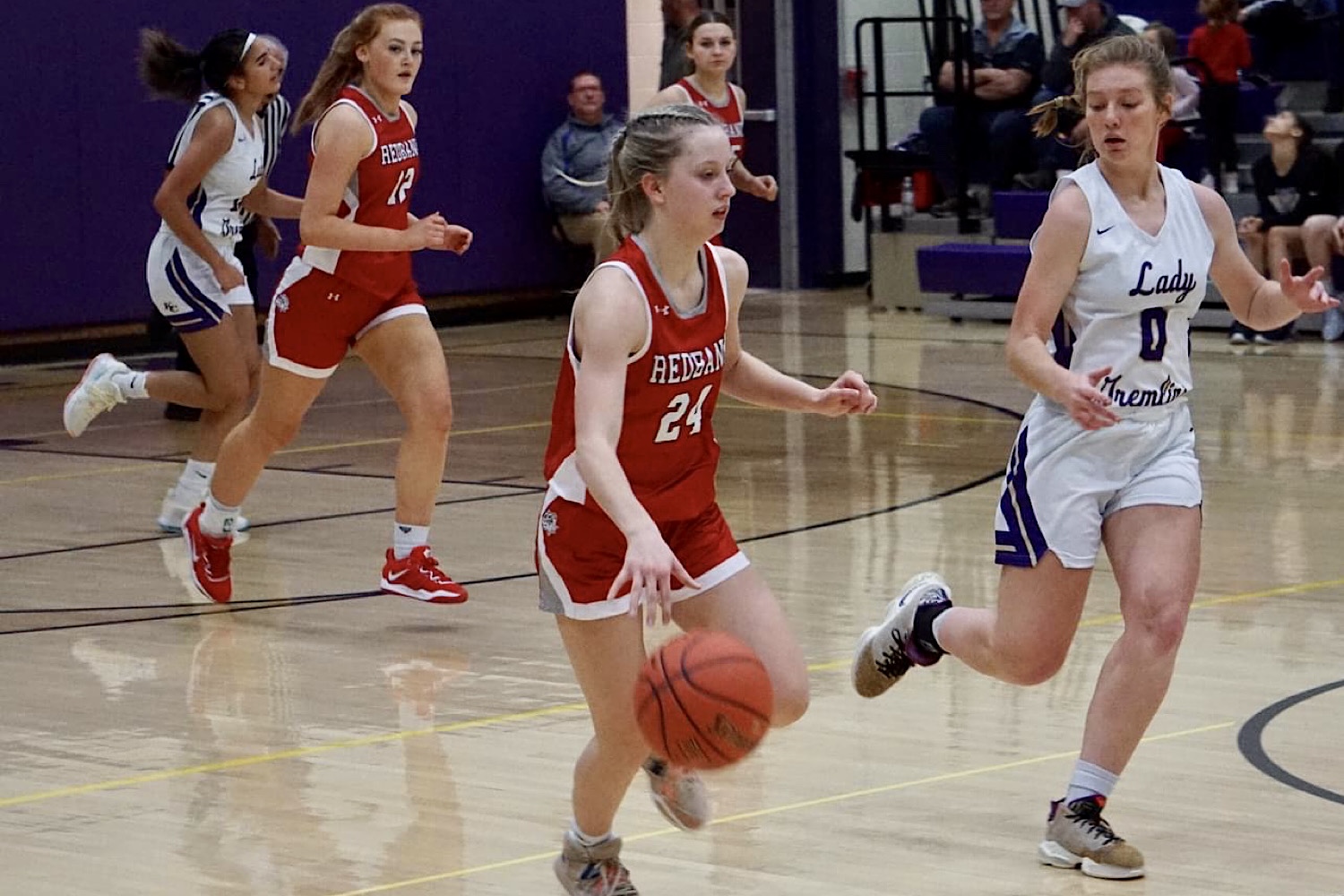 CALIFORNIA, Pa. (EYT/D9) — During the offseason, Redbank Valley girls basketball coach Chris Edmonds sought to beef up his non-Keystone Shortway Athletic Conference schedule.
That meant adding teams like OLSH to the slate.
(Pictured above, Mylee Harmon against Karns City earlier this season/photo by Angie Rearick)
He also wanted to get his team in bigger gyms, arenas and floors to get them ready for the postseason.
That meant playing in tournaments like the one at California University of Pennsylvania.
The Bulldogs squared off against perennial District 7 power OLSH, falling 45-40 on Tuesday afternoon at Cal U.
Mylee Harmon scored 22 points and Alivia Huffman added 12 against the Chargers, who have held teams to just 37 points per game this season.
OLSH is coming off a WPIAL Class 2A runner-up season. The Chargers moved up to 3A this year.
Redbank Valley moved down to 2A after last season.
Mia Grisafi led OLSH with 12 points. Kyleigh Nagy added 11 for the Chargers, who led 24-20 at the half.
Redbank (7-1) closed that gap to 30-29 heading into the fourth quarter.
Harmon scored eight of her points in the final period, but it wasn't enough to rally the Bulldogs.
"It was a good effort by the girls," Edmonds said.
FARRELL 51, A-C VALLEY 19
Mackenzie Parks had a big night with 14 points and seven rebounds, but the Steelers were just too much for the Falcons.
NORTH CLARION 63, YOUNGSVILLE 26
Emma McFarland scored 17 points and Lily Homan chipped in 13 as the Wolves rolled.
Lauren Lutz added nine for North Clarion, which got off to another fast start, leading 29-7 after one quarter and 43-20 at the half.
KANE 36, CLARION 21
Hailey Hillman led the Wolves with 11 points in this win at the Kane Christmas Tournament.
Sophie Babington led Clarion with 10 points.
BOYS BASKETBALL
Owen Clouse scored 14 points, but Redbank Valley couldn't overcome a slow start in a 79-62 loss to Farrell at the Dresch-McCluskey Tournament hosted by the Steelers.
Braylon Wagner and Matt Kozma each added 11 for the Bulldogs.
Malachi Owens led Farrell with 20 points.