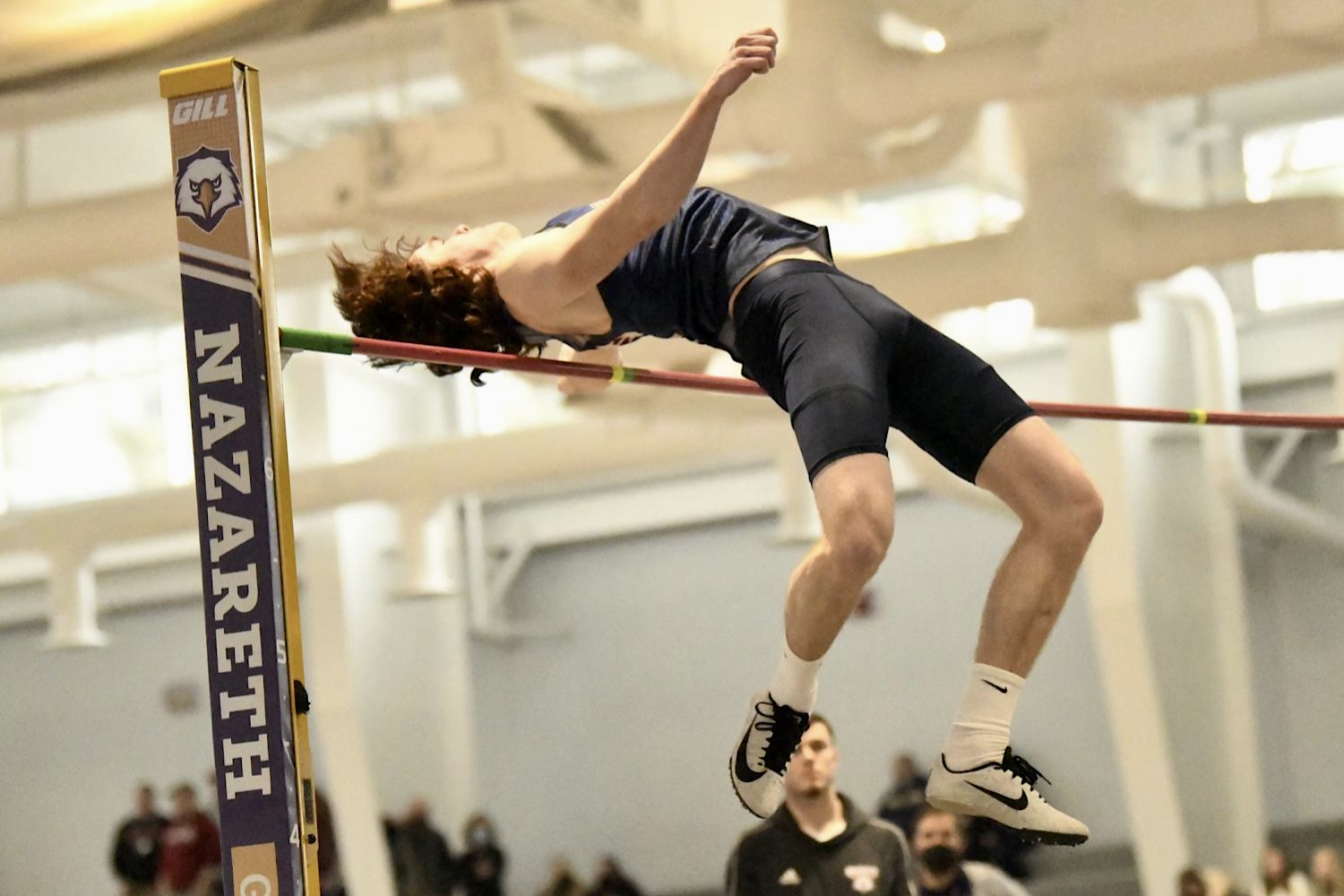 ERIE, Pa. (EYT/D9) — Samuel Hetrick had the number in his head since the first time he leapt over a bar in the high jump.
It's a number most male high jumpers strive for, a milestone that beckons with each meet.
(Pictured above, Redbank Valley graduate and Penn State Behrend junior Samuel Hetrick clears the bar at an indoor meet this winter/photo courtesy of Penn State Behrend)
Seven feet.
The Redbank Valley graduate and junior on the Penn State Behrend men's track and field team had come painfully close to clearing that number. He was never able to do it.
Until March.
At the All-Atlantic Region Indoor Track and Field Conference Championships at the Armory in New York City on March 4, Hetrick cleared 2.15 meters — that's seven feet and one-half inch.
That broke the Behrend record in the event and was the best in the nation heading into the NCAA Division III National Championships.
"That barrier was finally broken," Hetrick said. "It was very, very hype. I've been striving for seven feet since, well, my entire high jump career. That just seemed like a goal I always wanted to hit. It finally happened and I was very happy."
At the indoor national championships the next week in Birmingham, Ala., Hetrick cleared 2.06 meters (6-9) to place second.
"I'm happy with it," Hetrick said. "I was really going in trying to win, as you always do, but it was a good finish. It was a good competition. I'm glad I went there and competed. It was a fun time."
Since the outdoor season started, Hetrick has been chasing seven feet again.
He's got as close as 6-9¾ in April at his home stadium, breaking the facility record in the event at the Behrend Invitational.
That mark is the second-best in the nation in Division III.
"I've definitely set some standards and personal goals that I'm trying to live up to," Hetrick said. "I'm just gonna go out and try to do better at the outdoor championships and see what I can come up with.
"Whenever it comes to track, you just always want to PR," Hetrick added. "That's been the goal the whole season. When it comes to finishing, I just want to show up at the championships and compete as best as I can. And if my best is first, I'm definitely happy with that."
Hetrick was second in the high jump and long jump over the weekend at the Colonial States Athletic Conference Championships in Washington, D.C. to help Behrend win its seventh consecutive conference title.
Hetrick cleared 1.91 meters (6-3¼) in the high jump and hit 6.69 meters (21-11¼) in the long jump to earn his silver medals.
The biggest adjustment Hetrick has had to make between the indoor and outdoor seasons while at Behrend has been dealing with the wild swings in the elements.
Springtime in Erie can be unpredictable.
"It's just whether or not you're getting rained on or snowed on or baked under the sun," Hetrick said. "We had an 80-degree track meet in April. Then it was snowing two days later. It's just tough when it's 30 degrees outside and you have to strip down to your uniform and brace the cold."
Then there's the beating the indoor and outdoor seasons can take on the body.
Hetrick has been competing non-stop since December.
"There's nothing but running and jumping for over half a year," he said. "You just gotta stay healthy, but you also don't want to lose what you gain. It's a balance between rest and staying strong and ready to compete."
Like most athletes, Hetrick had dealt with minor injuries throughout the indoor and outdoor campaigns.
"There's definitely been some fatigue and soreness," Hetrick said. "A lot of trips to the helpful trainer's room and just eating well and resting when you need to rest."
And then there is the pressure — not unique to any athlete in college.
But track and field is a different animal, particularly in the throws and jumps.
It matters little what has been accomplished in the past. What matters is performing on that particular day and in that particular circumstance. That pressure can make some athlete wilt.
Not Hetrick.
So far, Hetrick has been able to come up with some of his best efforts in the biggest spots.
He hopes that continues with some very big meets ahead in May.
"There's definitely a lot to think about going into a meet," Hetrick said. "Honestly, it's how you deal with the outcome that really matters. If you have a bad day, you just have to keep going and know you're gonna have a better one the next week. It's just really about staying positive after a performance you're not happy with that keeps you pushing until the end."