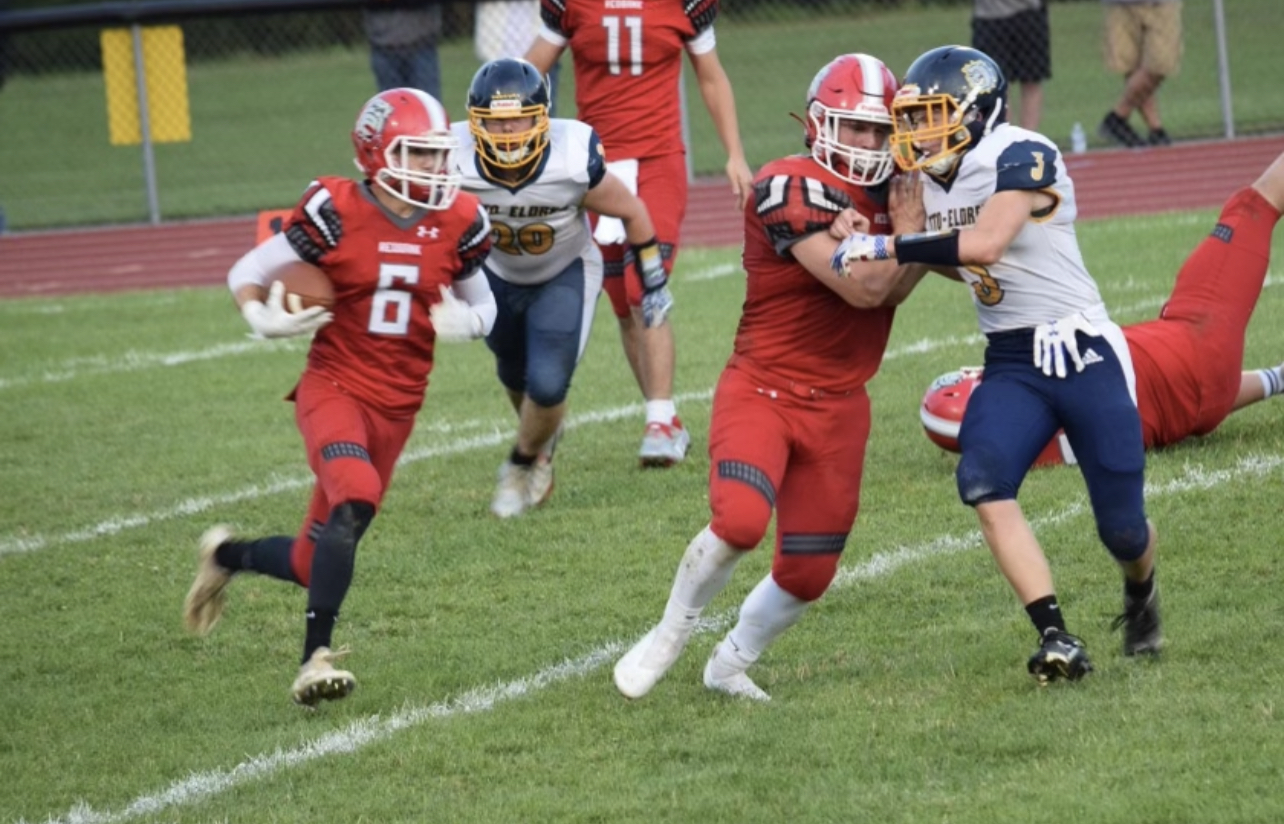 SHEFFIELD, Pa. (EYT/D9) — Before Redbank Valley's potent offense even stepped on the field to run a play from scrimmage, the Bulldogs were up on overmatched Sheffield, 16-0.
Thank Ashton Kahle for that.
The sophomore scored on punt returns of 48 and 45 yards early in the first quarter as Redbank cruised to a 55-6 win over Sheffield Saturday afternoon.
(Ashton Kahle returned two punts for a touchdowns against Sheffield Saturday/photo by Casie Minich)
"That kind of changed things," said Redbank Valley coach Blane Gold. "We played our starters the first quarter and we just kind of spread it around a little bit. We got some guys in the end zone that hadn't scored yet this year."

Redbank Valley, Keystone, and Union/A-C Valley sports coverage on Explore and D9Sports.com is brought to you by Heeter Lumber.
The Bulldogs (3-1) were up 34-0 after the first quarter.
Bryson Bain tossed three touchdown passes. The senior connected with Tate Minich to make it 22-0 less than six minutes into the game. He also found Aiden Ortz for a 33-yard touchdown and had a 1-yard TD pass to Jacob Kundick before exiting.
All three of Bain's completions went for scores. He finished 3 of 4 for 54 yards.
Eight different players found the end zone for the Bulldogs.
Cole Bish scored on a 12-yard run. Cam Wagner hauled in a 13-yard TD pass from Gunner Mangantini and Joe Mansfield, better known for his defensive dominance, also scored on a 16-yard run.
"Those guys work hard," Gold said. "The JVs, they played the whole second half. They work hard all week, so they deserve to get those reps. When we put them in, we said that we want those guys playing full-speed, just like they would on a Monday night.
"I still wanted them to play to play 100%, to play to win and try to score on every play," Gold added. "Those guys give me their all in practice, so when they get their chance, they deserve the reps."
Gage Mott-Macalush capped the scoring with a 5-yard run for Sheffield (0-4).
Drew Byers led Redbank Valley with 73 yards in six carries. Cole Bish added 54 yards on six attempts.
Gold's goals were reached in the win against a Sheffield team that is rebuilding after only playing one game last season.
He was less concerned with the score as he was with how his team executed.
"It was one of those days I told the team the scoreboard doesn't matter," Gold said. "It's about perfecting our process, trying to be perfect in everything that we do. Defensively, we got stops and offensively, they scored quick."

Redbank Valley, Keystone, and Union/A-C Valley sports coverage on Explore and D9Sports.com is brought to you by Heeter Lumber.