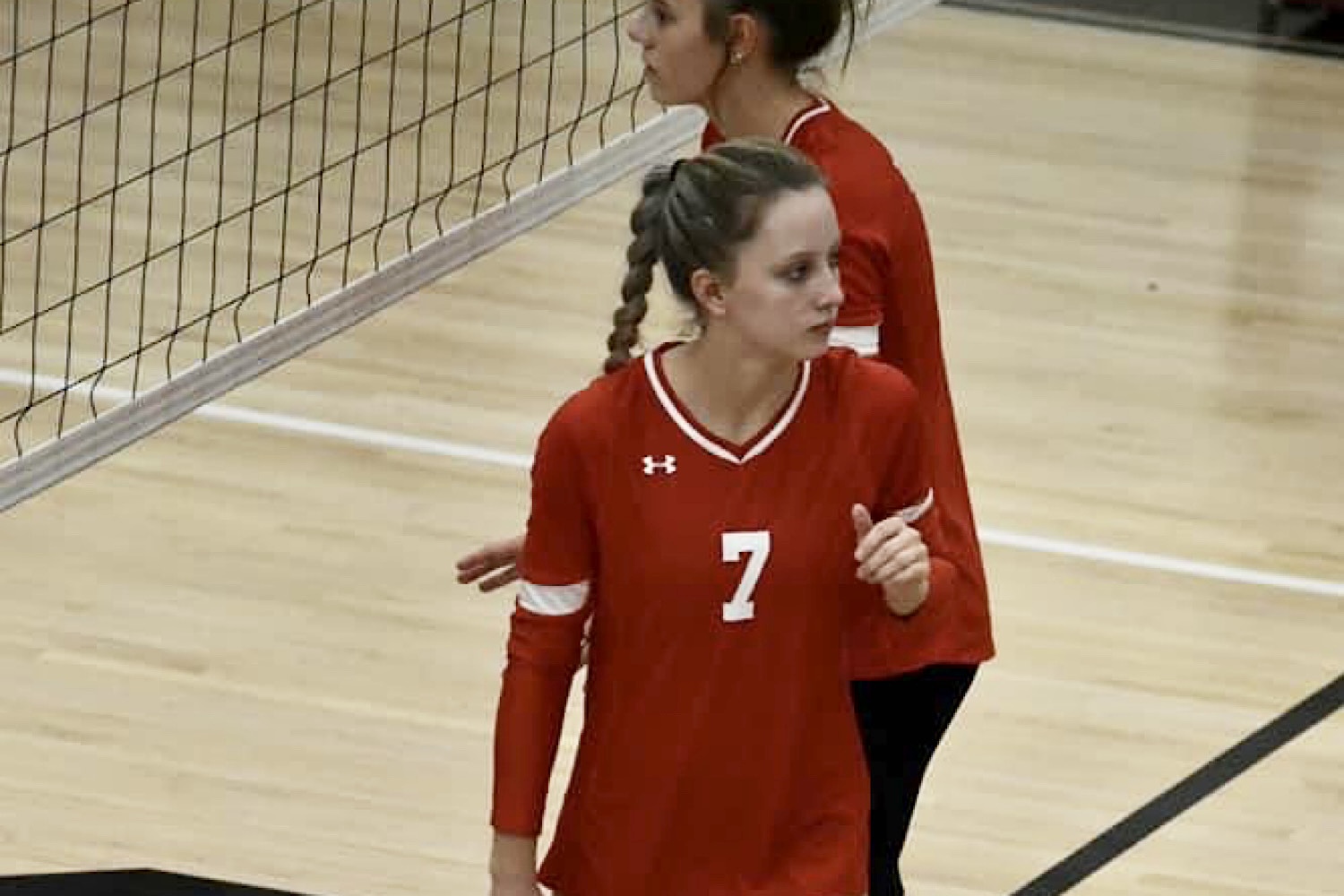 FRILLS CORNERS, Pa. (EYT/D9) — Mylee Harmon had 13 kills as the Redbank Valley volleyball team bounced back for a loss to Keystone on Monday night with a 25-19, 25-17, 25-16 win over North Clarion on Tuesday evening.
(Pictured above, Mylee Harmon/photo by Stephanie Bonanno)
Harmon also had five digs and four aces for the Bulldogs.
Taylor Ripple pitched in nine kills and five digs and Izzy Bond five kills and six digs.
Freshman Elaina Carrico continued her strong debut season as a setter with 22 assists.
Kyler Freeman led North Clarion with eight kills.
A-C VALLEY 3, UNION 0
Ella Ielase had six kills and 14 digs to lead the Falcons to a 25-18, 30-28, 25-17 win over the Damsels.
Lexi Altman had 10 assists and 17 digs, Hannah Ithen seven kills and Rylan Strauser five kills for A-C Valley.
Gracie Gallagher had a pair of kills and four blocks for Union.
MONITEAU 3, KARNS CITY 0
Davina Pry had 10 kills and four aces and Abbey Jewart had 16 assists as the Warriors earned a 25-20, 25-7, 25-20 sweep of the rival Gremlins.
Bella Hernandez also had a strong all-around night for Moniteau with four blocks and a pair of kills.
Haylie Karenbauer had seven kills for Karns City.
Ava Fox added nine digs and a pair of kills, Ashley Mauer six assists and six digs, Brooke Rumbaugh four aces and Nicole Taylor eight digs for the Gremlins.
CRANBERRY 3, KEYSTONE 0
Ayanna Ferringer continued her torrid play this season with 18 kills to lead the Berries to the 25-16, 26-24, 25-17 win over the Panthers.
Ferringer also had 12 digs, three blocks and five aces for Cranberry.
Addison Say had seven assists and 13 service points for Keystone.
Katherine Burrows led the Panther attack with nine kills and Gwyn Manno had 17 digs.
Keystone won the junior varsity match in three sets, 18-25, 25-18, 27-25.
Kira Edmonds as 12 service points, six aces and 20 digs. Airabella Wheeler led the Panthers with six kills.
CLARION-LIMESTONE 3, FOREST 0
Alyssa Wiant had eight kills to lead the undefeated Lions to a 25-6, 25-9, 25-9 win over the Fires.
Kaylee Smith had 22 assists.