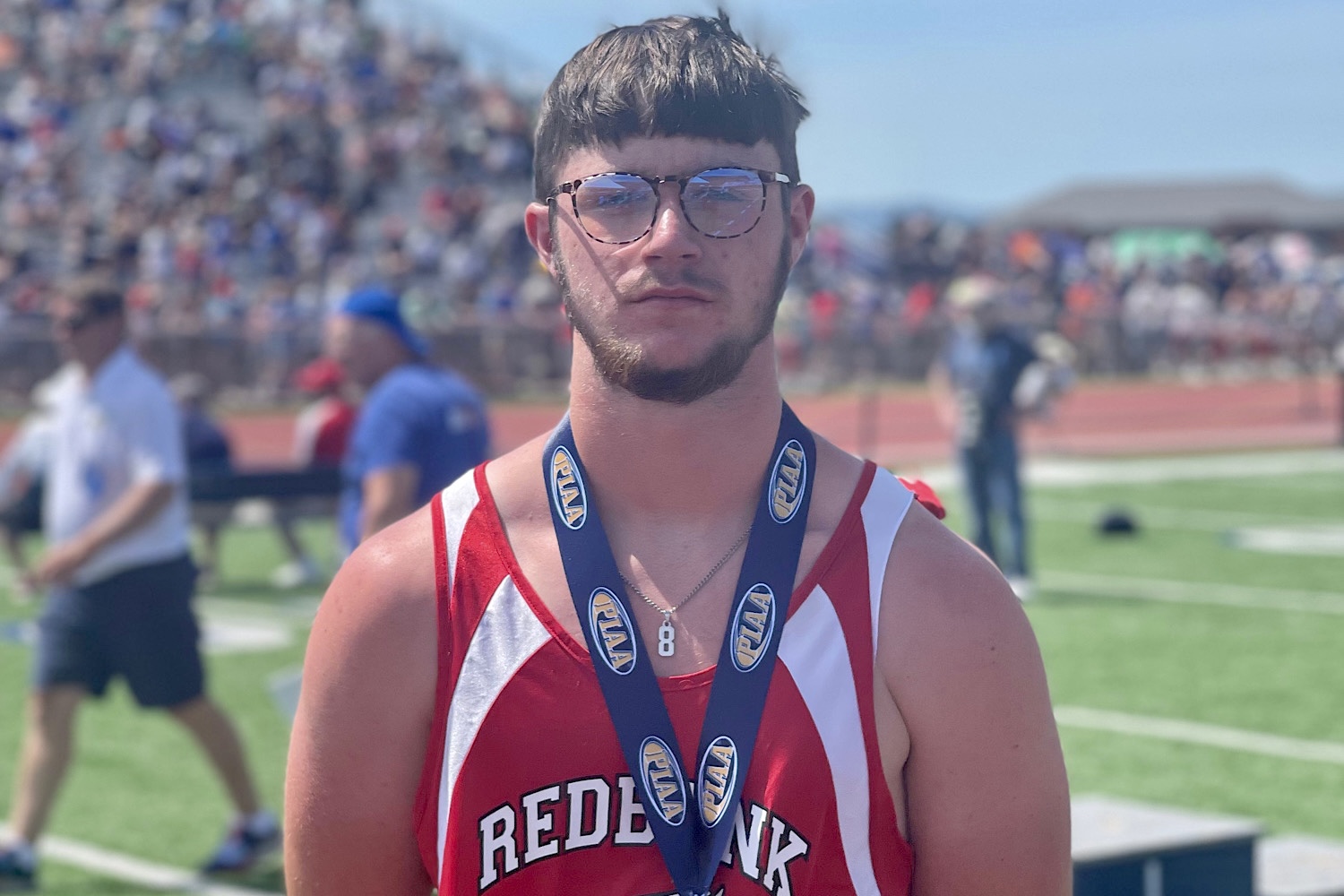 SHIPPENSBURG, Pa. (EYT/D9) — Cam Wagner spent Friday night putting everything into perspective.
The Redbank Valley senior was disappointed on Friday afternoon with his sixth-place finish in the discus. Then it occurred to him with some time and distance that his medal was a tremendous accomplishment.
(Pictured above, Redbank Valley's Cam Wagner after placing sixth in the shot put on Saturday afternoon)
"Yesterday seemed like a bad day, but our group in the discus yesterday was some of the best my coach says he's ever seen," Wagner said. "The person who was working it said it was the best he'd ever seen. I mean, we had seven guys over 162 feet. I didn't have my best meet, but 164 is still pretty good."
Wagner, though, arrived at Shippensburg with some mighty big goals.
He does leave with two sixth-place finishes — not a bad weekend.
Wagner was sixth in the shot put on Saturday afternoon with a throw of 51 feet.
He was third last year in the discus.
"(Friday night) I just tried to forget about it. It motivated me more to come out today and try to get a bit better," Wagner said. "My goal was to just get a medal, and I did."
Landon Chalmers of Union/A-C Valley placed ninth. Chalmers won the gold in the discus on Friday.
Wagner was also on the Redbank Valley 4×100 relay team with Owen Harmon, Ashton Kahle and Aiden Ortz, which just missed out on a spot in the finals.
Wagner is a bit of a unicorn when it comes to track and field. He's certainly built like a thrower, but also has sprinter speed.
"I don't look much like a runner at all," he said, grinning. "You look at all these dudes here, their legs are huge. It looks like I don't deserve to be on this side of the track at all."
Wagner will attend St. Francis University in the fall to study secondary education. His goal is to become a history teacher.
He committed to throw there in November of last year.
"It's exciting," Wagner said.
MEDAL COUNT
It was a successful weekend for District 9 athletes as 14 individuals won 15 medals and two relay teams came home with state medals.
FIRST
Evie Bliss (Union/A-C Valley), javelin, with a state record throw of 170 feet, 2 inches.
Hayden Smith (Union/A-C Valley), high jump
Landon Chalmers (Union/A-C Valley), discus
SECOND
Elk County Catholic 4×800 relay team of Sophia Bille, Sami Straub, Gianna Bille and Grace Neubert
Brookville 4×100 relay team of Brayden Kunselman, Hayden Freeman, Nick Shaffer and Jack Pete
THIRD
Ricky Zampogna (Kane), triple jump
Sam Lundeen (Kane), high jump
FOURTH
Mylee Harmon (Redbank Valley), 400-meter dash
Grace Neubert (Elk County Catholic), 3,200-meter run
FIFTH
Ryan Hummell (Clarion-Limestone), javelin
Brayden Kunselman (Brookville), 100-meter dash
SIXTH
Cam Wagner (Redbank Valley), discus and shot put
SEVENTH
Aiden Ortz (Redbank Valley), long jump
Aiden Grieneisen (DuBois Central Catholic), javelin
EIGHTH
Alivia Huffman (Redbank Valley), javelin
Kevin Sherry (Coudersport), 3,200-meter run