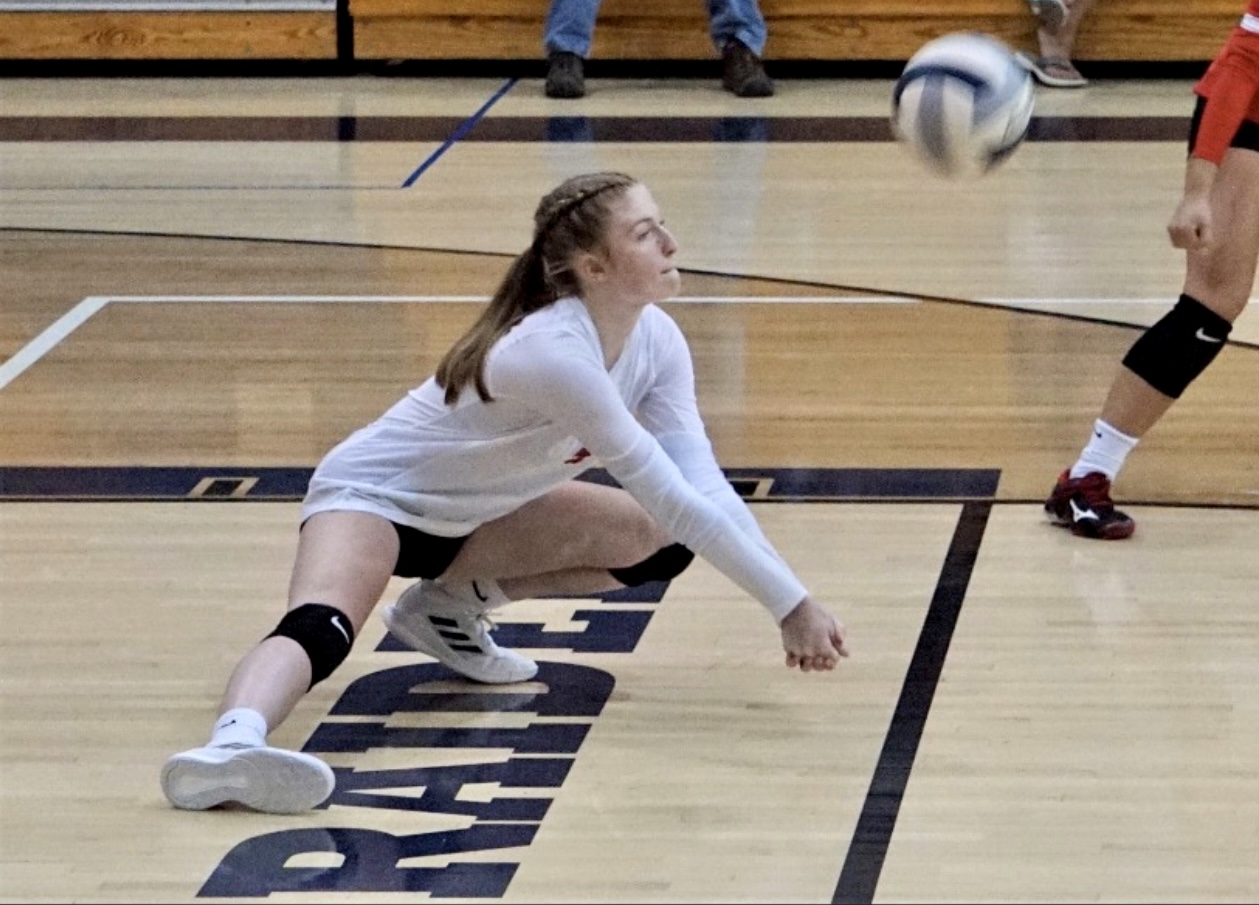 NEW BETHLEHEM, Pa. (EYT/D9) — She listens to hip-hop to get pumped up for games.
She hates losing, but can take it in stride as long as she feels like the effort was there.
She was baptized in May — and recently got a tattoo of a cross on her side as a nod to her faith. She's overcome personal struggles. And her binge-watching skill is the stuff of legend.
She is Caylen Rearick, and the Redbank Valley senior is grateful for her rebirth.
(Submitted photos)
"Last year, my junior year," Rearick said, "was overall rough."
Most of Rearick's high school career has been challenging. She's dealt with the COVID pandemic, a teachers' strike at Redbank Valley and a deeply emotional personal issue.
Those struggles affected her on the basketball court in the winter. A sharp-shooter from the outside, Rearick could never get into a rhythm during the season. Still, she and the Redbank Valley girls basketball team stormed to the District 9 championship.

Redbank Valley, Keystone, and Union/A-C Valley sports coverage on Explore and D9Sports.com is brought to you by Heeter Lumber.
Rearick, though, saw her points per game plummet.
And her confidence.
"Mentally, it really took a toll on me," Rearick said. "I just kept pushing every day, trying to get back into my groove, but it never really seemed to come. It just felt like every game was repeating over and over again and I felt like I just wasn't getting anywhere."
Things were much better for Rearick on the volleyball court in the fall.
She was finally playing the same position for consecutive seasons.
Rearick's volleyball career began as a setter. She then moved to outside hitter and then made another shift to defensive specialist before putting on the libero jersey for the first time as a sophomore.
She wore it well. The position was also a perfect fit for her personality. Relentless. Driven. Fearless.
"Everything and anything in that back row is mine," Rearick said. "I just put it in my mind that I'm gonna get every ball. Nothing is going to hit the court."
That comes with a price, namely a physical toll.
Rearick shrugs off the bruises and sprains and the aches and pains. After a grueling five-set match, she's tattooed with welts.
It comes with the territory.
"She's determined and she reads the ball very well," said Redbank Valley coach Ashley Anderson. "There's not a play when she's not on the floor. She puts her whole heart into it."
Rearick had 45 digs in a five-set loss to Karns City last season that is thought to be a Redbank Valley single-match record.
She was a second-team all-Keystone Shortway Athletic Conference selection and helped the Bulldogs reach the District 9 Class 2A championship match, which they lost to Keystone. She finished her junior campaign with 318 digs and 23 aces.
Rearick wants nothing more than to get that D9 crown back after Redbank won it in 2020.
"My goal is definitely to win a District 9 title," Rearick said. "Some of the freshmen coming up are really good, and with more practice, our team is going to be pretty well put together. I'm very excited. I feel like we are going to have one of our better seasons."
Rearick wants to close her high school career on a positive note after all the strife she's been through in the last two-plus years. She's eager to put her newfound faith to the test.
Ultimately, she wants to play volleyball in college. For years, she had her sights set on a basketball career at the next level, but that has changed.
She also found her career calling in an unlikely way.
During the COVID shutdown and quarantine in the spring of 2020, Rearick binge-watched every episode of Grey's Anatomy up to that point. That's 17 seasons and nearly 400 hours of programming.
Rearick is very proud of the accomplishment.
"It's pretty impressive," Rearick said, chuckling. "I did that in a very short period of time."
But the marathon Grey's sessions ended up fulfilling a bigger purpose than just passing the time and killing the monotony for Rearick. It motivated her to enter the medical field — she wants to be a radiologist one day.
Most of all, she wants a new beginning and to put all the tribulations behind her.
"I'm looking forward to a new school year," Rearick said. "A fresh start to everything."
Rearick said she has renewed focus.
She's more determined than ever to cap her high school career on top.
"I always tell her I have mixed feelings about her being a senior," Anderson said. "I'm excited to see her play this year. We've done summer league pretty much all June and July and she's really showed up there. I'm so anxious to see what happens during the regular season."
So is Rearick, who is trying to get her name out there for college coaches.
"I don't really think I would be a college basketball player," Rearick said. "But volleyball, I really think I could go play college volleyball somewhere. It's definitely something I want to pursue."
Athletics have always been a big part of Rearick's life. With two older sisters, Kaia and Brynn, and her mother, Angie, active in multiple sports when they were in high school, Caylen could often be found playing something with them in the backyard, the gym or the park while growing up.
"I've always been pretty good at volleyball because me and Brynn would literally play in the yard all the time, just passing back and forth," Rearick said.
Her mother, Angie, was also a gifted athlete when she was at Redbank Valley, starring in basketball and volleyball.
Caylen need not look far for inspiration and support as she embarks on her final high school season and a future full of promise.
"She had to quit basketball after she got a concussion," Caylen said. "She's my biggest role model because she's endured a lot in her life. She made it past some of the hardest obstacles."

Redbank Valley, Keystone, and Union/A-C Valley sports coverage on Explore and D9Sports.com is brought to you by Heeter Lumber.