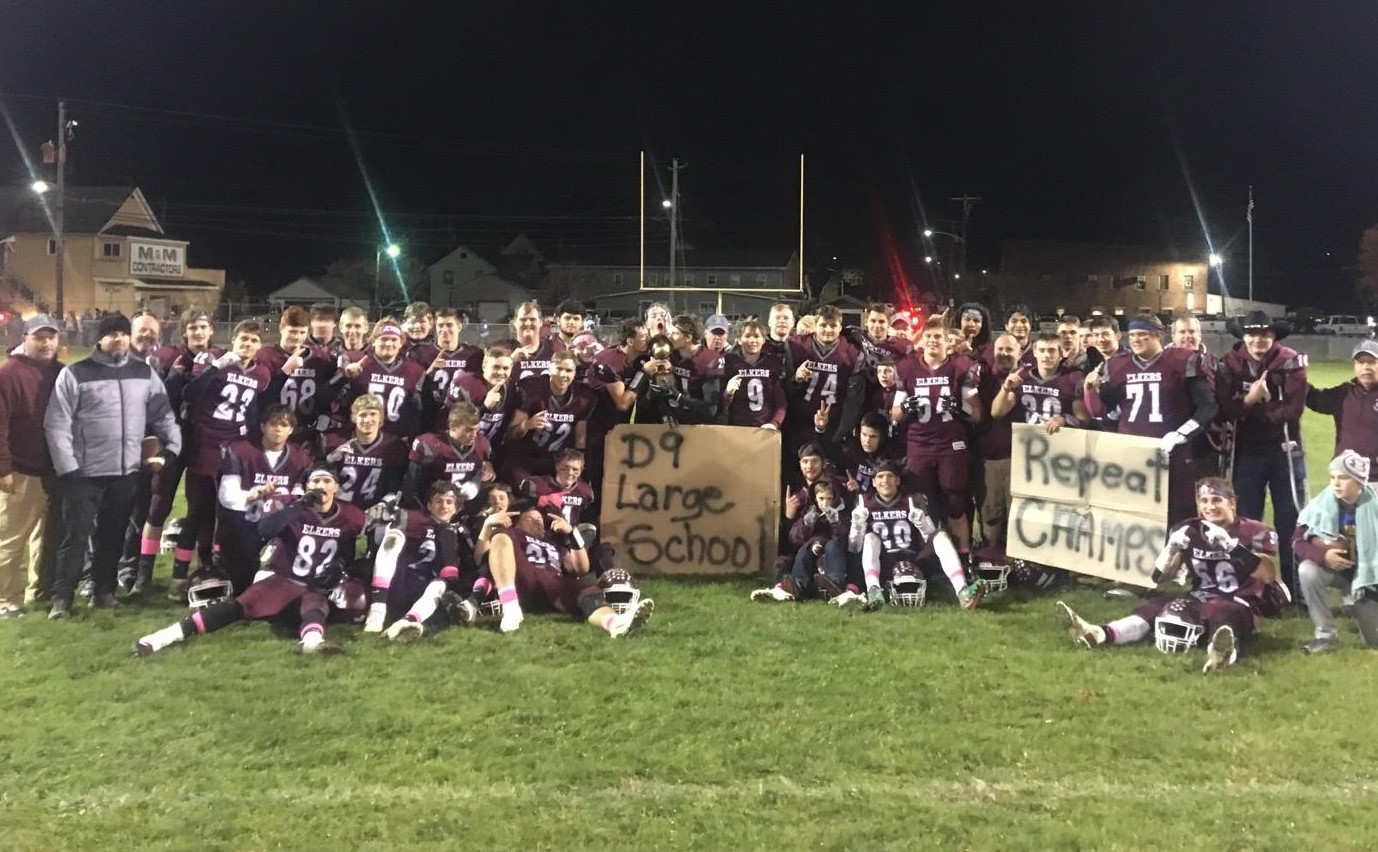 RIDGWAY, Pa. – Two D9 League divisional titles were claimed outright Friday night, as Coudersport took home its first division crown since 2006 with a 42-0 win over Smethport and Ridgway claimed its second in a row with a 28-14 victory over Ridgway.
(Photo: Ridgway celebrates back-to-back Large School Division titles. Photo by Jared Bakaysa of JB Graphics. See more of Bakaysa's work here)
Click here for non-title deciding game recaps • Click here for Small School South decided recaps
The victory for Coudersport (8-0 overall, 4-0 D9 League Small School North) clinched the Small School North title for the Falcons, while the win for Ridgway (8-1 overall, 8-1 D9 League Large School Division) claimed the second straight Large School title for the Elkers, who won the title on a tiebreaker over Clarion, who they beat 42-0 a couple of weeks ago.
Here is a look at both games.
RIDGWAY 28, BROOKVILLE 14
In Johnsonburg, Ridgway leaned on defense to earn a 28-14 victory over Brookville and led the Elkers to their second consecutive Large School Division crown.
"We're large school champs," Ridgway head coach Mark Heindel said. "Everyone counted us out after the Kane game, but I'm proud of our kids and proud of how they responded."
The Elkers built a 28-0 lead at halftime and then held off a second-half charge that saw the Raiders (7-2, 7-2) score on their first two possessions coming out of the half to cut the lead in half.
But Ridgway's defense made two crucial fourth-down stops and Jack Cowan got an interception to seal the game.
The Elkers stopped a fourth-and-1 run attempt by Robert Keth and a fourth-and-10 pass that went two yards with the Raiders at the Elkers 15.
"Our defense, they bend but won't break," Ridgway quarterback Paul Gresco said. "They came up with some huge stops and that really helped with momentum swings."
Watch more of Gresco's postgame thoughts.
Offensively, Gresco had a nice day going 7-of-13 for 131 yards and a touchdown pass. His favorite target was Matt Dush, who had four receptions for 65 yards.
The Elkers run game was led by Gabe Watts, who carried the ball nine times of 88 yards and two scores. Tyler Watts added 48 yards on six carries and Matt Dush rushed 45 yards on five carries.
Watts opened up the scoring midway through the first quarter with a 53-yard touchdown run to put the Elkers up 7-0.
Ridgway extended their lead to 14-0 in the first quarter when Watts added his second score of the game with a seven-yard touchdown run.
An Austin Green interception set up another Elker touchdown. This time, Gresco found Jake Wickett in the endzone for a 23-yard touchdown pass and a 21-0 Elker lead with 8:17 left in the second.
Ridgway added one more score before the half on a two-yard run by Wickett that capped off an 11-play, 56-yard drive.
Brookville started the second half with the ball going on an eight-play, 72-yard drive that cut the deficit to 28-7with a two-yard touchdown run by Robert Keth.
Keth found the endzone again four minutes later to cut the lead in half (28-14). This time it was Jack Krug who got him the ball for a 37-yard touchdown pass.
Keth was the leading receiver for the Raiders with eight receptions for 136 yards while Kyle Macbeth added four receptions for 108 yards.
Krug finished the game going 22-of-40 for 320 yards, a touchdown and two interceptions.
COUDERSPORT 42, SMETHPORT 0
Going on the road to Smethport, the Falcons wasted little time making sure they took the title away from last year's champion Hubber (5-3, 4-1 D9 League Small School North) outgained Smethport 357 yards to 35.
"We've been knocking on the door since I got here four years ago," Coudersport head coach Tom Story told the Bradford Era. "We've been knocking on the door to get that championship, so it's a good deal for these guys. (I'm) happy about that."
Travis Gleason ran 21 times for 180 yards and two touchdowns to lead the way for Coudersport with Brant Kightlinger adding a pair of rushing scores while running three times for 15 yards.
Hayden Keck also threw a touchdown pass for the Falcons and was 3 of 7 passing for 67 yards with an interception. Keck added 12 carries for 62 yards.
Keck's touchdown pass went to Jacob Pitcher, who had two grabs for 63 yards.
Taylor Heverly also added a touchdown run for Coudersport, while the Falcons defense recorded a safety as well.
Coudersport's defense held Noah Lent to 12 carries for nine yards and a 5-for-10 passing night for negative two yards with two interceptions.
Braedon Johnson led the Hubbers with 19 yards on 10 carries.