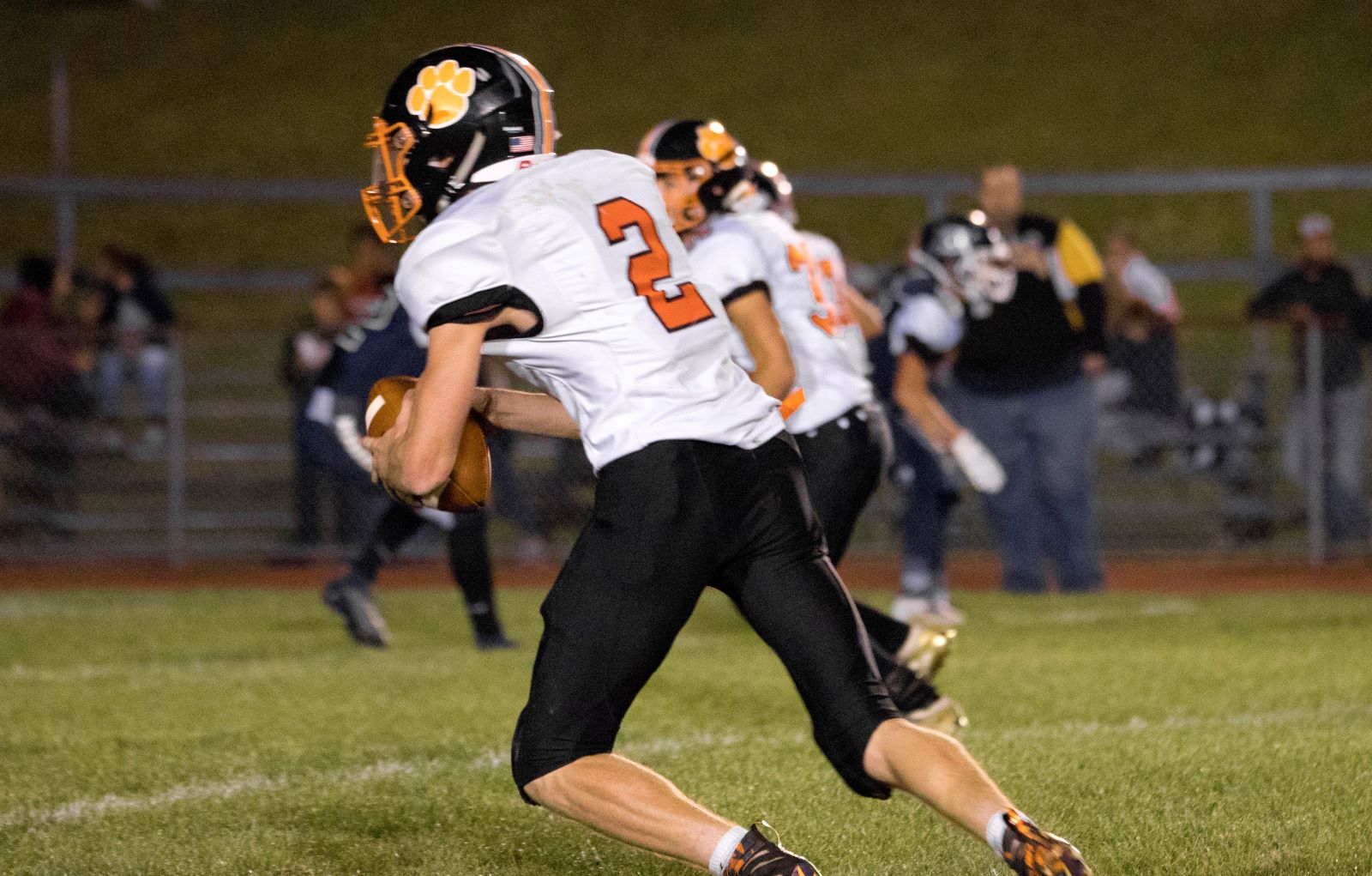 BROCKWAY, Pa. – While three division crowns were claimed Friday, there was still plenty of other exciting action in Week Eight of the high school football season around District 9.
(Photo by Kyle Yates www.facebook.com/YatesPhoto)
Click here for Keystone, Union/A-C Valley share Small School South Title
Click here for Ridgway wins Large School Title; Coudersport win Small School North Title
Here is a look at the other games in District 9 Friday night.
CLARION 63, BROCKWAY 13
BROCKWAY, Pa. – Clarion welcomed Austin Newcomb back into the fold after a two-week absence, and the Bobcat senior didn't disappoint scoring four touchdowns three different ways in a 63-13 win at Brockway.
Newcomb scored on run of 10 and 30 yards, caught a 41-yard touchdown pass from Cal German and returned the second-half kickoff 86 yards for a score. He finished the game with eight carries for 112 yards and caught one pass for the 41 yards.
The Bobcats (8-1) actually trailed 7-6 after a quarter but outscored Brockway 49-6 over the next two quarters, including 28-6 in the second quarter, to break the game open.
Cutter Boggess added a pair of touchdown runs for Clarion scoring on third-quarter runs of 66 and three yards and finished the night with six carries for 108 yards, while German, who was 4 of 6 passing for 109 yards, also hit Hunter Craddock with a 51-yard scoring pass, and Colton Zacherl (14 yards) and Breckin Rex (73 yards) scored on the ground.
Jon Wood threw a pair of touchdown passes for Brockway connecting with Conner Ford from 10 yards out and Austin Schmader from 34 yards away.
Wood was 3 of 3 passing for 64 yards and ran 15 times for 95 yards. Ford ran 22 times for 75 yards, caught one pass for 10 yards and was 1-for-5 passing for 19 yards and an interception while Schmader grabbed two passes for 62 yards.
Brockway fell to 2-7 with the loss.
OTTO-ELDRED 76, SHEFFIELD 30
DUKE CENTER, Pa. – Cole Sebastian accounted for seven touchdowns, Cameron Magee caught a pair of scored and intercepted four passes and Ethan Smith caught two touchdowns and intercepted two passes including one he returned for a touchdowns to lead Otto-Eldred to a 76-30 blasting of visiting Sheffield.
Otto-Eldred's defense intercepted Sheffield quarterbacks eight times – including Audjimier Slappy-Washington seven times. It was the second time this season the Wolverines (2-7 overall, 2-3 D9 League Small School North) threw eight interceptions in a game and the second time they allowed one opposing player to record four picks in a game.
Cameron Magee joins Keystone's Zander McHenry in the four-interception club one back of the District 9 record of five, while the Terrors (3-6, 2-3) tie Keystone for what is believed to be the state record for interceptions in a game.
While the defense was picking off Sheffield at will, Sebastian went 12 of 20 passing for 235 yards and four touchdowns and ran six times for 148 yards and three scores.
Smith caught five passes for 89 yards and the two touchdowns and returned one of his two interceptions 71 yards for a score, while Cameron Magee had two catches for 87 yards and two scores and Chance Palmer added a touchdown catch. Brendan Magee was 3 of 4 passing for 59 yards and a score, and Colton Gietler ran for two short touchdowns and carried the ball three times for 16 yards. Josh Rhinehart added a pair of interceptions as well for Otto-Eldred.
Slappy-Washington did throw a pair of touchdowns going 12 of 34 passing with seven interceptions.
Caden Smead caught four passes for 106 yards and a touchdown for Sheffield with Jihad Bennett catching three passes for 34 yards and a touchdown and rushing 14 times for 55 yards and a score.
Nick Billie (3-yard run) and Trashaun Allison (60-yard kickoff return) also scored for the Wolverines.
KARNS CITY 42, BRADFORD 13
BRADFORD, Pa. – Karns City improved to 6-3 on the season with a 42-13 win at Bradford.
Hunter Rowe ran nine times for 142 yards and three touchdowns, as the Gremlins ran for 475 yards and gained 476 yards on the night.
Anthony Kamenski added 112 yards and a touchdown on 12 carries and was 1 of 8 passing for 1 yard, while Luke Garring ran six times for 92 yards and a touchdown as well. Jace Anderson (63 yards rushing) also scored for Karns City
Caleb Nuzzo threw a pair of fourth-quarter touchdown passes for Bradford (1-8), whose season came to an end since the Owls game with Oil City next week was cancelled due to the Oilers going to the District 10 playoffs.
Nuzzo was 5 of 13 passing for 74 yards and the two scores while also throwing and an interception. He threw touchdown passes to Dalton Dixon (35 yards) and Austen Davis (30 yards) and also ran seven times for 81 yards.
MONITEAU 45, PUNXSUTAWNEY 21
WEST SUNBURY, Pa. – Nick Martino ran 26 times for 286 yards and three touchdowns to lift Moniteau to a 45-21 win over visiting and winless Punxsutawney.
Mason Mershimer added five carries for 59 yards and two touchdowns with J.D. Dessicino adding eight carries for 77 yards and a score for the Warriors (3-6), who also scored on 38-yard Ethan McDeavitt field goal. McDeavitt was also 6-for-6 on extra points.
Kameron Falgout scored three rushing touchdowns for Punxsutawney (0-9) and ran 18 times for 178 yards while going 4 of 7 passing for 60 yards and an interception and catching three passes for 57 yards. Max London ran six times for 43 yards and caught two passes for 42 yards.
ST. MARYS 50, KANE 21
KANE, Pa. – Jacob Kline ran for a pair of touchdowns, as St. Marys scored five times on the ground in a 50-21 road win over Kane.
Kline ran eight times for 42 yards and the two scores for the Dutch (5-4), while quarterback Christian Courdriet added 13 carries for 124 yards and a touchdown while going 16 of 32 passing for 277 yards and a score.
Michael Fitzgerald had a big game receiving for St. Marys with four catches for 137 yards, while Terry Williams caught five passes for 71 yards and a touchdown.
Cain Foutz also ran for 75 yards and a score on 15 carries, while Sean Lathrop added a 3-yard scoring run and Logan Mosier returned an interception 55 yards for a touchdown.
Kane (5-4), losers of four straight, scored twice on special teams/defense with Gus Tragoutt returning a fumble 66 yards for a touchdown and Jake Alcorn returning a kickoff 76 yards for a score. Zuke Smith also scored on the ground and carries seven times for 14 yards.
Alcorn had two catches for 65 yards and eight carries for 16 yards for the Wolves, while Harley Morris was 8 of 16 passing for 78 yards and two interceptions.
PORT ALLEGANY 13, CAMERON COUNTY 12
EMPORIUM, Pa. – Drew Evens hit Howie Stuckey with a 31-yard touchdown pass and Shawn McNeil added the extra point two minutes into the fourth quarter, as visiting Port Allegany edged Cameron County, 13-12.
It was the second Evens to Stuckey hookup of the game, as the two connected on an 11-yard scoring pass in the second quarter.
Evens, who also threw a pick-six to Nick Peters, was 13 of 19 passing for 129 yards, the two touchdowns and the interception, as the Gators closed out their season 2-8 overall and 2-3 in the D9 League Small School North winning their first and last game of the year.
Stuckey caught five passes for 85 yards and the two scores, while Taro Tanka ran 19 times for 65 yards.
Cameron County (0-8, 0-4 D9 League Small North), which closes its season next week against unbeaten Coudersport, also scored on an 18-yard Luiz Patricio run.
Dylan Reider led the Red Raiders, who led 12-0 at one point, with 11 carries for 90 yards while making eight tackles on defense.
HOLLIDAYSBURG 41, DUBOIS 18
DUBOIS, Pa. – Despite DuBois freshman quarterback Cam-Ron Hays going 18-for-26 passing for 209 yards, two touchdowns and an interception, the Beavers dropped a 41-18 decision to visiting Hollidaysburg.
Trent Paddock scored three times for the Tigers (5-4) returning the opening kickoff 78 yards, returning a blocked punt eight yards and finding the end zone on a 25-yard run.
Hunter Barr added three short scoring runs (4 yards, 3 yards, 2 yards) for Hollidaysburg.
Nick Dilullo caught both touchdown passes from Hays for DuBois (14 and 26 yards) and had three catches for 42 yards, while Ruben Estrada also scored on a 9-yard run for the Beavers (0-9). Chase Husted had a game-high seven catches for 62 yards.
CLEARFIELD WINS 600TH BY FORFEIT
Clearfield secured program win No. 600 with a forfeit victory over Philipsburg-Osceola.
The "win" moves the Bison to 7-2 on the season.