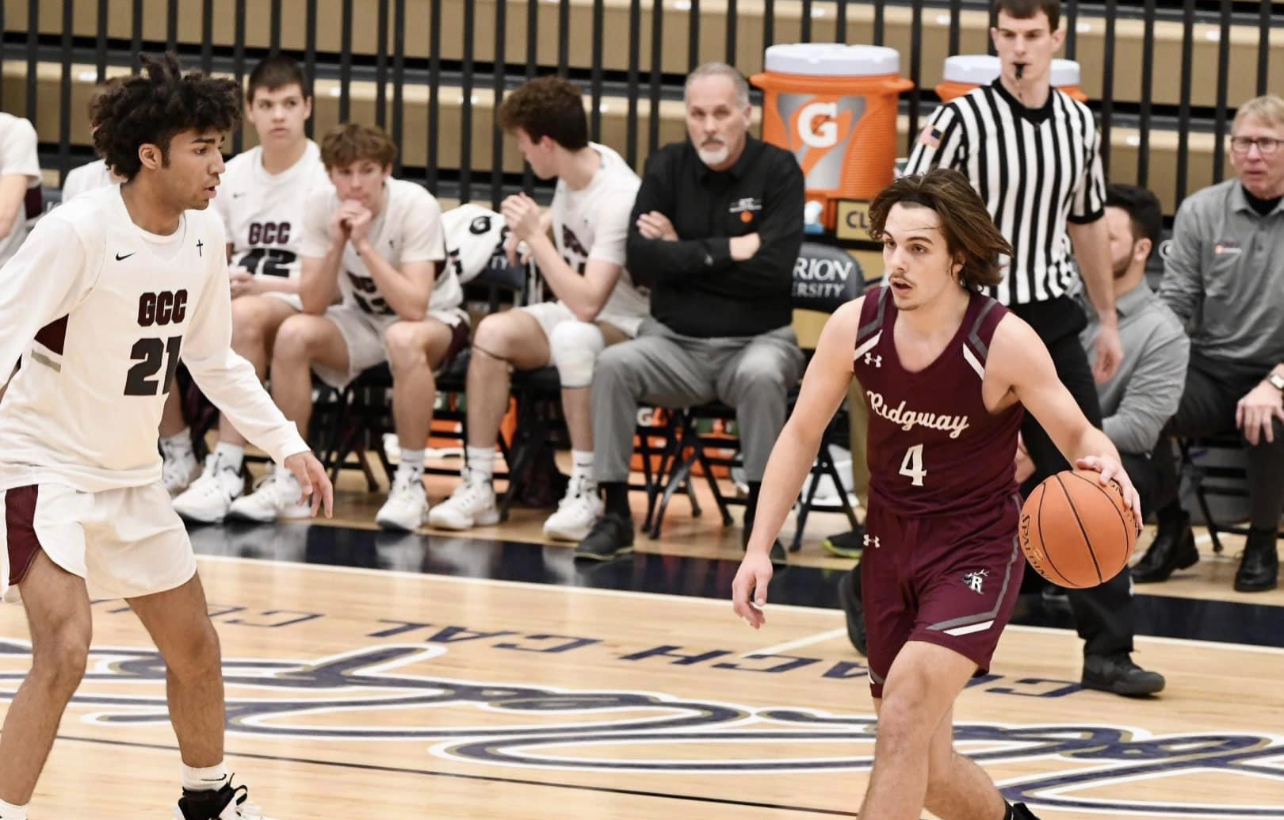 OIL CITY, Pa. (EYT/D9) — For 16 minutes, anyway, Ridgway was able to get Our Lady of the Sacred Heart to play its kind of game.
Low-scoring. Methodical. Measured.
(Photo by Ridgway Elker Boys Basketball)
The Elkers managed to take the zip out of the Chargers in the first half, holding OLSH to just 18 points in the first two quarters.
OLSH (26-0) had come in averaging nearly 78 points per game.
Problem was Ridgway wasn't able to take advantage on the offensive end, scoring just nine points itself before the break. Then OLSH did what OLSH has done all season — sprinted away for a 54-27 win in the PIAA Class A boys quarterfinals at Oil City High School.
"Thoughts on the game? They're better than us," said Ridgway coach Tony Allegretto. "We knew that coming in. We had to catch them. We got the game to our liking in the first half, but we couldn't score.
"Talent-wise they just outclassed us," Allegretto added. "They're bigger than us. They're faster than us. They're better shooters than us. Better ballhandlers than us. But we competed."
Ridgway fell behind 8-0 quickly, but clawed its way back into the game.
Aaron Sorg had a lot to do with that with eight points in the first half; He finished with a team-high 17.
But OLSH was able to take away Ridgway threats Dom Allegretto and Dan Park.
The duo combined for just six points in the game.
"Aaron showed he belongs," Coach Allegretto said. "Dom and Dan, they had guys on them and they took them out of the game. Just a tough game for them. Aaron had a great game."
OLSH wasted little time asserting itself and playing its kind of basketball in the third quarter.
The Chargers went on a 19-2 run to take a 37-11 lead and took a 41-17 advantage into the fourth.
Jake DiMichele, who is averaging 32 points per game this season, scored 28. He spearheaded the third-quarter run.

Rocco Spadafora added 11 for OLSH, which will take on Kennedy Catholic in the PIAA semifinals Saturday at a site and time to be determined.
OLSH has won four consecutive District 7 championships. Last year, the Chargers won the Class 2A state title.
This was the 66th win in a row for OLSH, a WPIAL record.
"You gotta be a good team to stay with those guys," Coach Allegretto said. "We stayed with them for a half. We kept them in our type of game. After that, the pressure got to us."
(Nate Steis contributed to this story)