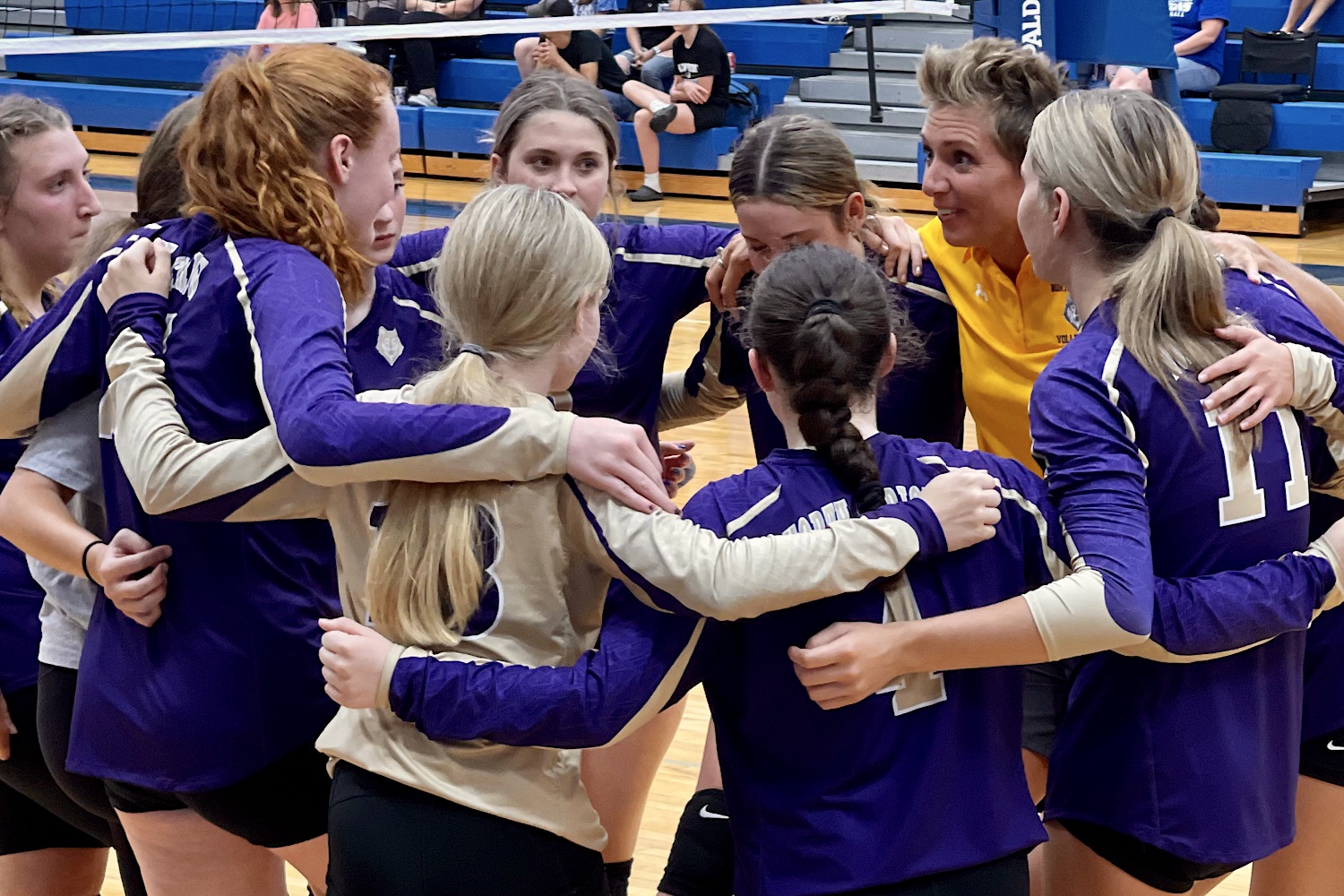 FOXBURG, Pa. (EYT/D9) — There were times when the North Clarion volleyball team could do no wrong.
Aces. Digs. Sets. Kills. Keeping rallies alive. Epic runs of points.
It showed first-year coach Bobbie Freeman what her team, still relatively young, could accomplish.
Then there were the mental lapses. The communication problems. The errors.
It showed Freeman how far her team still needs to go.
(Pictured above, North Clarion coach Bobbie Freeman huddles with her team before a match against A-C Valley on Tuesday)
Still, the Wolves roared out to big leads in the first two sets and overcame a third-game loss to cruise in the fourth on the way to a 25-23, 25-19, 15-25, 25-14 road win over A-C Valley on Tuesday night.
"I think the girls did a great job," Freeman said. "We're having a little problem with consistency. We're working on consistency. We're working on trying to kind of read our defense a little bit better, give our hitters a good set — we're kind of pulling them off the net a little bit. It's kind of been a process because I switched things up here just about a week ago with rotations and lineups. So they're doing really well."
North Clarion (6-0) remained perfect on the season, but it wasn't easy against a gritty A-C Valley team that wouldn't let the Wolves slam the door on them.


North Clarion sports on Explore and D9Sports.com are brought to you by First United National Bank – The FUN Bank!
North Clarion led the first set 15-4 before A-C Valley stormed back to tie the game at 20-20 on a kill by Bella Ielase.
The Wolves, though, broke a 23-23 deadlock with two straight points, the set-winner coming on a service ace by Kyler Freeman.
A-C Valley coach Mike Meals was pleased with the way his team battled back from that huge deficit.
"I am happy with tonight's effort," Meals said. "This is by far this year the best effort we've put in the match. They showed some heart tonight with falling behind and battling back."
But digging holes was a problem for the Falcons, who fell behind 20-10 in the second set before closing to 21-16.
It wasn't enough, however, as North Clarion finished off the set on a kill by Kyler Freeman.
Ainsley Hartle keyed a big run by the Wolves with four consecutive service aces.

(North Clarion junior Ainsley Hartle)
Hartle was strong in all areas all night with 12 service points, five digs, 16 assists, two blocks and three kills.
"We have to keep up the energy," Hartle said. "It's nice to go on those big runs, but we have to keep it going. Sometimes we'll let it drop.
"We're been really working hard in practice this year to be the team no one wants to play," she added.
A-C Valley used a 14-0 run in the third set to take a commanding 20-5 lead. North Clarion inched closer, getting the deficit down to nine at one point, but ultimately dropped the game.
The Wolves again seized control in the fourth set, turning a 10-10 tie into a 20-11 lead and cruised to the set and match victory.
Brenna Thompson had six kills and two blocks. Kyler Freeman four kills, 14 service points and six aces and Alexa Carll pitched in five kills, three blocks and nine service points.
Only Thompson is a senior.
Kyler Freeman is a sophomore. So is Carll. Hartle is a junior.
"We still have a pretty young team," Bobbie Freeman said. "We have some girls who were not in the program last year and girls who are coming back to the program, kind of getting them all back fundamentally where they need to be and getting them adjusted.
"We're very excited."
Coach Freeman is trying to get her team to show that a little.
She spent timeouts and breaks in the action trying to fire up her team on the court, as well as encouraging the junior varsity players watching from behind the bench to yell, scream and cheer.
"I think they have (excitement)," Freeman said, smiling. "They certainly have it on the bus ride here and the bus ride home. It's just getting them to show it on the court. We're really working on tenacity and perseverance."
That's something A-C Valley showed in the loss.
Maddy Dehart had eight kills, eight digs and two blocks to lead the Falcons.
Ielase, after a slow start, finished with five kills, 12 digs and 16 service points.
Lexi Altman had 14 assists.
"Credit to North Clarion for their hustle and they're sticking to it," Meals said. "I thought both teams showed heart tonight."