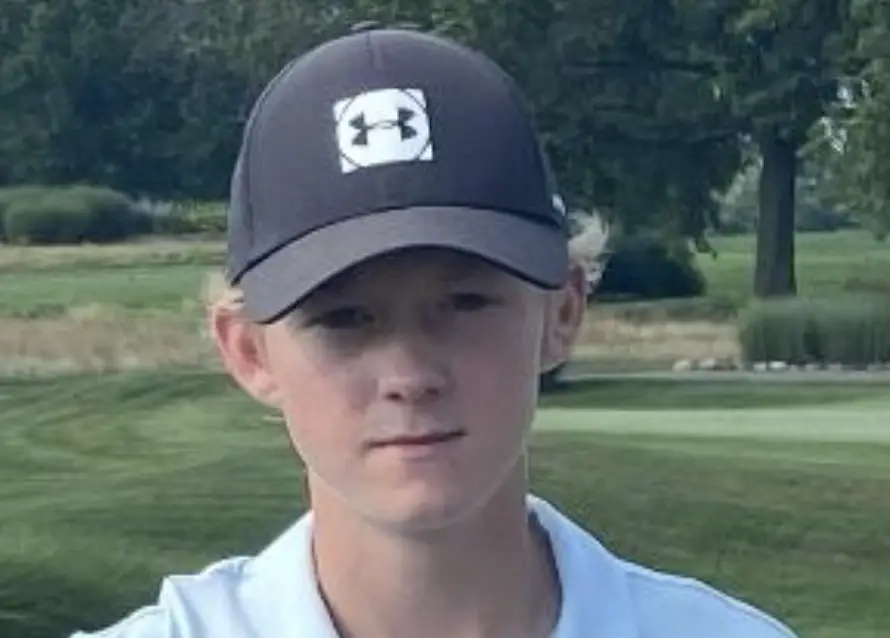 BUTLER TWP., Pa. (EYT/D9) — Freshman Kameron Kerle shot a 38 at Aubrey's Dubbs Dred Golf Course to lead the the Clarion golf team to a win in the second Keystone Shortway Athletic Conference Mega Match of the season.
(PHOTO: Kameron Kerle)
Lucas Mitrosky fired a 41 and McKayla Kerle a 42 for Clarion, which won with 210 strokes. Cranberry was second at 232 and Moniteau third at 236 on its home course.
Jacob Felsing carded a 39 for Moniteau, the only other player to shoot a sub-40.
TEAM RESULTS
1-Clarion 210, 2-Cranberry 232, 3-Moniteau 236, 4-Clarion-Limestone 249, 5-Forest 256, 6-Karns City 280, 7-A-C Valley/Union 309, 8-Keystone 313
CLARION: Kameron Kerle 38, Lucas Mitrosky 41, McKayla Kerle 42, Devon Lauer 43, Owen Kriebel 46
CRANBERRY: Dane Wenner 42, Dakota Woolcock 45, Cayden Baker 47, Preston Forrest 48, Chase Wenner 50
MONITEAU: Jacob Felsing 39, Dawson Wallace 44, Connor Ealy 47, Chason Rugg 52, Andrew Tack 54
CLARION-LIMESTONE: Nick Aaron 43, Brady Fowkes 49, Jordan Hesdon 49, Riley Klingensmith 54, Jack Craig 54
FOREST: Zeelan Hargenrader 44, Ethan Carll 45, Keyon Custer 49, Mason Shaftic 58, Ty Brown 60
KARNS CITY: Chloe Fritch 46, Keegan O'Donnell 56, Braden Grossman 57, Koen Williams 60, Marra Patton 61
A-C VALLEY/UNION: Max Southworth 55, Jaxon Sundling 59, Archer Ferris 61, Carter Burns 62, Mikael Bulisco 72
KEYSTONE: Tanner Vickers 58, Aldon Jacques 63, Dominic Nugent 63, Tyler Burns 64, Tyler Weaver 65
VENANGO CATHOLIC: Colin Liederbach 47