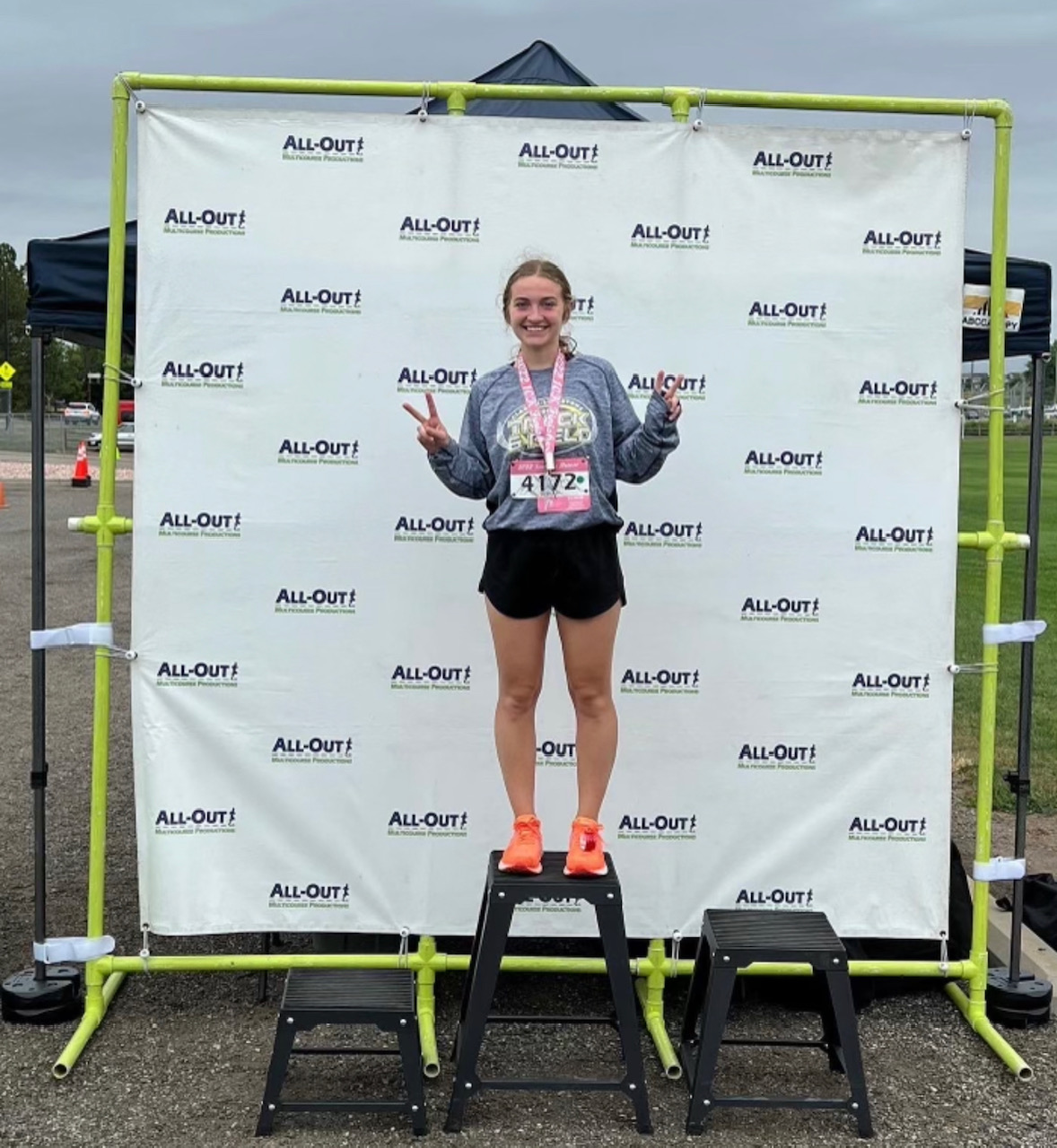 STRATTANVILLE, Pa. (EYT/D9) — The altitude sickness was worth it.
Morgan McNaughton wanted to test herself before the recent Clarion-Limestone graduate went off to run cross county and track at Division I St. Francis University.
She found that challenge on a recent trip to Colorado.
McNaughton ran in the All Out Summer Breeze 10K in Arvada, Colo., — a suburb of Denver — June 25 and placed second, finishing the grueling race in 47 minutes, 27 seconds.
The course was at an elevation around 5,500 feet — they don't call Denver the mile high city for nothing.
"It was kind of weird," McNaughton said. "My friends, Jess (McCracken) ran with me because it was scary to run a race like that by yourself. I felt nauseous and at the end of my race I threw up. I've done a lot of cross country races, but this was the first time that's happened."
Clarion-Limestone High School sports coverage on Explore and D9Sports.com is brought to you by Redbank Chevrolet and DuBrook.
While the course was relatively level, it was also almost entirely on concrete.
McNaughton also had to adjust to running on that kind of surface.
It was a two-pronged attack on her body — the altitude on her lungs and the concrete on her joints.
"Only about 200 meters was on this little trail," she said. "It was pretty flat for the most part until about the last mile of the course, then it got hilly and a little challenging. They were short and steep hills, so it wasn't that bad. I really felt the concrete the next day. I could feel it in my joints."
She also felt the affect of the elevation on her after the race.
It took McNaughton some time to recover from a mild case of altitude sickness.
"It really affected me," McNaughton said. "I've seen other runners run in high altitudes and I always thought it would be beneficial."
McNaughton said her experience in Colorado did help her quite a bit. It showed she could tackle any obstacle and persevere.
She was quite pleased with her time, considering she had never run in altitudes anywhere close to the elevation in Colorado.
McNaughton was only 29 seconds behind first-place finisher Adriana Vegas, who completed the course in 46:58.
McNaughton was the only one of the 43 runners in the 10K in the 10- to 19-year-old division. Vegas was in the 40-49 division.
Most of the runners in the 10K were accustomed to the altitude.
"I didn't know what to expect there," McNaughton said. "Colorado has such a big running community and it was a smaller race than I expected. But racing people who have actually gotten used to the altitude and finishing as well as I did, I was pretty proud of myself."
McNaughton tried to trick herself during the race to ignore the elevation.
"I kept telling myself, 'There's no altitude,'" McNaughton said. "I pretended it didn't even exist."
For the longest time, running didn't exist to McNaughton. It wasn't until the junior high when she gave it a try.
Eighth-grade track and field is what finally got her hooked.
"Then my coach told me I should do cross country," McNaughton said. "I did and it was pretty fun."
McNaughton placed 22nd at the PIAA Class A Cross Country Championships as a senior in the fall with a time of 20:45.70.
She was fourth at the District 9 championships, crossing the finish line in 20:58.
This spring, McNaughton was fourth in the 1,600-meter run at the District 9 Class 2A Track and Field Championships with a time of 5:36.89. She was also sixth in the 800 with a time of 2:34.14.
At St. Francis, McNaughton will do both cross country and track. Cross country, though, is her strongest sport.
It took awhile for McNaughton's love for running to grow. Once it did, she decided she wanted to compete at the next level.
"I always liked to run, but I never really had a huge passion for it until last year," McNaughton said. "I knew I could do this for the rest of my life."
So McNaughton set out to find a place to do that at the collegiate level.
She looked at a whole slew of school at every level between her junior and senior years at Clarion-Limestone. She left no stone unturned. Eliminated no school out of hand.
She was open to anything.
"I didn't really want to put a cap on myself — Division II or Division III," McNaughton said. "I wanted to face the best people I could to reach my fullest potential."
St. Francis fit that bill.
"I'm so excited to just be a part of a huge team with a bunch of other girls who love running as much as I do," McNaughton said. "I love C-L and the cross country team is always going to be special to me, but it's going to be so much different and so much fun having a big team like that."
Clarion-Limestone High School sports coverage on Explore and D9Sports.com is brought to you by Redbank Chevrolet and DuBrook.