This is the second of a two-part story on Keystone graduate Mike Whitling returning home as the head women's coach at Mansfield University. Read Part One Here.
CLARION, Pa. – Family is very important to the Whitling clan of Knox, so it was no surprise that a group of them showed up to Clarion University's Tippin Gym to root on the Mansfield women's basketball team coached by 1999 Keystone graduate Mike Whitling Saturday.
"We've always been big about family and trying to help the family members out," Mike's dad Gary, a former girls' basketball coach at Keystone High School, said. "I think that's very important."
So important, that Gary and his wife, Sue, met the Mountaineers at their hotel in Clarion Friday night.
"It was fantastic," Mike Whitling said. "It was really nice for our players to interact with my family. They are all very respectful, so I know my parents loved it."
Mike Whitling said there were also a lot of emotions Saturday when he looked across the floor and saw his family sitting at center court.
"My brother, Chris, and my mom and dad have been in my corner from day one," Mike Whitling said. "It's really nice to see the support here at Clarion."
As any good father would be, Gary is very proud of what Mike, who is in his first year as the Mansfield head coach, has been able to accomplish.
"Coaching in NCAA Division II, that's quite an achievement," Gary Whitling said. "When I found out he had been hired, I was very excited. Truth be told, I just broke down in tears."
Gary probably has had a lot of influence in Mike's coaching career, considering the younger Whitling was around his father a lot when he was coaching at Keystone.
"I would imagine so," Gary Whitling said. "He's been in the gym all his life, so probably some of it rubbed off along the way."
Another person who had an influence on Mike's coaching style is former Clarion head coach Gie Parsons, who Mike served as a graduate assistant coach under for three years . That influence could be seen at every time out Saturday when Mike would meet with his assistant coach, former Gannon star Kelly Sundberg, before talking to his team, a trait Parsons was famous for in her tenure as Clarion's winningest head coach.
"I definitely notice that," Mike Whitling said. "That was a huge influence to me, and I always want to be able to communicate with my assistant coaches. Sometimes, in the heat of the game, it's not always that easy to talk with them. I like that time where I can get my assistant coaches involved."
Mike Whitling said even though he spent some time on the visiting bench at Tippin Gym as an assistant coach at Gannon before taking over at Mansfield, it was still strange being on that bench as opposed to the home side.
"It is," Whitling said. "I'm not going to lie. You spend 30 or so games on the other side, it's still different to be on this side.
"But it's still fun to walk around campus and Tippin Gymnasium and see all the little spots where you used to be, used to coach. It was still really nice to come back."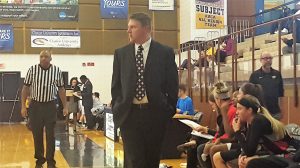 The game didn't go the way Whitlings were hoping, Clarion jumped out 17-0 lead and led 21-3 at the end of the first quarter on its way to a 73-47 victory. But Mike Whitling knows there are going to be growing pains as he tries to rebuild a Mansfield program that hasn't had a winning season since 1983.
"In some respects, I am still getting to know the team and how they play and trying to adjust as much to my style as I can without going all haywire," Mike Whitling said. "It's definitely a work in progress.
"We are trying to build that family atmosphere here like I think most programs in the country are trying to build. I want them to be able to trust me, and I need to be able to trust them."