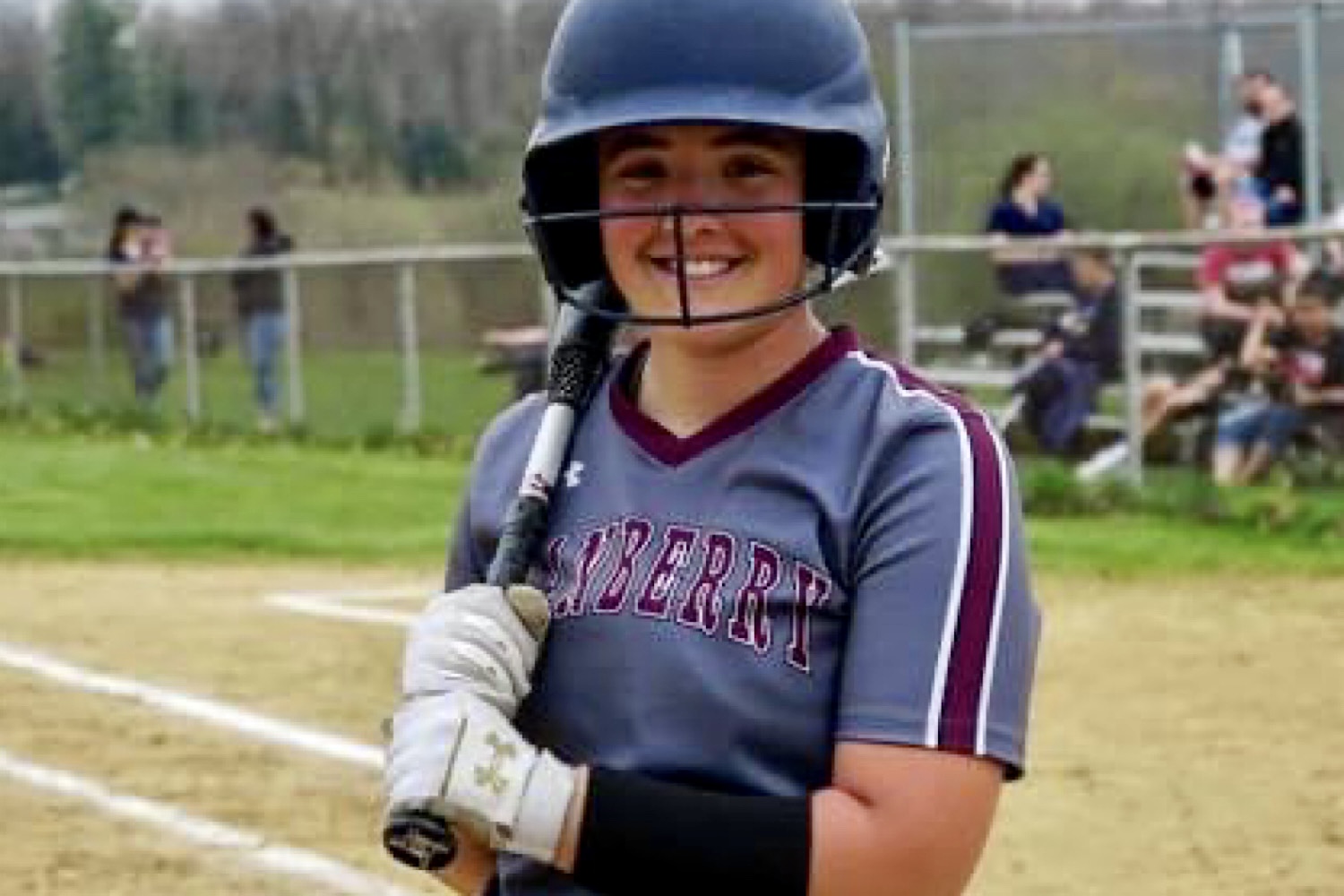 SENECA, Pa. (EYT/D9) — Keelie Schneider hit two home runs and drove in six as the Cranberry softball team downed Keystone, 18-2, in four innings in move on in the District 9 Class 2A softball playoffs on Monday afternoon.
(Pictured above, Keelie Schneider/submitted photo)
The Berries collected 17 hits against Keystone.
Kendell Findlay also hit two home runs for Cranberry and drove in four. She was 3 for 3 at the plate.
The Berries led 8-0 after two innings and 10-2 after three.
An eight-run fourth inning triggered the mercy rule. Jadyn Shumaker went 3 for 3 with a triple and two RBIs for Cranberry.
Reyna Watson got the win, striking out eight in four innings.
Leah Exley homered for Keystone, which only had two hits. Emma Gruber had the other.
No. 3 Cranberry will take on No. 2 Moniteau in the semifinals on Wednesday at a site and time to be determined.
The Berries and Warriors split their two games this season.
JOHNSONBURG 7, KARNS CITY 3
Jenna Kasmierski went 3 for 4 with two RBIs as Johnsonburg rallied from a 3-1 deficit against the defending D9 Class 2A champion Gremlins with six runs in the bottom of the sixth for the victory.
Kasmierski's two-run single gave the Rams a 4-3 lead.
Julia Jones got the win, giving up three runs on six hits while striking out seven.
Addison Burrows got the loss for Karns City.
Lyrik Reed went 3 for 4, Jess Dunn 2 for 3 and Nicole Taylor doubled and drove in two for the Gremlins.
Johnsonburg will move on to play No. 1 seed Curwensville at 4 p.m. on Wednesday at Brockway High School.
ECC 9, REDBANK VALLEY 8
Gabby Weisner hit a one-out RBI single to score Tessa Fledderman with the winning run as the Crusaders rallied from 8-7 down in the bottom of the seventh to move on in the Class A playoffs in dramatic fashion.
Redbank Valley had surged ahead 8-7 with a six-run top of the seventh, all with two outs.
Taylor Ripple got the rally started with a single after two quick groundouts to start the inning. Quinn White then followed with a single and an error loaded the bases for Bella Orr, who singled home Ripple.
Sammi Bowser then cleared the bases with a three-run triple to tie the game at 7-7.
Altobeli drove home Bowser before the inning finally ended.
Orr was 4 for 4 with two doubles and two RBIs and Bowser drove in four runs for the Bulldogs.
Alara Altobeli also had a pair of hits and two RBI.
Lucy Klawuhn and Anderson each went 2 for 3 with two RBIs, and Caitlyn Vollmer was 3 for 4 with a RBI for ECC.
Klawuhn homered and Anderson had a double.
Emily Mourer got the win for ECC, which will play No. 2 seed Otto-Eldred at 2:30 p.m. on Wednesday at Pitt-Bradford.
In the other semifinal, No. 5 Forest will take on No. 1 DuBois Central Catholic at 4 p.m. on Wednesday at Clarion-Limestone.