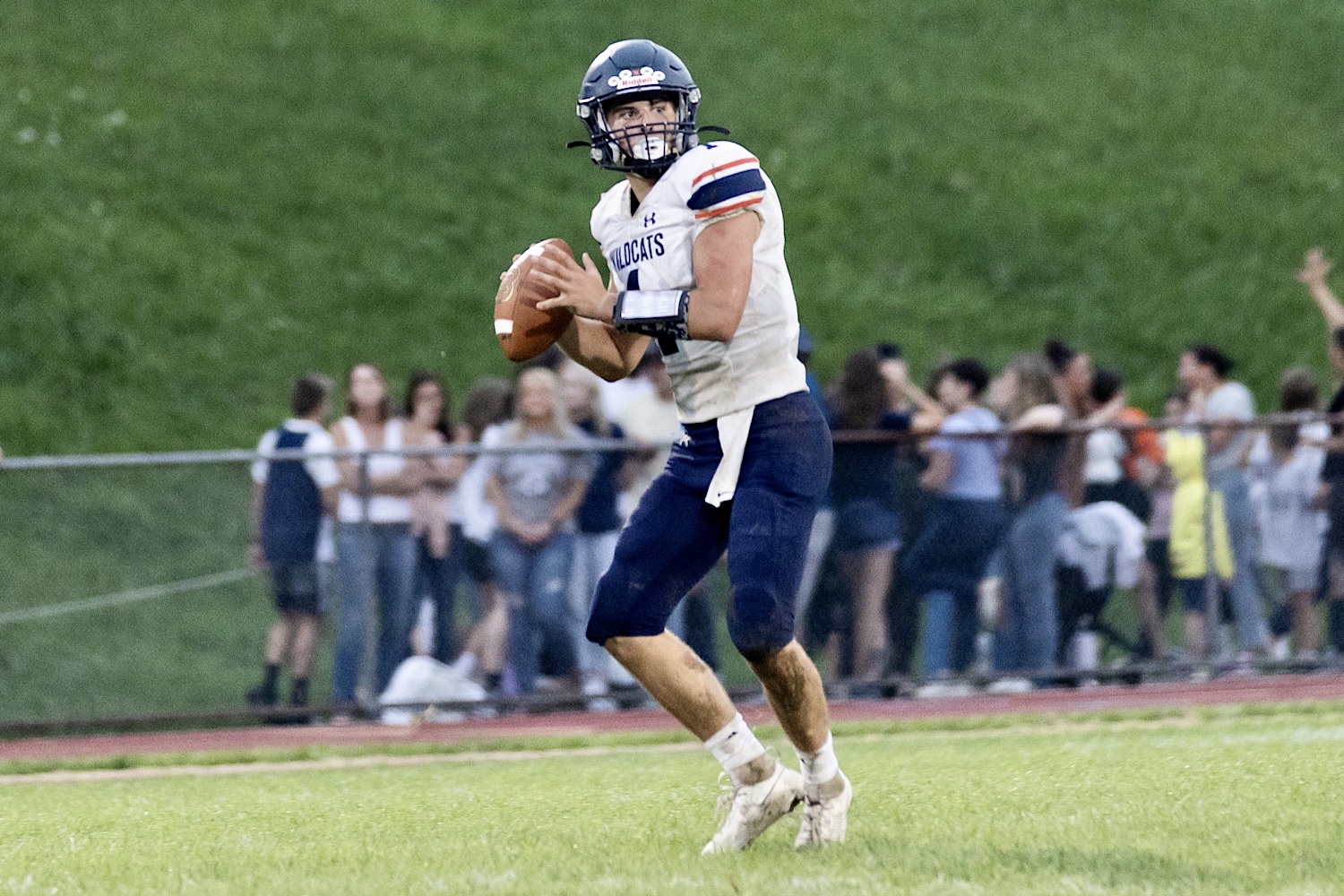 STRATTANVILLE, Pa. (EYT/D9) — The numbers have been changing on the scoreboard with the frequency of a NASDAQ ticker.
Central Clarion's stock is definitely sky high right now.
Another night, another scoring barrage.
(Pictured above, Central Clarion quarterback Jase Ferguson)
Jase Ferguson threw for three of his five touchdown passes in the first quarter and the Wildcats rolled up 56 points in the first half on the way to an 86-0 win over Bradford at Clarion-Limestone on Friday night.
"We talked all week about slow starts and how we wanted to fix that and get out of the gate early and really go after it," said Central Clarion coach Dave Eggleton. "I thought we did that.
"Jase sat in a clean pocket the whole game and found the open guy," Eggleton said. "When we wanted to run the ball, (the offensive line) opened up huge holes. Give those guys a lot of credit."
Ferguson threw touchdown passes of 15 to Brady Quinn and 16 and 38 to Dawson Smail in the first quarter to give Central Clarion a 21-0 lead.
Noah Nasser scored on a 10-yard run early in the second quarter before Ferguson found Smail again for a 25-yard pitch and catch.
Ferguson's fifth TD pass came just a few minutes later when he connected with Ethan Burford for a 3-yard score with 4:58 remaining in the second quarter.
Smail scored his fourth TD of the half when he returned a punt 34 yards for a touchdown. Noah Harrison's 2-yard touchdown run sent Central Clarion into the locker room up 56-0.
Quinn opened the second half with a 75-yard punt return. Brendon Wright then scored on a 34-yard run for a 70-0 lead.
Briggs Beckwith got into the act with a 14-yard touchdown run and Alex Love found the end zone on a 54-yard dash to make it 84-0.
The Wildcats capped the scoring with a safety.
Central Clarion outgained Bradford 543-183. The Owls had minus-35 yards rushing.
The bright spot for Bradford was quarterback Talan Reese, who was 15-of-25 for 168 yards.
The Wildcats rushed for 302 yards on 21 attempts. Nine Wildcats finished with 10 or more yards rushing with Naser leading the way with 63 yards on five carries. Harrison added 61 yards on three attempts and Love had 58 yards on two carries.
Ferguson finished 11-of-14 passing for 241 yards and the five TDs.
So far this season, the junior has thrown 20 touchdown passes to just one interception.
Central Clarion has outscored its five opponents so far this season 305-46.
Yes, that's correct. The Wildcats are averaging 60 points per game midway through the season.
"We're just trying to be the best Central Clarion team we can be, regardless of who's on the other side," Eggleton. "This week, it just so happened to be Bradford. Next week it's Karns City. That should mean something to those guys — it's a rivalry that has been building."
KEYSTONE 67, SMETHPORT 15
KNOX, Pa. (EYT/D9) — This win was weeks in the making.
The Panthers have shuffled the deck, giving some young players like freshman quarterback Dom Corcetti, freshman running back Eli Nellis and sophomore Jake Henry ample playing time.
Keystone coach Todd Smith feels like that is beginning to pay off. It certainly did in a convincing win on Friday night.
"A lot of kids, especially the young kids, are really starting to play better," Smith said. "You could really kind of feel us turning the corner the last couple of weeks. We played well in the first half against Redbank, so to see them come out and play like that tonight, it was pretty nice."
Nellis had a big game both running and catching the football.
He rushed for 125 yards and also caught five passes for another 100 yards and scored four touchdowns.
Corcetti also had a breakout game, going 12 of 14 for 214 yards and one touchdown to Drew Keth, who caught six passes for 100 yards.
Senior Rayce Weaver also went over 100 yards on the ground and Henry added 71 yards and three touchdown.
Keystone (1-4) had 561 yards of offense.
"Eli was the player of the game," Smith said. "He caught the ball well tonight and ran well after the catch and ran well with the ball on running plays. But I was really happy with Corcetti because he really took care of the ball tonight. He even came off his first receiver a couple of times and went to his second look. So just the maturity that I've seen from him over the last few weeks has been pretty awesome."
So has the selflessness of Weaver, who came into the year as the starting quarterback after missing most of last season with a non-throwing elbow injury.
But Weaver was moved to running back. He has played some QB, but his primary role now is of a runner.
"Rayce Weaver is the ultimate team player," Smith said. "I mean, that kid would do whatever you asked. He's just a football player. And just a super kid."
REDBANK VALLEY 65, RIDGWAY 6
NEW BETHLEHEM, Pa. (EYT/D9) — Braylon Wagner was 9-of-12 for 215 yards and four touchdowns and also rushed for 49 yards and a score as the undefeated Bulldogs rolled again.
Jaxon Huffman also threw a touchdown pass for Redbank Valley.
Five different receivers caught scoring strikes. Mason Clouse hauled in three passes for 78 yards and a score. Ashton Kahle had one reception, but it went for a 77-yard TD. Rylan Rupp, Huffman and Ashton George also had touchdown catches.
Drew Byers added a rushing TD as well for the Bulldogs.
Redbank Valley's defense forced five Ridgway turnovers.
Kahle had a pair of interceptions and Carson Gould also picked off a pass.
Clouse also had a punt return for a score.
Steve Smail contributed to this report