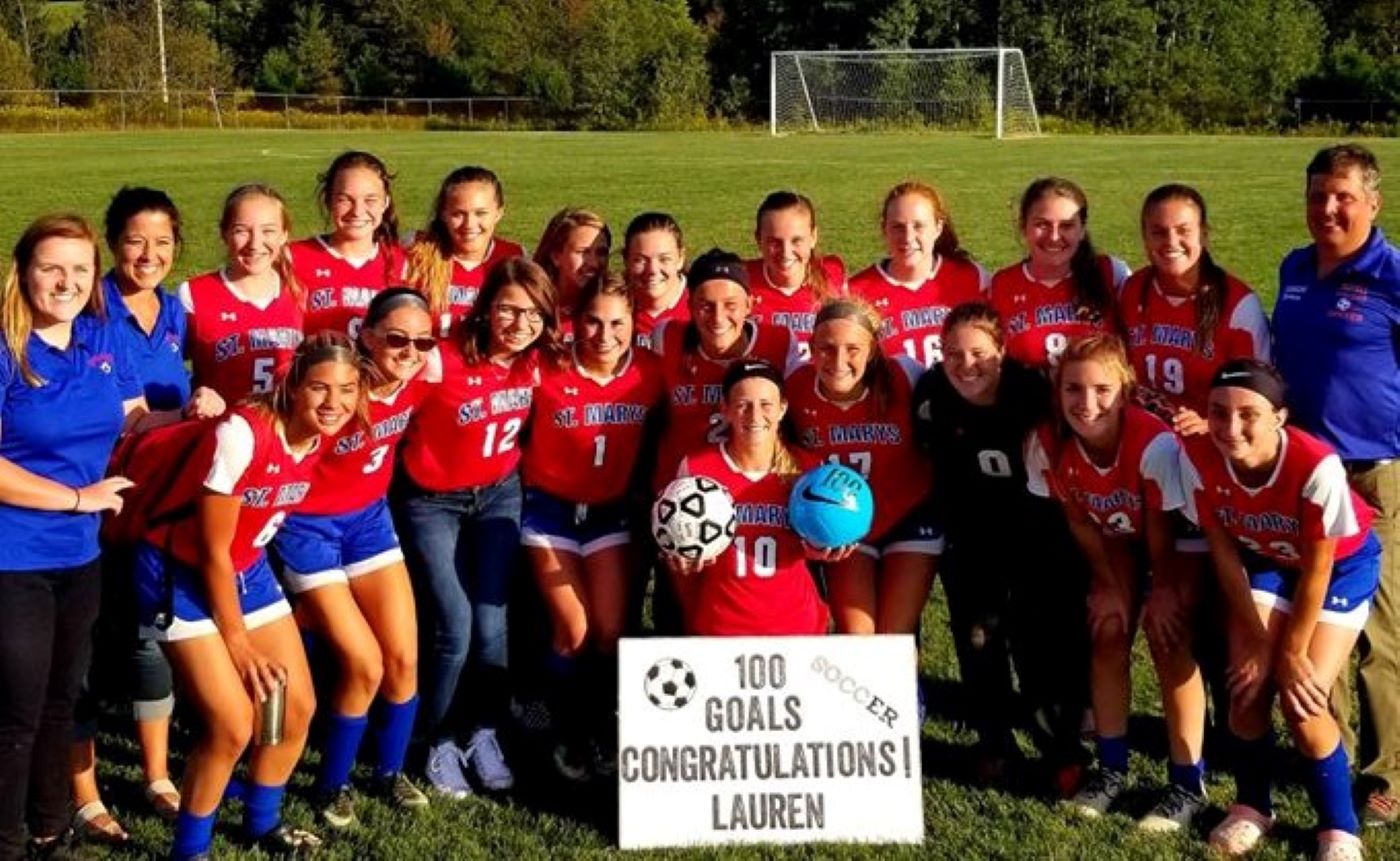 Sept. 3 soccer recaps.
(Photo: St. Marys' Lauren Eckert surrounded by teammates and coaches after the scoring her 100th and 101st goals in St. Marys' win over Port Allegany. Submitted photo)
GIRLS' SOCCER
ST. MARYS 4, PORT ALLEGANY 1
ST. MARYS, Pa. – Lauren Eckert netted career goals 100 and 101 to help St. Marys defeat visiting Port Allegany, 4-1.
Kaylee Muccio also scored twice in the win for the Lady Dutch.
Cailey Barnett scored off an assist from Bree Garzel for Port Allegany.
BROCKWAY 7, CLARION 4
CLARION, Pa. – Chanel Britten found the back of the net four times to help lead visiting Brockway past Clarion, 7-4.
Danielle Wood, Morrigan Decker and Rylee Welch each added goals for the Lady Rovers.
Evelyn Lerch had three goals while Lauren Troutman scored once for the Lady Cats.
HUNTINGDON 5, CLEARFIELD 2
HUNTINGDON, Pa. – Sydney Sellers had a pair of goals as Huntington topped visiting Clearfield, 5-2.
Amanda Gwinn, Allison Troup and Greta Staley also added goals for the Lady Bearcats. Staley had two helpers with Mikaela Reed assisting the second Sellers goal.
Riley Ryen and Emma Hipps tallied the goals for the Lady Bison with Elle Smith adding an assist on the Ryen goal.
Hayley Moore had 12 saves for the Clearfield while Mallory Woodward had five.
REDBANK VALLEY 8, KEYSTONE 2
KNOX, Pa. – Thanks to a three-goal game from Brooke Eberle, visiting Redbank Valley came away with an 8-2 victory over Keystone.
Rhiannon Laughlin added a pair of goals for the Lady Bulldogs. Carley Shick, Austin Kirkpatrick and Karissa Reichard each chipped in for a goal.
CURWENSVILLE 3, ELK COUNTY CATHOLIC 0
ST. MARYS, Pa. – Emma Rebar and Chloe Davis paced a 3-0 win for visiting Curwensville over Elk County Catholic.
Rebar scored twice for the Lady Tide with Davis adding a goal and two assists.
KARNS CITY 3, GROVE CITY 0
GROVE CITY, Pa. – McKenna Martin scored twice and added an assist to help visiting Karns City to a 3-0 win over Grove City.
Paige Dodd also scored for the Lady Gremlins who got assists from Emma Dailey and Alley Fennell as well.
Rossi McMillen had the shutout in goal.
BRADFORD 7, FRANKLIN 0
FRANKLIN, Pa. – A late arrival due to bus issues didn't slow down visiting Bradford, as the Lady Owls got three goals and two assists from Regan Johnson in a 7-0 win over Franklin.
Maddi Cowburn chipped in a pair of tallies for Bradford with Emily Prince and Marissa Miller each adding a goal and an assist. Chloe Shaw chipped in two helpers for the Lady Owls with Olivia Coles and Liz Miller each having an assist.
Mackenzie Lucas (four saves) and Alexis Reynolds (two saves) combined on the shutout in goal.
BROOKVILLE 6, PUNXSUTAWNEY 0
BROOKVILLE, Pa. – Outshooting visiting Punxsutawney, 31-1, Brookville rolled to a 6-0 win over the Lady Chucks.
Madison McAninch paced Brookville with two goals and an assist, while Emily Kramer had a goal and two assists. Leila Hagy, Megan Mealy and Autumn Mitchell added goals for the Lady Raiders, while Jordan Cook stopped the only shot she faced.
BOYS' SOCCER
REDBANK VALLEY 9, KEYSTONE 4
NEW BETHLEHEM, Pa. – Kolton Kline had a hat trick and Delcan Fricko and Tyson Adams both scored twice to lift Redbank Valley to a 9-4 win over Keystone.
Chase Guntrum and Landon Pence also added goals for the Bulldogs, while Jimmy Gundlach had a pair of assists and Quinlan Griffin had one helper.
Owen Magagnotti and Ty Sherry combined to make eight saves in goal for Redbank Valley.
Koby Buzzard scored twice for Keystone while Tye Elder and Cameron Easton each scored once.
BROCKWAY 5, ST. MARYS 1
BROCKWAY, Pa. – Ryan Lin scored twice to lift Brockway to a 5-1 win over visiting St. Marys.
Nolan Swanson, Linkin Nichols and Noah Adams also scored for the Rovers, who gave first-year head coach Andy Daughterty a win in his first game.
Marcus Bennett added a pair of assists for Brockway with Nichols also chipping in a helper as did Dylan Antonuccio and Jared Marchiori.
Vinny Nunez scored on a direct kick for St. Marys, which trailed 2-0 at halftime.
KANE 4, NORTHERN POTTER 3
KANE, Pa. – Aiden Zampogna had the hat trick to help Kane top visiting Northern Potter, 4-3.
Johnny Feikls also scored for the Wolves, while Alec Huckabone made seven saves.
Assists for Kane went to Josh Greville, Jon Mishic, Feikls and Huckabone.
Ryan Langworthy, Ezra Sprow and AJ Lehman scored for Northern Potter with Patrick Lehman, AJ Lehman and Langworthy getting helpers.
BRADFORD 6, DUBOIS 0
DUBOIS, Pa. – Colton Swanson scored three times and assisted on one to help visiting Bradford defeat DuBois, 6-0.
Isaiah Pingie, Owen Kane and Ryan Miller chipped in goals for the Owls. Ian Grady had a pair of helpers while Drew Auteri and Colten Nicholas each had an assist.
Evan Schmidt made seven saves for Bradford while Cullen McAllister made nine for DuBois.
KARNS CITY 7, ELK COUNTY CATHOLIC 3
ST. MARYS, Pa. – Behind three Dakota King goals visiting Karns City picked up a 7-3 win over Elk County Catholic.
Owen Colwell added a pair of tallies for the Gremlins who also got goals from Brayden Christie and Kaden Scherer. Nate Rondinelli had four assists.
Nate Boyden made three saves in net for Karns City.
Regis Wortman scored twice for ECC with Issac Wortman scoring once.
HUNTINGDON 1, CLEARFIELD 0
HYDE, Pa. – Andrew Bounaccorsi goal five minutes into the contest proved to be the only tally of the game, as visiting Huntingdon knocked off Clearfield, 1-0.