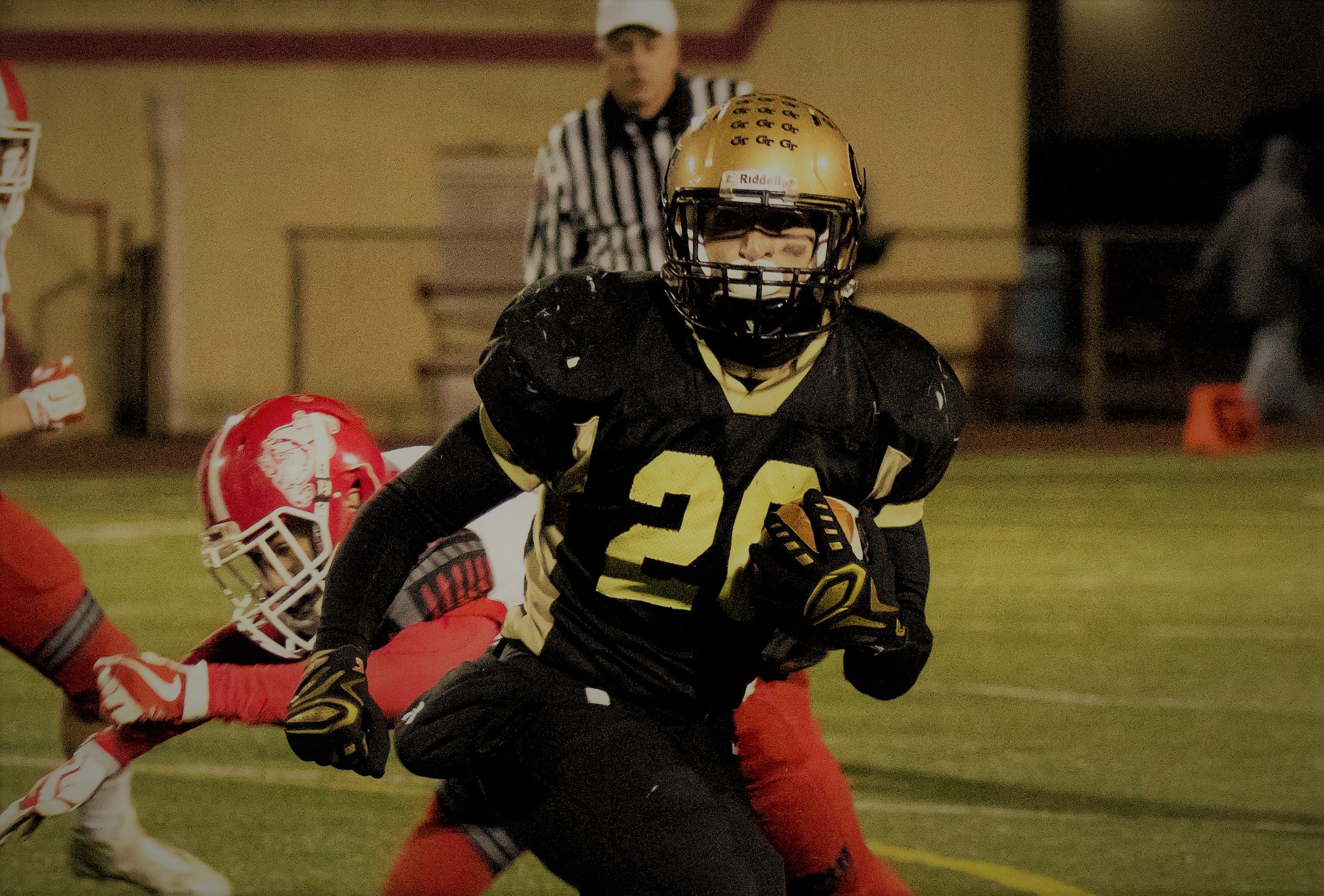 District 9 players named All-State in Class 2A and Class 4A
HARRISBURG, Pa. – Seven District 9 players were named to the Class 1A Pennsylvania Football Writers/Broadcasters All-State team Tuesday including three from Curwensville and two each from Clarion-Limestone and Ridgway.
(Photo: Nick Stewart of Curwensville. Photo by Kyle Yates www.facebook.com/YatesPhoto)
Representing Curwensville are running back Nick Stewart, offensive lineman Steve McClure and defensive back Josh Terry. From C-L are quarterback Brendan Makray and wide receiver Kyle Kerle and from Ridgway are linebacker Evan Furlong and defensive back Neil MacDonald.
Stewart became the all-time leading rusher in District 9 this season and finished his career with 7,324 yards on the ground and 94 rushing touchdowns while scoring 100 totals touchdowns. In 2017, he ranked second in District 9 in rushing with 1,790 yards while scoring 27 rushing touchdowns on 244 carries. He added 12 catches for 179 yards.
McClure helped pave the way for Stewart and the rest of the Curwensville offense that averaged 313.4 yards per game, including 199.9 on the ground, and 32.2 points per contest.
Terry led District 9 in interceptions with seven while making 2.6 tackles per game and finishing with 19 totals passes defended.
Makray was the second-leading passer in District 9 this season throwing for 2,785 yards and 34 touchdowns. Going 145 of 243, Makray also threw 11 interceptions, and his 193.1 quarterback rating led the District.
Kerle was Makray's leading receiver and the second-leading receiver in District 9. He had a school-record 1,165 yards receiving on 45 catches with 14 touchdowns.
Furlong and MacDonald anchored a Ridgway defense that allowed 10.8 points per game with three shutouts and four other games under 10 points.
Furlong averaged 14.3 tackles per game with 2 ½ sacks, while MacDonald averaged 10.8 tackles per game with an interception and two fumbles recovered.
2017 PENNSYLVANIA FOOTBALL WRITERS ALL-STATE CLASS 1A TEAM
OFFENSE
Quarterback
Isaac Clark, Farrell – 6-0, 180 senior
Malachi Young, Steelton-Highspire – 5-10, 200 senior
Tawan Wesley, Imani Christian – 6-1, 180 senior
Brendan Makray, Clarion-Limestone – 6-5, 162 senior
Tyler Bradley, Our Lady of the Sacred Heart – 6-3, 200 junior
Running Back
Nick Stewart, Curwensville – 6-0, 195 senior
Dylan Rabuck, Williams Valley – 6-0, 189 junior
Cody Simanski, Windber – 5-11, 200 senior
Dupri Andrews, Steelton-Highspire – 5-10, 185 senior
Brendan Mozeleski, Old Forge – 5-9, 190 senior
Jelani Stafford, California – 6-2, 250 junior
Wide Receiver
Kyle Kerle, Clarion-Limestone – 5-10, 137 senior
Sam Fairley, Imani Christian – 6-1, 175 senior
Timmy Ward, Canton – 6-0, 160 sophomore
Alec Supanick, North Star – 5-10, 165 sophomore
Jake Wolfgang, Williams Valley – 6-4, 175 senior
Offensive Linemen
Spencer Dimon, Williams Valley – 6-3, 288 junior
Shawn Jones, Lackawanna Trail – 6-2, 290 senior
Nick Leamer, Bishop Guilfoyle – 6-2, 286 senior
Steven McClure, Curwensville – 6-2, 235 senior
Kobe Hilton, Farrell – 6-4, 255 junior
Athlete
Jourdan Townsend, Farrell – 5-10, 170 junior
Robert Kennedy, Jeannette – 5-10, 175 senior
Jesse Lee, Homer-Center – 6-1, 218 senior
Specialist
Kolton McGhee, Bishop Guilfoyle – 6-0, 183 junior
DEFENSE
Defensive Linemen
Hunter Poust, Muncy – 6-2, 245 senior
Devon Rabuck, Williams Valley – 6-1, 197 senior
Zack Falls, Marian Catholic – 6-1, 255 senior
Jalen Jones, Jeannette – 6-2, 215 senior
Dorail Walls, Imani Christian – 6-2, 298 senior
Tristin Guyer, Northern Bedford – 5-8, 175 senior
Max Sankey, Bishop Guilfoyle – 6-2, 211 senior
Linebacker
Dylan Wolfgang, Williams Valley – 6-0, 172 senior
Josh Yasulitis, Bishop Guilfoyle – 6-0, 206 senior
Evan Furlong, Ridgway – 6-0, 172 junior
Levi Sheeler, North Star – 5-01, 190 senior
Tymir Green, Farrell – 5-11, 205 junior
Defensive Back
Mark Conrad, Bishop Guilfoyle – 6-2, 170 senior
Shy'Kirr Johns, Steelton-Highspire – 5-11, 175 senior
Neil MacDonald, Ridgway – 6-0, 175 senior
Josh Terry, Curwensville – 6-3, 160 senior
Athlete
Hunter Kinsey, Ferndale – 5-10, 180 senior
Mahlik Strozier, Rochester – 6-3, 190 senior
Ryhan Culberson, Fort Cherry – 6-5, 210 senior
Co-Players of the Year: Robert Kenney, Jeannette; Dylan Rabuck, Williams Valley
Coach of the Year: Greg Page, Homer-Center