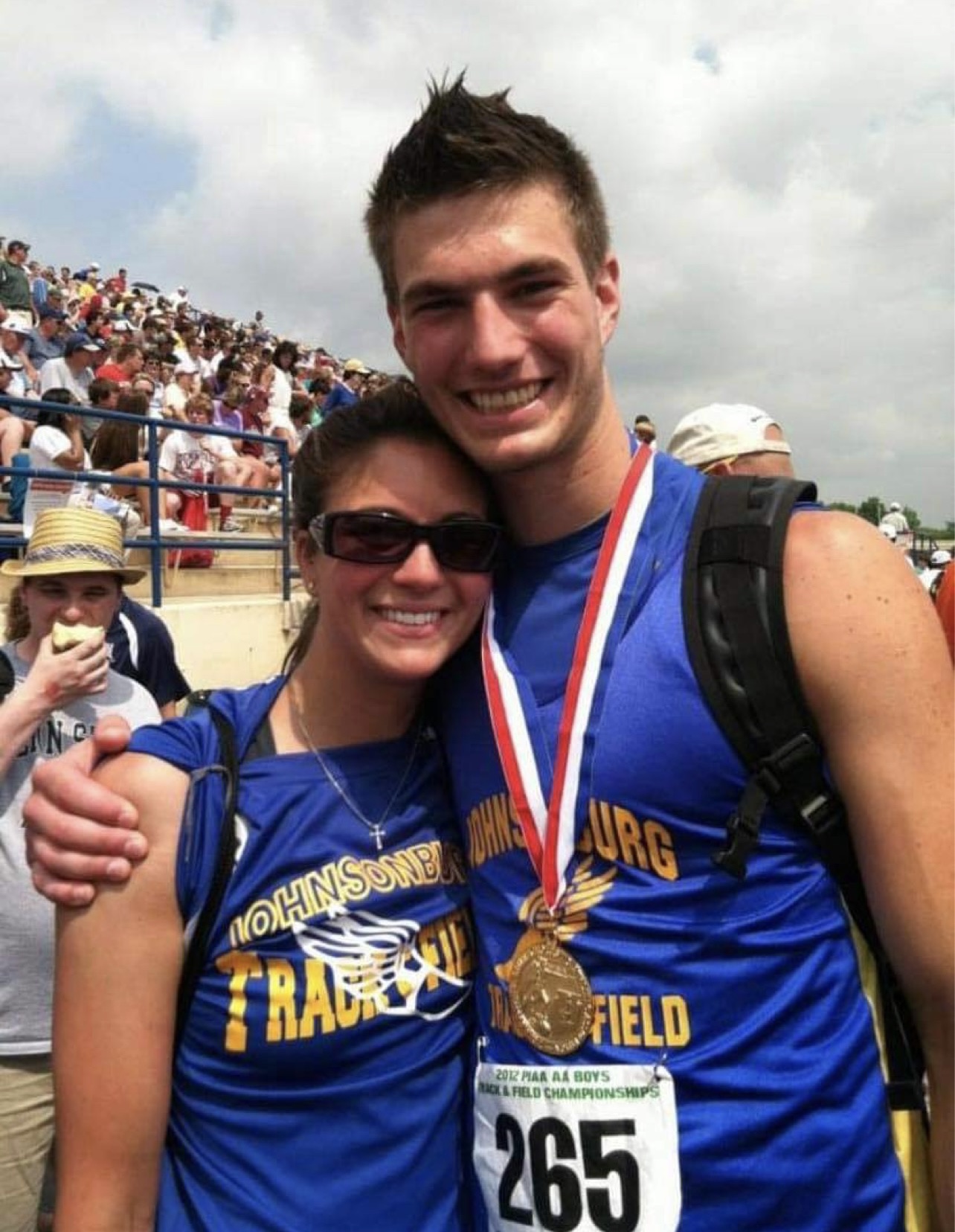 ST. MARYS, Pa. (EYT/D9) — Rene Wenner watched intently — as just about everyone in the communities of St. Marys and Johnsonburg did — as Olympian and hometown hero Michael Shuey threw the javelin in Tokyo Tuesday night.
She knew something was wrong.
"It was so hard watching," said Wenner, who has seen Shuey compete for more than a decade; she coached him on the track and field team at Johnsonburg throughout his high school career there. "I could tell on his second approach — I was like, 'Why isn't he moving quickly?' And then when he threw and went down — he always screams when he has a good throw, but that wasn't the right scream."
On his first throw of Group A qualifying, Shuey injured his right knee. He tried to compete through the pain, but it hindered him so profoundly that he faulted on all of his throws.
(Pictured, Former Johnsonburg track and field coach Rene Wenner and Michael Shuey after Shuey won the PIAA 2A championship in the javelin in 2012)
Shuey, 27, took to Facebook Wednesday morning to dole out some good news. His injury wasn't severe — just a sprain and a bone bruise. He should be back to 100% in two months and will be ready for the World Athletics Championships next year.
"Frustrated that this happened," Shuey wrote. "It's one thing to have failure that is brought on by not being in shape or technically ready. But when it's just a freak accident, it's weird to figure out how I could have prevented it."
Wenner said she wasn't surprised that Shuey kept going despite the injury. That's the kind of competitor she knew as his coach.
"That's the heart and determination he has. That's Mikey," she said. "I knew he wasn't going to just be like, 'Oh, I'm just gonna scrap it.' He was going to get out there no matter what. He would have thrown in the standing position if he had to."
Shuey had to deal with his balky knee on his own. He wasn't permitted to see his trainer, so he had to improvise.
He had to tape up his own knee to keep going.
"I asked if anyone had tape and the guy from Romania … said, 'Hey, Mike, and threw me a roll," Shuey wrote. "(Then) a guy from Finland … asked if I wanted to use his knee sleeve. It's neat to be competing with guys from all over and have this connection of throwing a stick for distance."
Shuey, though, didn't distinguish himself right away in his high school career by throwing a stick for distance. That came later. The hallmark of his time at Johnsonburg was his willingness to try everything.
Wenner marveled at his excitement to compete in new events.
"He actually went to Penn State to be a decathlete," Wenner said. "His senior year he would ask me, 'Can I run the 300-meter hurdles? Can I run the two-mile?' I'm like, 'Mikey, why?' He'd answer, 'I just want to say I did everything.'"
The javelin, though, did become his dominant event and he won a PIAA Class 2A state championship during his senior year in 2012.
At Penn State, his prowess in the javelin only grew.
"I'd talk to his mom and ask, 'How's Mikey doing at Penn State?'" Wenner said. "She's say, 'Good. Majoring in the javelin."
When Shuey placed second in the javelin at the Olympic Trials in July to punch his ticket to the Summer Games in Tokyo, one of the first calls he made was to Wenner.
He told her they had finally done it. He was finally an Olympian.
"It's all Mikey," Wenner said. "I said to him that I really appreciated that he put me in this with him, but he was the one who put in the sweat, the tears and everything into it. It's so fantastic that I can be a small part of his story, but a very, very small part. And it is humbling. I may have coached Mikey, but I just want to push everything off on him. He is just that great of a kid and he deserves everything."