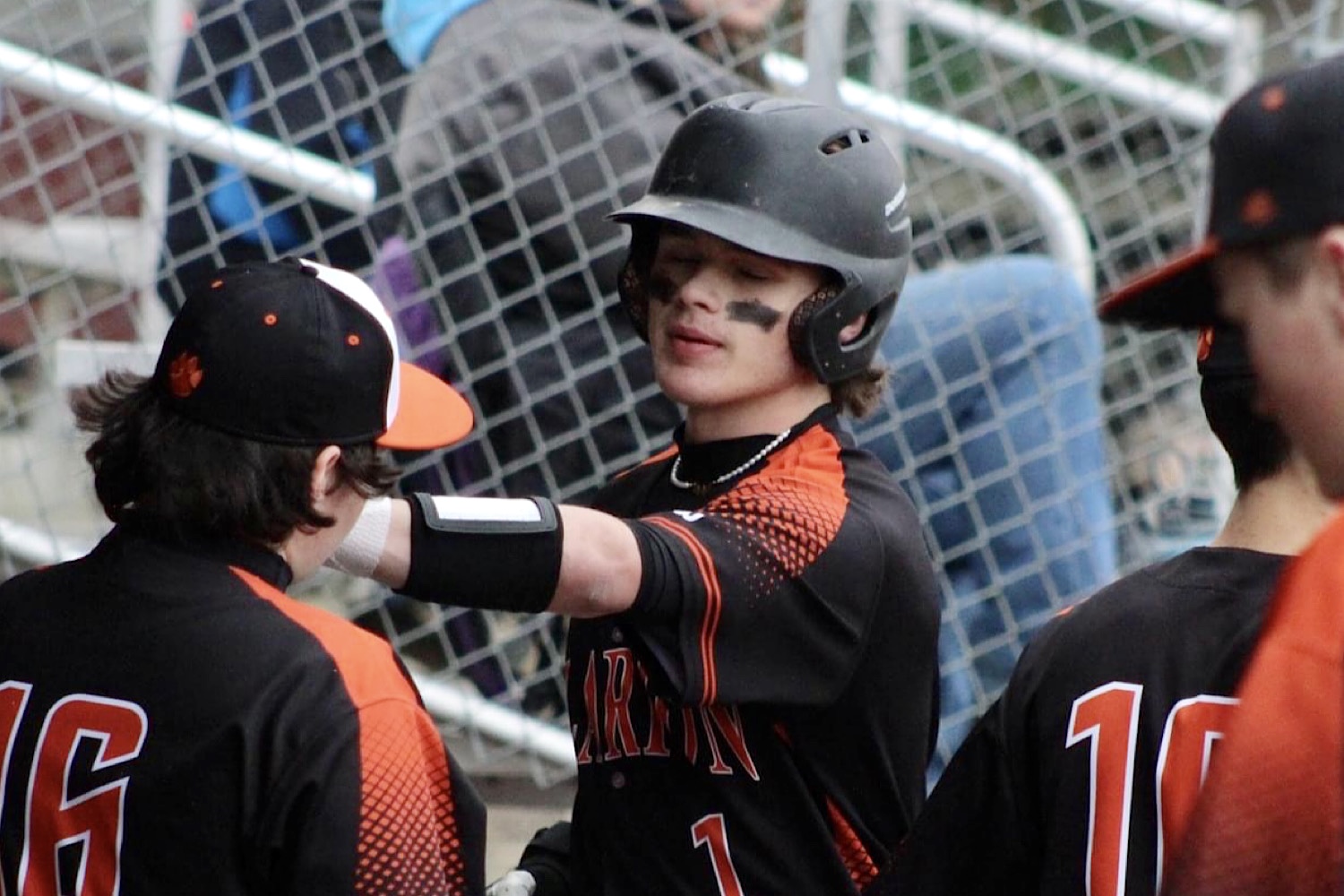 JOHNSONBURG, Pa. (EYT/D9) — The Clarion baseball team trailed Johnsonburg on the road 6-1 after five innings on Monday afternoon.
That's when things started to get wild.
Dawson Smail hit a grand slam as part of an 11-run eighth inning as the Bobcats outscored the Rams 16-4 over the final three innings to win, 17-10.
(Pictured above, Dawson Smail is congratulated after hitting a grand slam in the top of the eighth inning to help Clarion to a wild 17-10 win over Johnsonburg/photo by Nathan Girvan)
For five innings, Johnsonburg cruised, taking a 6-1 lead into the top of the sixth.
But Clarion put up three in that inning to trim the lead to 6-4 and the scored two in the top of the seventh on clutch two-run single by Tanner Miller to knot things up at 6-6.
The Bobcats' barrage in the top of eighth was helped along by four consecutive bases-loaded walks and then Smail's blast.
Smail was 3 for 5 with two doubles and the grand slam.
Miller also went 3 for 5 with four RBI for Clarion.
Derek Smail got the win in relief.
Kaden Dennis went 3 for 5 with three RBI for Johnsonburg.
Cameron Larkin doubled for the Rams.
REDBANK VALLEY 10, WEST SHAMOKIN 6
Tate Minich went 3 for 4 with a pair of triples and three runs scored as the Bulldogs built a 10-0 lead and hung on for a season-opening win.
Braylon Wagner also had a big day, going 3 for 4 with a pair of doubles and three RBI for Redbank Valley.
Breckin Minich also had two hits and drove in two.
Redbank led 9-0 after four innings and took a 10-0 lead into the bottom of the sixth inning.
But West Shamokin put up four runs in the bottom of the sixth to stave off the mercy rule and then scored two more runs in the seventh before the Bulldogs ended the rally.
Redbank used five pitchers with Ty Carrier getting the start and working two no-hit innings. He struck out two.
Wagner worked the next two innings, striking out four to get the win.
Jaxon Huffman worked a perfect fifth, fanning two, before Mathew Kozma and Mason Clouse finished things up.