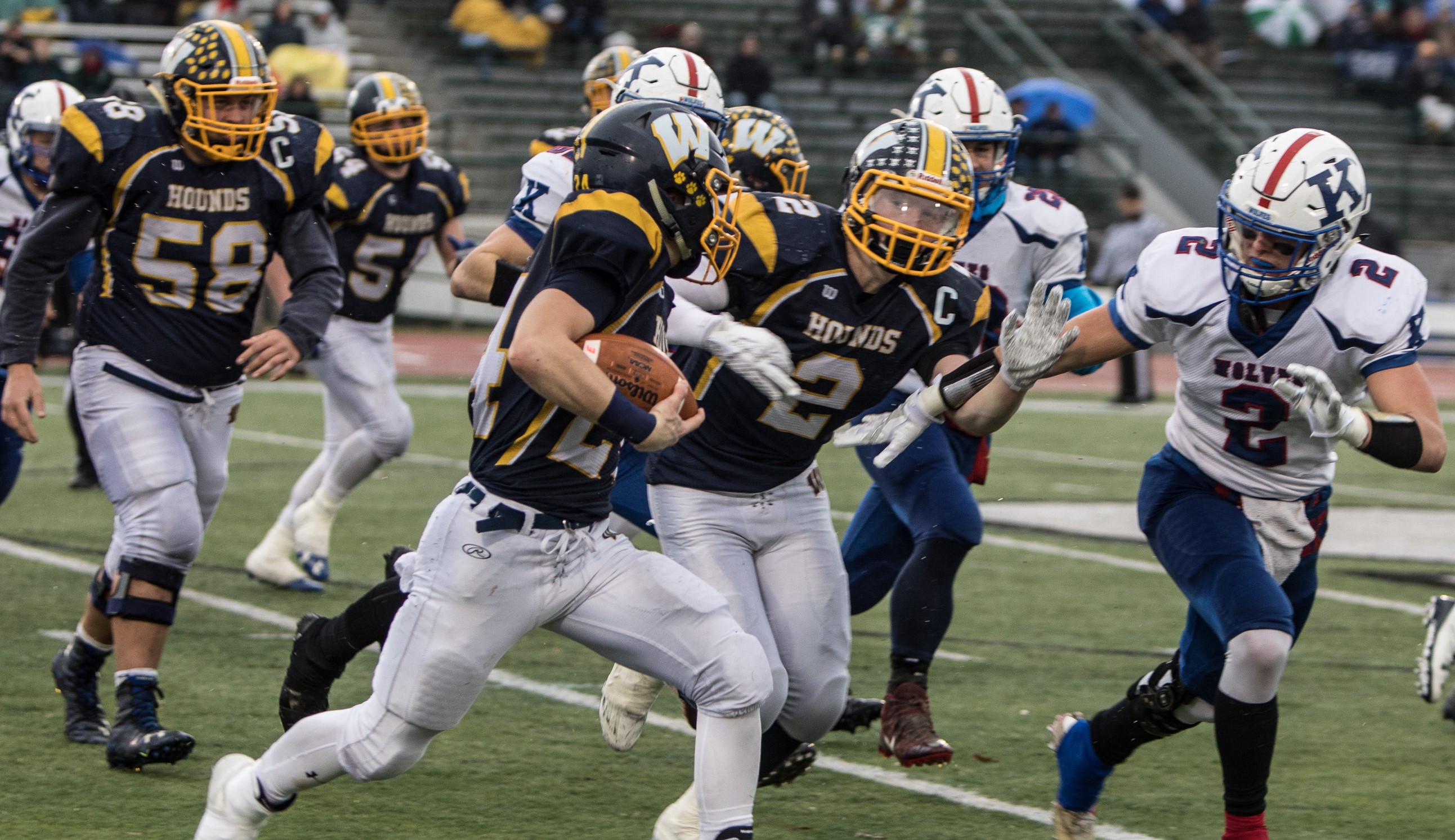 By Chris Rossetti
SLIPPERY ROCK, Pa. – Racking up 506 yards of offense, Wilmington brought an abrupt halt to Kane's season with a 42-0 win over the Wolves in the PIAA Class 2A quarterfinals Saturday afternoon at Slippery Rock's Mihalik-Thompson Stadium.
(Cover photo of Wilmington's Cameron Marett. Photo by Shawn Murray. Check out more of Murray's work here.)
The win was No. 300 for long-time Wilmington head coach Terry Verrelli, a Curwensville High School graduate. (See story on Verrelli's 300th win).
"I'm proud of the fact I've been around here long enough to get 300 wins," Verrelli, who started as an assistant coach at the school in 1970 and became the head coach in 1978 (he missed the 1991 season for medical reasons), said. "It's obviously very important to me to show that I've been around that long and they've put up with me. It's a proud moment for me."
Verelli's Greyhounds (12-1) wasted little time in handing Kane (13-1) its first loss of the season and just its second defeat since the start of the 2015 season racing out to a 35-0 halftime lead while outgaining Kane 506 to 223 on the day.
"We didn't go into this thing thinking (they were going to move the ball like that)," Kane head coach Todd Silfies said. "I think maybe I didn't adjust quite as quick as what I should have. That's on me. But they've got a great football team. That's among the very best teams I've taken the field against in my career. They have athletes all over the field. And, you know what, we made mistakes. But they forced us to make mistakes. When you play against good teams, it gets you out of being disciplined and out of playing fundamental football. I sure could have done a lot more on my end of things, too."
Big plays did Kane in, as the Greyhounds (12-1) had 10 plays that went for at least 20 yards including five that went for touchdowns – four of which were at least 30 yards.
"There were too many splash plays," Silfies said. "They scored too quick. Like I said, that's on me."
Wilmington led 14-0 at the end of the first quarter and then scored three times in the final 5:19 of the first half to not only put the game away but also make sure the second half would be played under the PIAA's Mercy Rule with a running clock.
"I think we did well," Verrelli said. "We played offense well, and we certainly played defense well. That's the only way you are going to win big games. I think both sides of the ball made a difference today."
The game actually started out well for Kane, as the Wolves took the opening kickoff and moved from their 36 to the Wilmington 22 in just five plays thanks to some hard running by Erik DeLong, who finally appeared to be healthy after two weeks of battling an ankle injury, and a 20-yard pass from Reed Williams to Ange Costanzo.
But the drive stalled when Williams was sacked twice including on fourth-and-6 from the 18.
Wilmington wasted little time going out in front converting a third-and-3 from its 32 with a 38-yard Cameron Marett run before Kyle Slicker made it 7-0 with a 30-yard scamper halfway through the first quarter.
"Football is a game based on momentum," Silfies said. "We had a little bit there (at the start of the game) and lost it."
The Greyhounds were right back at it a minute later after forcing a quick three-and-out, as Reese Bender threw the first of four touchdown passes on the day with a 43-yard strike to Spencer DeMedal, who caught two scores on the afternoon to take the 14-0 advantage.
Bender finished the day 8 of 11 for 227 yards, the four scores and two interceptions.
"Reese is doing a great job," Verrelli said. "He's becoming so much more efficient passing as the year goes along. In the the Wing-T (Wilmington's offense), you don't pass that much. We work with him, and he's a great athlete too. He's getting the job done."
After a rare Wilmington mistake on its next drive when Davis Gardner intercepted Bender at the Kane 8, the Greyhounds big-play offense was back at it midway through the second quarter.
A 36-yard Marett run moved the ball to the Kane 40, and two plays later Bender hit DeMedal from 39 yards out to make it 21-0.
Wilmington's defense set up the Greyhounds next score when Williams was picked off by Colton Marett at the Kane 41. Marett scored on the play, but it was called back on a block in the back at the 13-yard line.
That didn't matter, as Bender made sure Colton Marett got the touchdown two plays later on a 20-yard pass that saw the Greyhound receiver wide open.
Things went from bad to worse for Kane late in the half when the Wolves elected to punt on fourth-and-1 from its 34, and Wilmington took over at its 30-yard line.
Bender then hit Bryson Verrelli, Terry's grandson, with a 70-yard scoring pass that made it 35-0 and ensured a quick second half with a running clock.
Wilmington looked poised to score early in the third quarter before Frank Truden picked off Bender at the Kane 3.
The Wolves then had their best chance to get points on the board when Williams hit Maze with a 39-yard pass out to the 42 and then hit Gardner for 40 yards to the Wilmington 10.
But on the next play, Williams couldn't handle the snap, and Wilmington's Ryan Byler recovered the bouncing ball at the 18 and returned it the distance for a touchdown. But another block in the back call brought the ball back inside Wilmington territory with the Greyhounds keeping the ball.
Wilmington then put up the final seven points midway through the fourth quarter on a 5-yard Cameron Marett touchdown run.
"Looking back on this season, we're always going to look back on this (year) with a smile," Silfies said. "I think our program is in a pretty good spot right now. But it's more about this team. I have never, ever in my life been more proud of a team that I've coached than this one. We had a bunch of holes to fill (after last season), and these guys embraced it. We had a couple of new seniors come out this year, and to get to know those kids was a lot of fun. A lot of commitment and a lot of great leadership was on this team. This will be a team, when I look back on it, I'm excited to tell my grandkids about."
Williams was 11 of 25 for 188 yards and the interception for Kane with Gardner catching four passes for 66 yards and Truden four for 59. DeLong returned for his first full-time action since the D9 semifinals and ran for 57 yards and 14 carries.
"They were hard to prepare for because they are a great passing team," Verrelli said. "That quarterback is very accurate, and they do it all year and those receivers can catch the ball. That was our main concern. We felt it we could stop the pass or at least slow them down, we would be in good shape."
DeMedal had nine carries for 104 yards and three catches for 89 yards. Cameron Marett also had 100 yards rushing on seven carries, while Bryson Verrelli had four catches for 118 yards.
Wilmington will play the WPIAL champion, either Neshannock or Steel Valley, in the PIAA semifinals next week. The WPIAL title game was being played Saturday night.
WILMINGTON 42, KANE 0
Score by Quarters
Kane 0 0 0 0 – 0
Wilmington 14 21 0 7 – 42
Scoring Summary
First Quarter
W – Kyle Slick 30 run (Jacob Winters kick), 6:20
W – Spencer DeMedal 43 pass from Reese Bender (Winters kick), 3:38
Second Quarter
W – DeMedal 39 pass from Bender (Winters kick), 5:19
W – Colton Marett 20 pass from Bender (Winters kick), 3:08
W – Bryson Verrelli 70 pass from Bender (Winters kick), 1:04
Fourth Quarter
W – Cameron Marett 5 run (Winters kick), 6:06
TEAM STATISTICS
Kane-Stat-Wilmington
10 First Downs 16
20-35 Rushes-Yards 32-279
188 Passing Yards 227
45-223 Plays-Yards 43-506
4-27 Penalties-Yards 8-67
2-1 Fumbles-Lost 0-0
4-37.0 Punts-Avg. 1-41.0
23:22 Time of Possession 24:38
INDIVIDUAL STATS
RUSHING –Kane: Erik DeLong 14-57, Frank Truden 2-10, Reed Williams 4-negative 32. Wilmington: Spencer DeMedal 9-104, Cameron Marett 7-100, Kyle Slicker 8-55,
Garrett Guth 1-7, Bryson Verrelli 2-5, Nathan Shaw 1-4, Jack Patton 1-2, Sam Moore 1-2, Reese Bender 2-0.
PASSING –Kane: Reed Williams 11-for-25, 188 yards, 1 interception. Wilmington: Reese Bender 8-for-11, 227 yards, 4 touchdowns, 2 interceptions.
RECEIVING –Kane: Davis Gardner 4-66, Frank Truden 4-59, Ray Maze 2-43, Ange Costanzo 1-20. Wilmington: Bryson Verrelli 4-118, Spencer DeMedal 3-89, Colton Marett 1-20.
INTERCEPTIONSKane: Davis Gardner, Frank Truden. Wilmington: Colton Marett.