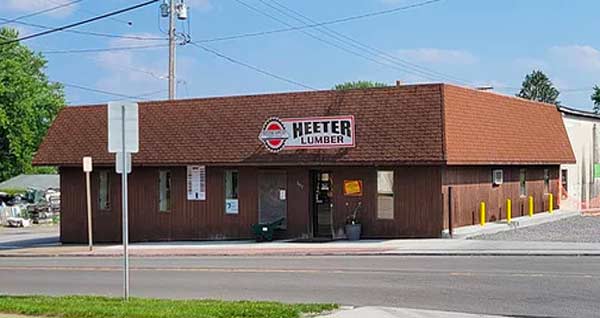 KNOX BOROUGH, Pa. (EYT) – When Heeter Lumber first opened in January of this year, there were a lot of ambivalent feelings.
"Taking over, we had mixed reviews because people don't like change," Brad Heeter told exploreClarion.com.
However, this attitude did not last long.
"And now, people that say they would never come back are in the stores all the time," added Heeter, who along with his wife Jenny, are the owners of Heeter Lumber.
The Heeters are new to retail, although they are not new to owning a business.
For 31 years, Brad and Jenny have run Heeter Enterprises, a concrete contracting business in Clarion County.
Nevertheless, it was only a couple of years ago that they decided to look into owning a lumber business, as well.
"A few years ago, we thought about diversifying," said Heeter. "I think it all started (when) our oldest son was working in Pittsburgh and he said something about buying a lumber store. We were thinking about buying one. No one knows how it snowballed into four."
The Heeters were patient.
It took two years for them to negotiate and buy their four stores, located in Knox, Sligo, Rimersburg, and New Bethlehem.
They were also a bit lucky. The Heeters retained mostly all of the employees already working at the four lumber stores.
"Our staff and our team – we lucked out," he said. "Since then, we lost one or two, but we replaced them with good people. We have a great employee base. It's great to have people pulling for the same effort."
Multiple Locations
One of Heeter Lumber's strengths is its four locations.
Located in Knox, Sligo, Rimersburg, and New Bethlehem, Heeter Lumber services a large area across Clarion County.
Though all locations feature hardware and lumber retail stores, the New Bethlehem and Sligo locations are also concrete plants.
Heeter said their main product is retaining walls, but they are planning on making septic tanks and outlets, as well.
Additionally, Heeter Lumber recently opened a bargain outlet in Wentlings Corners off I-80 exit 53.
"Our goal," explained Heeter, "is to take the older inventory, the things that are already out there, and sell them at a reduced price and clean up the stores. We're very happy with that building."
Accommodating Demand
Heeter said they are always looking for ways to bring more customers in the door.
Every Monday, Heeter researches lumber prices and marks his stock accordingly.
He and Jenny have also looked to attract a larger customer base to their stores by tailoring certain sections and displays.
In the New Bethlehem and Knox locations, the Heeters devised kitchen displays to highlight their products in that area.
Meanwhile, a rise in DIY mentality among customers has led the Heeters to adapt their stores for that demographic.
"We're moving some of our stores around to cater to that because I think that's a big thing that's happening," said Heeter. "That and moving out of the city, because I think there's a shift of people not going back to work in the offices, and I think they're going to come fix their camps up and summer homes and make them their permanent residence."
Women are another demographic group Heeter Lumber wants to target.
"Lumber stores are places where men notoriously go to shop. 50 percent of the money that's spent in the house, a woman is doing it. We want the stores to be more inviting and have more of them come in. That's one of my wife's main goals," Heeter explained.
Heeter Lumber is also forward-thinking.
Heeter asserted a businessperson should never stop learning and trying to improve.
"If you're doing things this year like you did then two years ago," he remarked, "you're behind because it's amazing how fast things are changing."
Community Involvement
As long-time residents of Clarion County, Heeter said he and his wife understand the importance of giving back to their local community.
"We can't support all of them, but we do as much as we can," he stated. "Boy Scouts is a big thing for us. Church groups, we try to help out as much as we can."
Heeter mentioned supporting local businesses like his end up being a net positive for the community, as those businesses can then give back.
"We try to support everything, but people don't realize that shopping local, the money stays local, too," he said. "I think people who aren't in business don't realize you put a lot of money back in these communities."
Future Outlook
By all accounts, Heeter Lumber's outlook is bright.
Heeter said they will hire one to two salespeople to act as liaisons between various construction projects in the area and his business.
"I think that's something you have to do," he said, "especially at the size we are."
Heeter is also looking to add more locations. Though he did not say where, he did add "just about all of them" would be within Clarion County.
"We're going to expand, I know that for sure," he said. "We have four now, so if I could have seven, then I think we would be done."