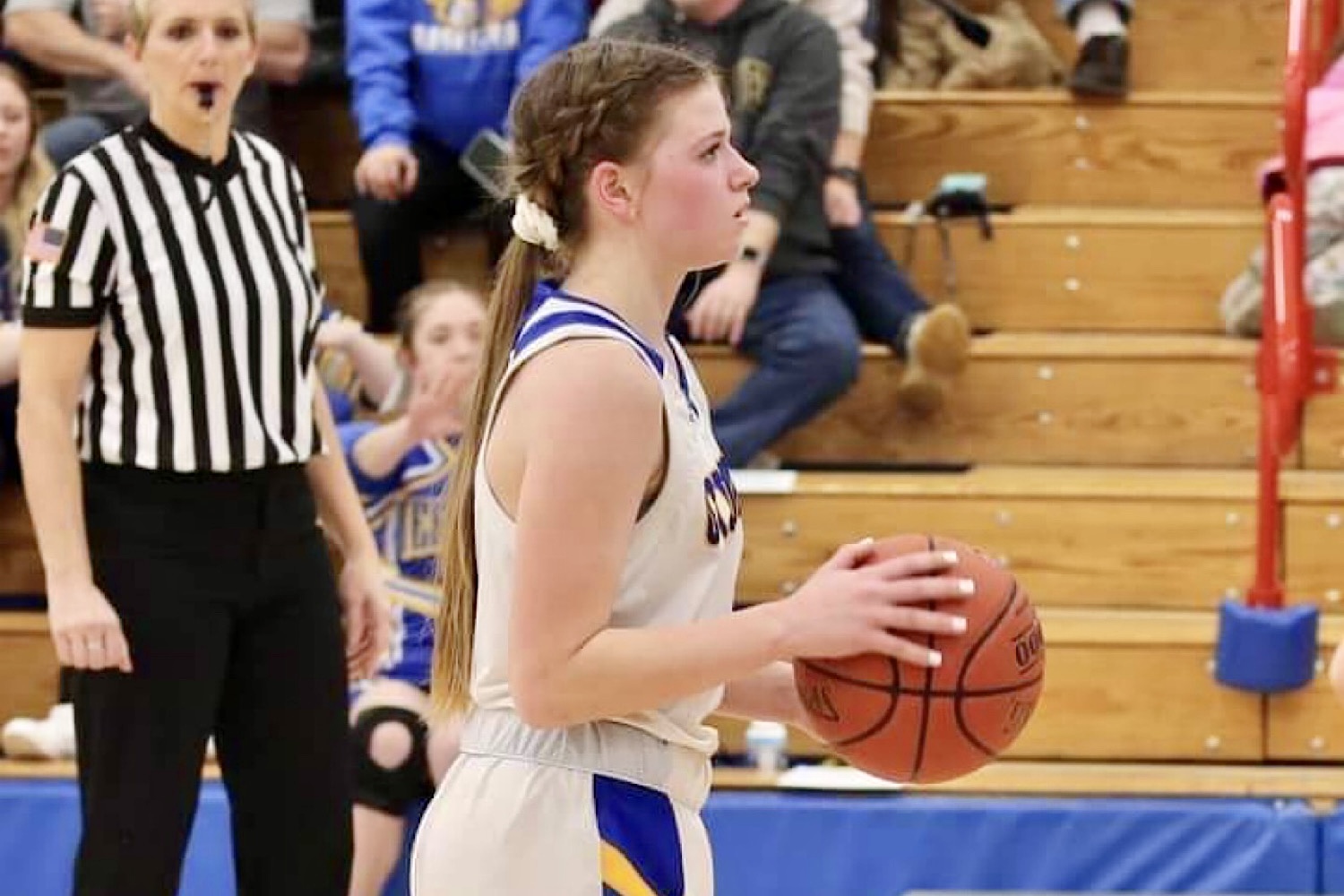 DUKE CENTER, Pa. (EYT/D9) — Katie Sheeler was barely 5-feet tall and racked with nerves as a freshman on the Otto-Eldred girls basketball team.
She put up six points in her first game. Two in her next.
There was little indication back then that she would develop into the top scorer in Otto-Eldred history — and certainly not turn into one of the most dangerous offensive weapons of all-time in District 9.
But here she is four years later, four inches taller and a senior who has raced past the school record with 1,659 points in 100 games. She has the Terrors in the second round of the PIAA Class A playoffs after helping them win their first D9 title.
(Katie Sheeler became Otto-Eldred's all-time leading scorer this season/photo by Barb Close)
"My freshman year I was 5-foot and had the pressure of being the starting point guard," Sheeler said. "There was a lot of pressure. But I think going through the years, having the confidence that my teammates had in me — I learned my teammates got my back through everything. I grew and my confidence grew and I went to camps and practiced hard and I just kept getting better."
Sheeler always had a good shooting touch. What has raised her game is the ability to get open and her quickness and willingness to the get to the rim.
It's made her nearly unstoppable, especially this season, even though every team Otto-Eldred faces is determined to try to slow her down.
Few have succeeded.
Sheeler is averaging a District 9-best 22.3 points per game. In her last six games, she is averaging 26 — including four games in which she has poured in 30 or more points.
Sheeler could have scored even more points this season. Otto-Eldred has been, well, just too good.
"There's not a lot of teams in the (Northern Tier League) that have as many really good basketball players as our team has," Sheeler said. "We're very fortunate to have a strong starting five and seven very solid players. Most of us are playing like three quarters to save us, not risk injury."
Now that the postseason has arrived, Sheeler is playing many more minutes.
And is taking advantage of that.
"Playoffs is when it's like, 'OK, this is go time.' This is when the fun starts happening," Sheeler said. "It's competitive and every point matters. It sounds funny, but this is the time that's more relaxed for me because everything is fun now."
Sheeler is certainly having lots of fun in the playoffs.
When she passed April (Batt) Preston with a free throw late in a postseason win over Northern Potter on Feb. 23, Sheeler was overcome by emotion.
She turned to the bench and covered her face. Senior teammate Anna Merry, one of Sheeler's closest friends, leapt into her arms.
It was special because there was a time when Sheeler thought she wouldn't get close to being the all-time leading scorer at the school.
There was a time when even 1,000 career points seemed like a long shot.
"Going into my junior year, I didn't even know if I was gonna get 1,000 because I was a little behind track," Sheeler said.
But Sheeler had a breakout junior campaign in which she scored 513 points to put her over the century mark.
"My next goal was to get to 1,600 points, which would beat the record," she said. "It was very emotional."
Sheeler, though, takes more pride in how well the team has done over the years.
Otto-Eldred lost back-to-back District 9 title games during her sophomore and junior seasons before finally getting that monkey off its back this year, rallying to beat old nemesis Elk County Catholic, 45-40, for the elusive crown.
Sheeler has learned to rely on the bevy of talented teammates when teams collapse on her, knowing that the points will eventually come.
"I've learned over the years since I've been a freshman that eyes have always been focused on me," she said. "I learned that when you drive into the paint and there are three girls collapsing, I have Anna Merry in the corner, Brooke Close on the wing on the wing, Bri Heller down on the block, Carrie Drummond on the kick-out. It's just amazing to have four solid options."
It's a nightmare for opponents.
And one of the reasons why Otto-Eldred has posted an 80-20 record the last four seasons.
"All my teammates are amazing," Sheeler said. "We've grown up together. We do all kinds of sports together. We have sleepovers are each other's houses. It's really more of a family. I mean, there's so much love. They're so happy whenever someone accomplishes something. We're close outside of basketball, too."
That closeness helped the Terrors win that D9 title.
Sheeler also thinks it will help them march on in the PIAA playoffs.
Otto-Eldred takes on Bishop Guilfoyle at 7 p.m. on Wednesday at DuBois High School in the second round of the state playoffs.
"None of us want it to end," Sheeler said. "Most of the time when girls are at the end of the season — basketball is the longest season — they're just kind of burned out a little bit where it's like, they want to win but of they lose, it's OK. Not this team. We're having too much fun."
If it does end, it want be the last basketball game Sheeler plays.
While she hasn't decided on a school yet, she will play at the next level.
Several collegiate programs, both at the Division II and III level, are clamoring for her services. Sheeler said a decision will come soon.
"It's always been a goal of mine to go to college and play basketball," Sheeler said. "I've loved basketball ever since I was four years old playing at the YMCA. It's just something I've always loved to do and I can't imagine not playing. I've always been a three-sport athlete, so I knew going to college I wanted to play a sport. Basketball — I fell in love with it."