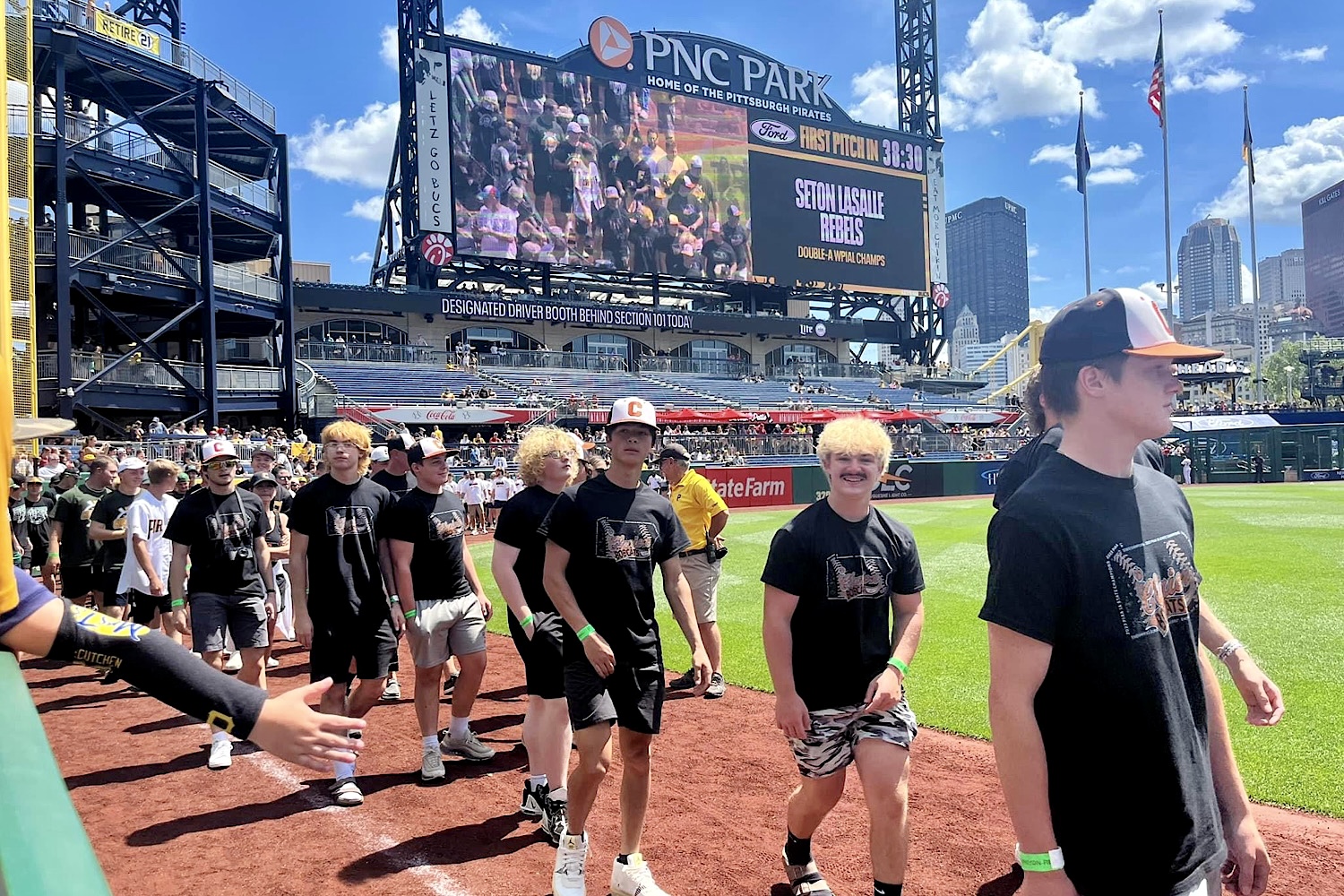 PITTSBURGH, Pa. (EYT/D9) — As Dawson Smail walked onto the field at PNC Park under a bright and warm late summer sun, he took it all in.
The incoming senior at Clarion Area High School was one of the many players on the Bobcats who spearheaded a run to the PIAA Class A championship this season.
They all were honored by the Pittsburgh Pirates before a game against the Cincinnati Reds on Sunday.
(Pictured above, members of the Clarion baseball team walk onto the field at PNC Park before the Pittsburgh Pirates took on the Cincinnati Reds on Sunday/photo by Rachel Matus)
"It was a great experience to walk on the field," Smail said. "It was surreal and was a great environment to be in."
Clarion came into this season off a mundane 10-7 campaign in 2022.
But the Bobcats, behind a potent and deep lineup and a pitching staff led by junior Devon Lauer, marched unrelentingly through opponents all season.
Clarion trailed defending District 9 and state champion DuBois Central Catholic 3-1 heading into the top of the seventh inning of the D9 title game on Memorial Day.
The Bobcats rallied for five runs in the top of the seventh to win the district crown, 6-3.
It served as a catalyst for one of the most dominating state playoff runs in Pennsylvania history.
Clarion beat Harmony Area, 15-0, in three innings to open the PIAA postseason. Then the Bobcats mercy-ruled Saegertown, 10-0, in five. A third consecutive shutout, this one 3-0 over Souther Fulton, set up an all-D9 state championship matchup with DCC.
Clarion, which finished the season with a 21-4 record, won that game 4-1.
Four state playoff games, one run given up and 32 runs scored.
The honor by the Pirates capped off a season that will be long remembered in Clarion.