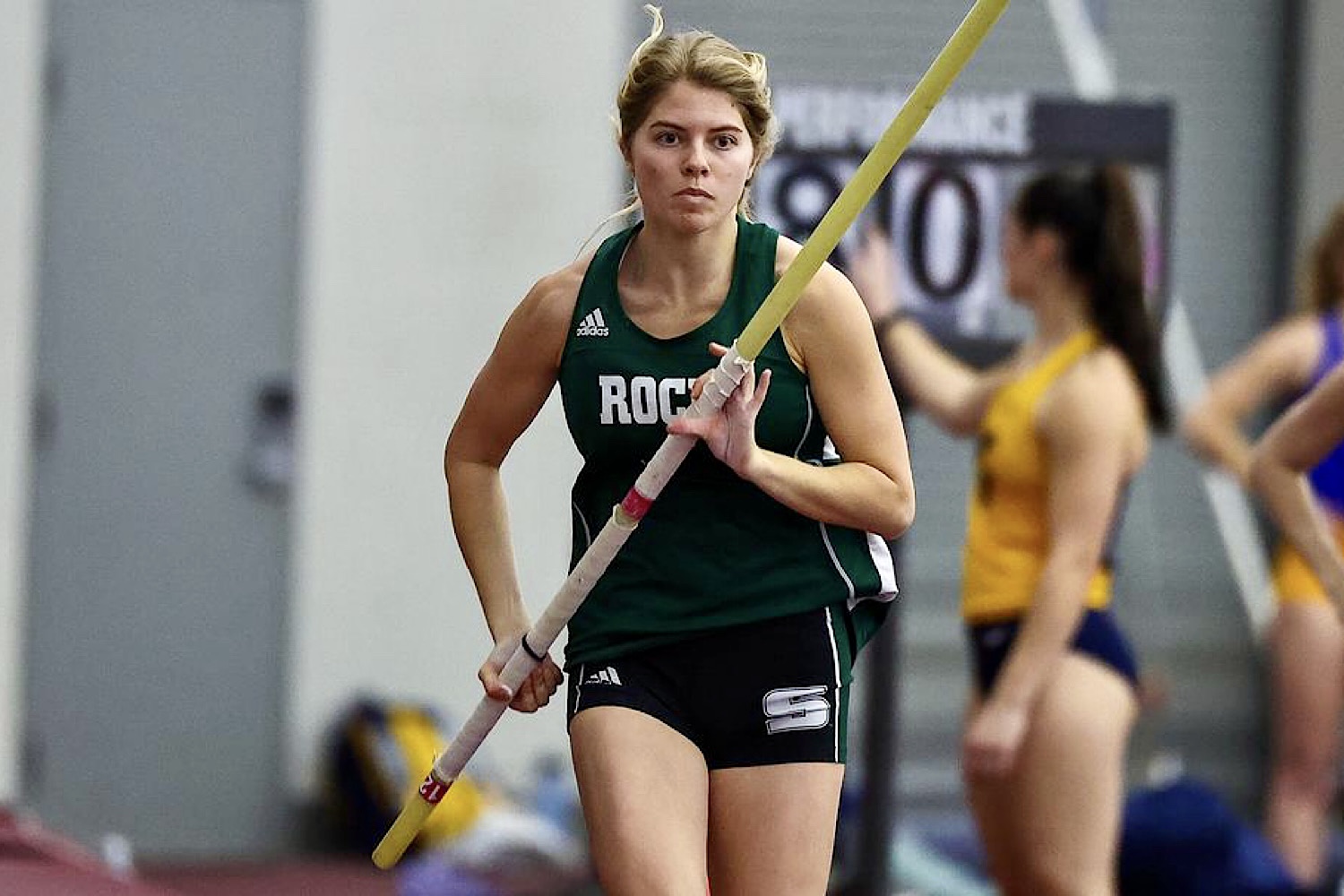 SLIPPERY ROCK, Pa. (EYT/D9) — Since she was 13, Kendall Grossman has been in a serious relationship with the pole vault.
And it's been, well, complicated.
(Kendall Grossman sprints down the runway on an attempt in the pole vault/photo courtesy of Slippery Rock University)
There were days when the Moniteau graduate and junior on the Slippery Rock University women's track and field team was deeply in love with event. Other when the simple idea of picking up a pole and sprinting down a runway instilled her with intense fear and loathing.
The pole vault has brought her a lot of laughs. Plenty of tears, too.
The ups and downs have been plentiful. Nights spent mired in doubt. Days just trying to figure out a way forward. Through it all, she's never sought a divorce.
She's in it, for better or for worse.
"It's funny because I think pole vaulters in general, when we have rough patches, we are defiant of them," Grossman said, chuckling. "I was explaining it to a friend of mine that it's like golf. You can go out and play 18 holes and just be totally trash except for that one good drive off the tee on No. 7. You get back and you're telling people that you played really bad, but you had that one perfect shot on No. 7 and if you could do that, you'd shoot under 70 all the time.
"That's what the pole vault is like. You do everything wrong, but then you have that one when you soar over the bar at 11 feet and you think, 'If that bar was at 13 feet I'd be a 13-foot pole vaulter right now.' You remember the good ones more than you remember the bad ones."
Grossman had a very good one — and very memorable one — on Saturday.
Grossman cleared 3.65 meters (11 feet, 11¾ inches) at the Pennsylvania State Athletic Conference Indoor Track and Field Championships at Bucknell University to win the event.
She came into the meet as the 10th seed, but shocked the field with the type of performance she always knew she was capable of producing.
"The atmosphere was electrifying — that would probably be the only way to describe it," Grossman said. "I don't know if it's good or bad what I felt that day, but I just felt like it was easy that day — and nothing this season has been easy."
Grossman had struggled in the pole vault during this indoor season. Her previous best before the PSAC championships was 3.50 meters. There were two competitions during this campaign in which she didn't even clear a height.
All that changed on Saturday at Bucknell. Grossman found herself in a place that had eluded her for the better part of two seasons. An overwhelming feeling of confidence.
"I think it was I didn't have much pressure on myself," Grossman said. "I mean, I wanted to win, but I didn't really go into it expecting anything and I think that kind of helped me in the long run.
"It was definitely a special one," Grossman added. "I was kind of emotional. All of my teammates were so happy for me and congratulating me and it was just an awesome weekend for The Rock."
Her effort will certainly help her confidence, capping an uneven season with a day of brilliance. Just competing this indoor season was something of a triumph for Grossman, who's vaulting life has wildly ebbed and flowed between good times and very dark ones.
At Moniteau, she was a wunderkind in the event, placing second at the PIAA Track and Field Championships in each of her freshman and sophomore seasons.
She entered her junior campaign with a state title in mind.
But during the first meet of the season, Grossman's pole snapped on an attempt. She still remembers the feeling of it splintering. The sensation of plummeting to the ground.
It shook her.
Grossman had to reconstruct her entire approach to the pole vault after that incident.
She eventually did, but placed a disappointing sixth at the state meet as a junior. Her senior season was lost to COVID.
At SRU, she again had to battle adversity.
Last indoor season, Grossman went a month without even attempting a vault. Overwhelming fear gripped her and she wasn't quite sure why.
"I was so scared of pole vaulting," she said. "I was jumping really well. Then one day, nothing made sense."
Again, Grossman had to start from scratch. She went back to the very basics of the events — she spent a week just sprinting down a runway without a pole — and rebuilt herself again from the ground up.
A year later, vindication.
Grossman is the PSAC indoor champion and is looking forward to see what she can do during the outdoor season.
"I wouldn't say winning has changed my confidence a lot, but I think the work that I've done throughout the season is really what has," Grossman said. "During outdoor — it's completely different than indoor — I'm going to do my best to keep it going.
"There's nothing like the feeling of clearing that bar — it's addicting," Grossman added. "In high school, I enjoyed the winning. In college, I discovered a way to enjoy just vaulting and it's made a big difference."