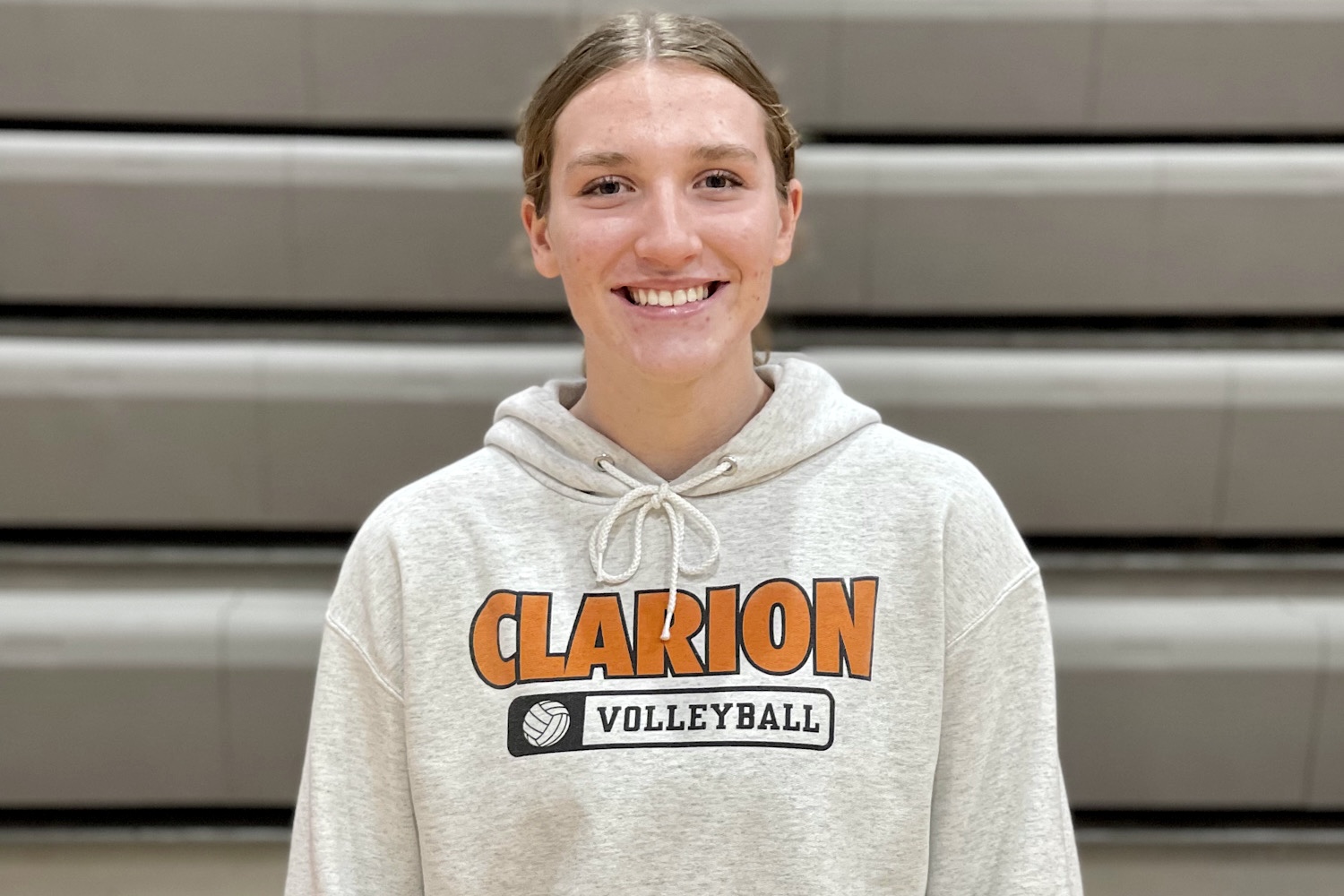 CLARION, Pa. (EYT/D9) — Hadlee Campbell is very much different than her older sister Brenna.
Brenna was often stoic and intense on the court as a four-time all-state performer as a setter — and still is as a junior at the University of Mary Washington.
Hadlee, while serious, can often be found with a smile on her face. Their positions are different — Brenna was strictly a setter; Hadlee has taken on the role as one of the most feared outside hitters in District 9 as a junior.
(Pictured above, Clarion's Hadlee Campbell)
Yes, they are different.
Except for one thing.
Clarion Area High School sports coverage on Explore and D9Sports.com is brought to you by Redbank Chevrolet and DuBrook.
"Hadlee loves the weight room and she works so hard," said Hadlee and Brenna's mother and longtime Clarion High School volleyball coach Shari Campbell. "Brenna has passed that on."
It's not always easy being a volleyball player with the last name of Campbell in Clarion.
Shari Campbell has built a volleyball dynasty over the past two-plus decades, winning multiple District 9 and PIAA titles, including two consecutive state crowns in 2020 and 2021.
Hadlee acknowledges the pressure and accepts it.
"Yeah, there's a lot of pressure because my sister was so good," Hadlee said, smiling. "And there's also the pressure of coming in and playing a position that Korrin (Burns) played so well. We've had great setters and great outside hitters, so that's a lot of pressure living up to that, living up to Korrin Burns and Erica Selfridge and Brenna. I think this year I'm able to deal with it more because we do a lot of mental training in our practices because our coaches think that's a huge part of the game, to be able to bounce back from mistakes."
Hadlee was a good attacker last season and knew with the graduation loss of Aryana Girvan, who is now excelling at Butler County Community College, that she was going to have to step up into the role as a key offensive threat.
Again, she accepted and embraced it.
"I did know that I was gonna be the person who would do that," she said. "I knew other people like Marley (Kline) were going to be big, too, in the middle a Liv (Diehl) does really good on the right side and out of the middle, too. But I knew I was probably going to be the big hitter."
So did Shari Campbell.
"She had a great club season. She played a lot this summer and she's kind of coming into her own," the coach said. "She is a really smart player and knows to not always pound the ball, but use finesse."
But there's been a bump in the road for Hadlee, who has missed two matches last week with a nagging shoulder injury.
Clarion won them both as played like Kline stepped up and performed well. Kline had 14 kills in the victory on Thursday over Union.
A trip to the doctor by Hadlee on the same day yielded some good news.
The injury isn't serious. Hadlee will undergo physical therapy and hopes to be back on the court in one to two weeks.
Sitting on the bench is an uncomfortable place for Hadlee.
"I really wanted to be out there on the court," Hadlee said. "I mean, it was fun to be able to watch all my teammates playing and doing really well, but I want to be out there with them again."
Hadlee was on a path following in the footsteps of Brenna as a setter. She played that position through the ranks, until she got to the varsity level in high school.
Then she took a different fork on the road.
Hadlee is able to be a six-rotation player.
"I grew up as a setter all through junior high and I kind of transitioned to be a hitter and a six rotation back row and front row player," she said. "Being able to do everything is good. Like the Pitt coach (Dan Fisher) says — he wants everyone in his gym to be a setter because you never know when you're gonna need to help out with that second contact. So being able to have a skill like that and being able to play defensively is a really good thing to be able to do."
Hadlee said she learned a lot from Brenna, especially when it comes to the mental part of the sport.
Of course, growing up in a volleyball family, the game kind of becomes ingrained.
"Brenna was so mentally tough. I've learned a lot from watching her play as I grew up. I think that's rubbed off on me. I mean, I'm not there yet at her level, but I'm getting there.
"It's really good growing up in a volleyball family because I know so much about the game, like the rules and the technical stuff," Hadlee added. "I could literally play anywhere on the court because I grew up in a volleyball household. I grew up watching my sister, Brenna, and then seeing Korrin and all those girls on the 2012 state championship team and all those players who have come through. It's amazing to see all these great players come through this program."
Hadlee wants to be mentioned as one of the greats.
She's off to a promising start.
She's also become one of the leaders of a team that has just one senior, Taylor Alston, on the roster.
"I'm proud of her for taking that on because she's the middle kid and that's not necessarily always the personality," Shari Campbell said, grinning. "But she's a real leader. And she's worked on her game. She's super serious. She's super positive with her team and helping to grow that."
Clarion Area High School sports coverage on Explore and D9Sports.com is brought to you by Redbank Chevrolet and DuBrook.