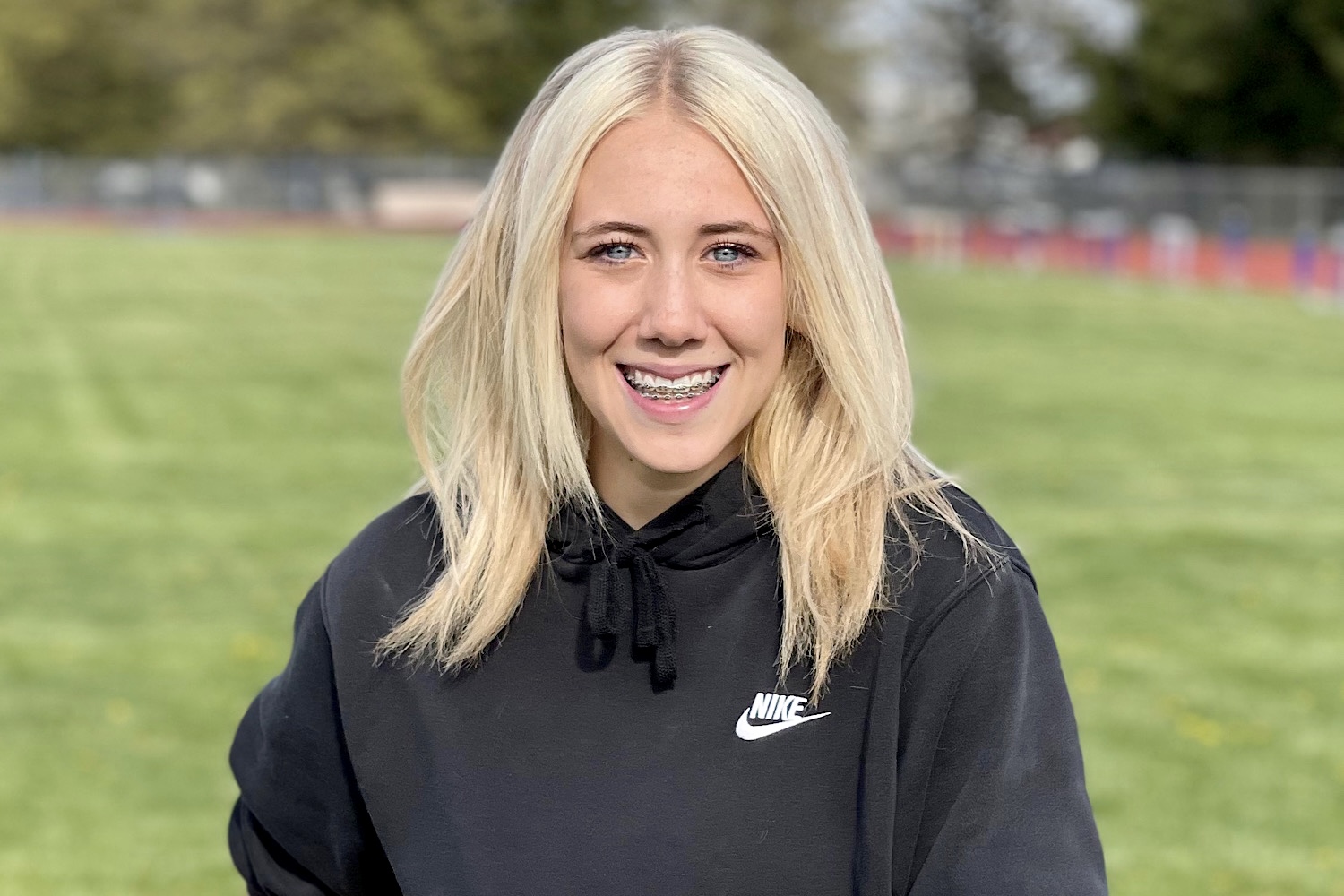 RIMERSBURG, Pa. (EYT/D9) — The last thing Hannah Ithen ever thought she'd be doing is launching herself into a sand pit.
Track and field was never really her thing. The A-C Valley junior dedicated herself to her other loves. Competitive spirit. Volleyball. And to a lesser extent, softball.
But softball wasn't satisfying to Ithen. She craved a change and track and field — and the long jump in particular — provided it.
One of her idols made her decision so much easier and gave her the confidence to take a leap — literally.
(Pictured above, Hannah Ithen)
"I never really pictured myself running track," Ithen said. "Growing up, I always watched (2022 A-C Valley graduate) Baylee Blauser do it, and I always looked up to her. She was my role model. I was like, 'Wow. I want to do that.' I used her as my inspiration."
Blauser won the PIAA Class 2A long jump championship last season for Union/A-C Valley and holds the school record in the event. She is currently competing at Slippery Rock University.

Redbank Valley, Keystone, and Union/A-C Valley sports coverage on Explore and D9Sports.com is brought to you by Heeter Lumber.
Ithen has wasted little time; she's making big progress in the event already.
Her best this season is 16 feet, 3¾ inches. It usually takes jumpers years to reach that kind of level. Not Ithen. It came early thanks to some raw athletic talent.
"I just run and jump," Ithen said, chuckling. "I have no method. I just run and try to get up in the air as high as I can."
Union/A-C Valley track and field coach Shanna Tharan has been working with Ithen and has been impressed with her rapid progress. It also has the coach lamenting not having Ithen longer.
"I wish I would have had her since ninth grade," Tharan said. "I mean, she hit 16 feet in her second meet. She picks up technique quickly. She's easy to work with."
Ithen has set her goals high, despite her inexperience.
She's already qualified for the District 9 championship meet, which will be held in Brookville later this month. Ithen isn't just satisfied with getting there. She wants to win, or at the very least qualify for the state meet in Shippensburg.
Ithen is no stranger to pressure. She's competed on big stages before.
As a member of A-C Valley's competitive spirit team, she's won a District 9 championship and qualified for the state competition several times.
"If I jumped 17 feet, I could place at the district meet and that would get me to states," Ithen said. "That's my biggest goal. With cheer, I've been to multiple districts and I've been to states twice now. I love that feeling. I just want to feel it over and over again."

(Ithen splashes down into the sand pit during a recent meet for Union/A-C Valley/photo by Lori Blauser)
Ithen is a talented athlete. She turned in a solid season for the Falcons' volleyball team in the fall, while also grinding through the physically demanding spirit campaign. The two seasons overlap, but Ithen and the two teams found a way to make it work.
"I love volleyball and cheer," Ithen said. "Both my coaches are amazing and help me split practice time. They are both so understanding about it all. Track is right after cheer, so I'm coming off of cheer and I'm still in shape. I've been doing cheer since I was four years old. It's not hard for me to multitask."
Before Ithen switched to track this season, she played softball.
But Ithen found that a bit unfulfilling.
"Literally all I did was run the bases," Ithen said. "I hated fielding. I just did it because all of my friends did. Last year really sparked me after talking to Baylee and seeing how she could do it."
Ithen also showed a natural talent for jumping before she even stepped foot on a runway.
During gym class, Ithen was a close second to Blauser during a broad jump competition.
"I think I was an inch behind Baylee," Ithen said, smiling. "She was like, 'You need to do track right now.' She told me I'd be good at it. That's what really got me going."
Ithen said she wishes she would have tried track and field sooner.
Sometimes she wonders where she would be now with two years of experience instead of just a few months.
She's determined to continue her rapid rise.
"I'll regret not starting sooner forever," Ithen said. "But we're making up for lost time. I think that's kind of what it is. I only have two years. I know if I don't go great this year, I can use it as my warm up and just get the feel for everything and come back next year strong."

Redbank Valley, Keystone, and Union/A-C Valley sports coverage on Explore and D9Sports.com is brought to you by Heeter Lumber.