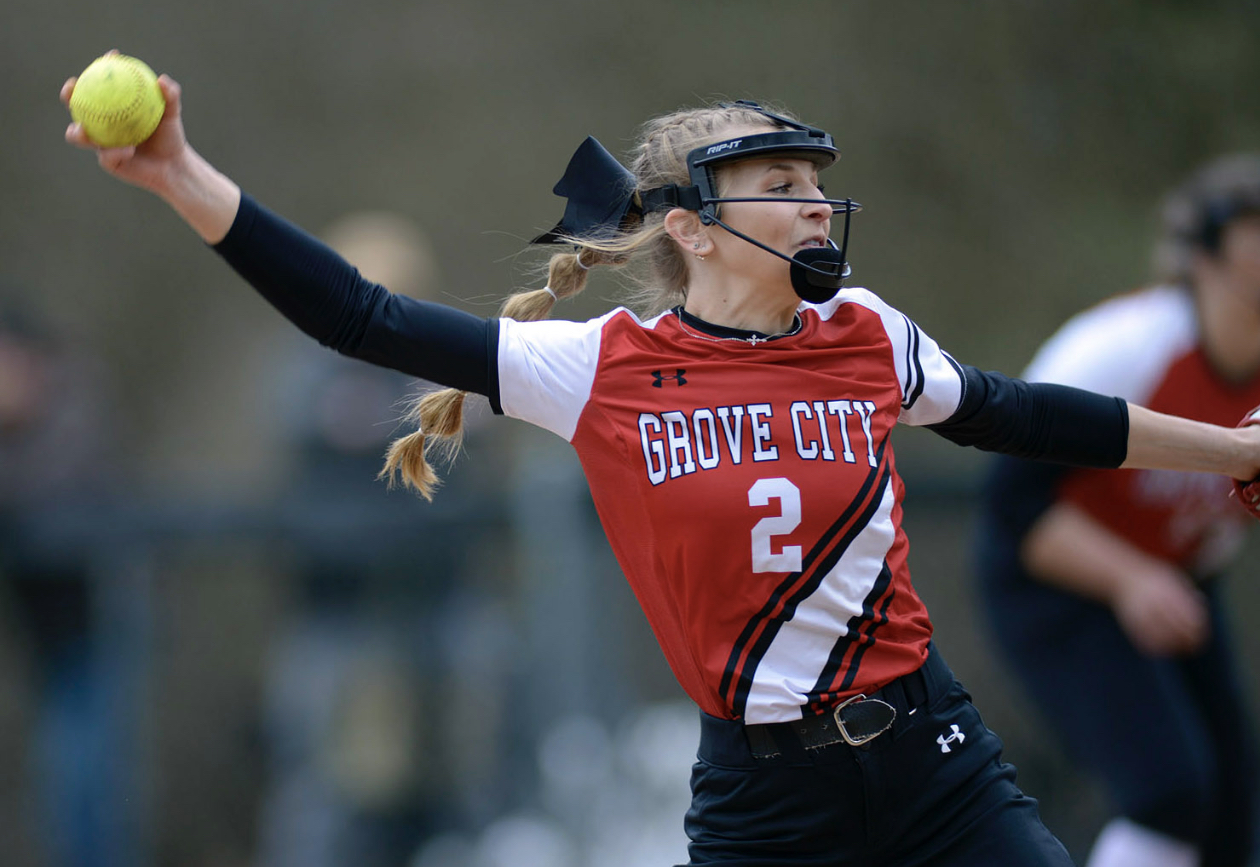 CLARION, Pa. (EYT/D9) — Kaitlyn Constantino remembers well receiving softball pitching lessons when she was just 7 years old.
She recalls both the fun and the frustration. The exhilaration of finally mastering a grip on a pitch, as well as the festering annoyance of just not quite grasping a certain spin.
(Above, Kaitlyn Constantino winds up for a pitch for Grove City College/photo courtesy of Dave Miller of ADM Photography.)
Now heading into her junior year as a pitcher at Grove City College, the student has become the teacher. The Clarion Area High School graduate gives pitching lessons to between 12 and 15 girls between the ages of eight and 13 during the summer.
They come from school districts from all around the area. They seek her out from Clarion to Strattanville to New Bethlehem — and even from right next door.
"It's so much fun — it's like going back in time," Constantino said. "They say whenever you do work, if it's something you love, it doesn't really feel like work. Whenever I'm giving lessons, it's just so much fun. It feels like I'm a little girl doing it all over again.
"I have some from Clarion and C-L and Redbank," she added. "The (Central Clarion) football coach, Davey Eggleton — I'm giving lessons to his daughter, Bella. I've also been teaching my neighbor, who goes to Clarion. She just started this year."
Clarion Area High School sports coverage on Explore and D9Sports.com is brought to you by Redbank Chevrolet and DuBrook.
Constantino certainly teaches from experience.
She was a star during her days at Clarion.
As a junior in 2019, she was 17-6 with a 1.60 ERA. In 144 innings pitched, the right-hander struck out 245. She was also feared at the plate, where she batted .508.
She made the Pennsylvania Softball Coaches Association All-State Team in Class A twice (after her sophomore and junior campaigns).
Constantino lost her senior year to the COVID-19 shutdown in 2020.
Through it all, she also continued to get lessons from her pitching coach in Franklin, Ed Winger, who coached her from the start.
She still goes to him today.
He's helping her fine tune some of her nastiest pitches.
Constantino had a strong sophomore year this spring at Grove City, going 8-7 with a 3.78 ERA. She wants to take the next step for the Wolverines as a junior.
"I really want to work on moving the ball up and down more," Constantino said. "The rise ball and drop ball are two of my huge pitches that I have been really working on, just because it's hard for the hitter to really see those pitches."
Constantino's riser is particularly effective when it's on.
It starts at the belt, but then spins chest-high by the time it crosses the plate. Constantino generates a large number of swings and misses and pop-ups with that offering when she is throwing it well.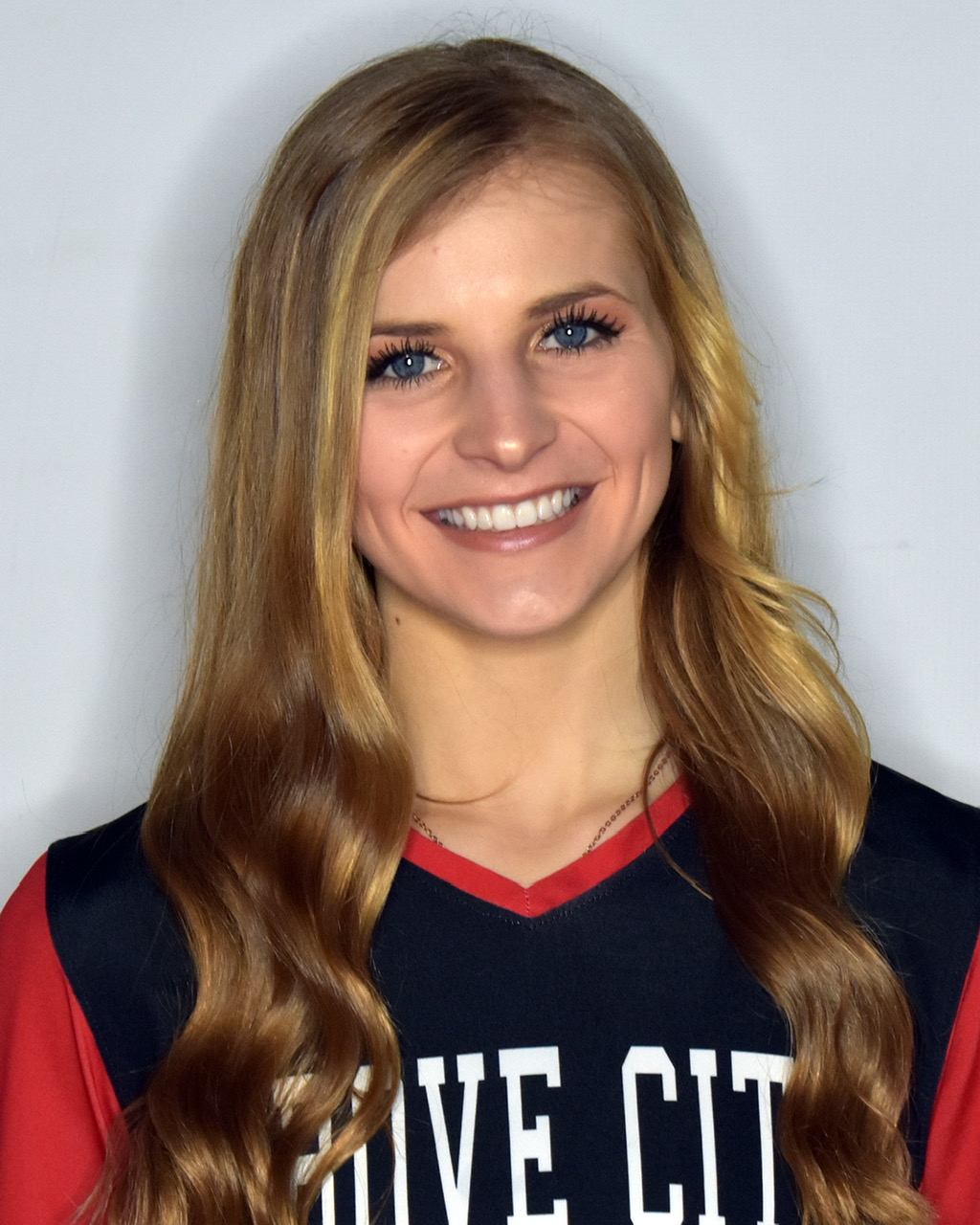 It can always get better, she said.
That's why she works so often with Winger.
"He's definitely one of the most impactful coaches in my life, as well as (recently retired Clarion High School coach Dan Shofestall)," Constantino said. "He taught me since I was young and he pushes me and pushes me hard. There were times when one pitching lesson was two-and-a-half hours. Just nonstop work."
Constantino has never shied away from work.
She played three sports at a high level in high school. She was a 1,000-point scorer for the Clarion girls basketball team and was also a standout out the volleyball court for the Bobcats.
Even while at Grove City, she hasn't slowed down.
In addition to playing softball, she has two jobs and works as a youth softball umpire, while tackling challenging course work as an exercise science major.
Constantino wants to be a pediatric physical therapist. The desire to work with kids as a profession came in part from her experience as a pitching coach.
"Ever since I was younger, I kind of always wanted to help people, and I was always interested in anatomy and how the body moves," she said. "Working with these young girls with pitching lessons is what just kind of locked me in to wanting a future in pediatric PT. I love working with children."
Constantino gets no bigger joy than seeing one of her students succeed on the field.
She gets that opportunity fairly often as an umpire.
"I got to see some of my pitchers," Constantino said. "It's cool because they would talk to me before the game and during the game. When they throw a good pitch, they'd say, 'Did you see that?'
"I'm teaching this one girl, her name is Kayla and she's from C-L, and I was teaching her a changeup," she added. "She tried it during a game I was working and it was one of the best changeups I've ever seen her pitch. The look on her face was like, 'Oh my gosh! Did I just throw that?'"
Constantino has no plans to slow down any time soon.
Even though she's playing softball at Grove City, she still plays volleyball and basketball in intramural leagues at the school.
"Sometimes it feels like I'm always on the go," she said, chuckling.
She wouldn't have it any other way.
"It feels almost weird to not be on the go," Constantino said. "I always have something to do. I always find something to do. Always. I just love adventure. I don't like sitting around."
Constantino said she would like to be a softball coach one day. She's had plenty of good mentors and she feels like she's learned valuable lessons from all of them.
The biggest one? Have fun.
She tries to remember that when she's working with a young pitcher. She wants her students to enjoy the game as much as she does — during the the exhilarating times as well as the frustrating ones that test even the best.
"Not every kid learns the same," Constantino said. "You use what they know and get it into terms they understand. Some come from a dancing background. Some are little bit more shy than others. You just have to use what they are interested in and then pitching becomes fun for them.
"It's frustrating at times — I know that from experience, even still," she added. "They'll be games and inning where it's like, 'Do I even know how to pitch?' Pitching isn't easy, especially when you're first starting. I tell them the first three years, or even four, are the toughest years because you have to get the mechanics down and it takes a long time. But you'll get it. They are very dedicated and I tell them if you put in the work, if you are dedicated and keep going with it, you will have great results."
Clarion Area High School sports coverage on Explore and D9Sports.com is brought to you by Redbank Chevrolet and DuBrook.