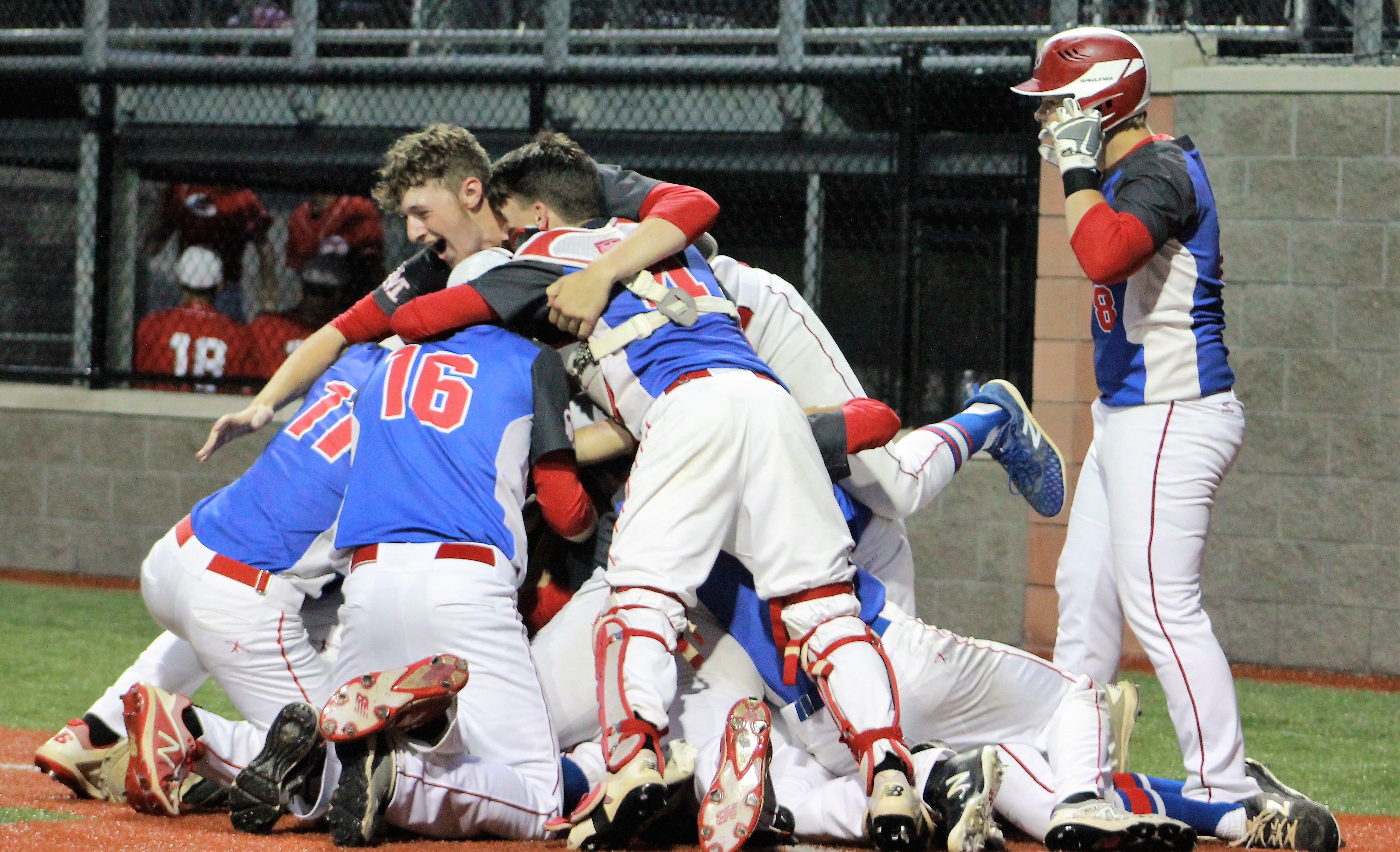 DUBOIS, Pa. – The Beimel Dash is going to be legendary in St. Marys.
(St. Marys mobs Tim Beimel after Beimel dashed home with the winning run in the bottom of the seventh inning. Photo by Jared Bakaysa of JB Graphics. See more of Bakaysa's work here)
Tim Beimel scored all the way from second on a throwing error by Clearfield third baseman Harrison Peacock in the bottom of the seventh inning to give St. Marys a 3-2 win in the District 9 Class 4A title game over the defending champion Bison at Showers Field in DuBois Wednesday night.
"I knew it was out in the outfield, that overthrow," Tim Beimel said. "I knew it was going to be out there quite a ways with the turf. So I just got up and ran, and I saw my coach waving me in and just went full tilt. I knew I had to go as hard as I could or else I wouldn't get there. I rolled on my butt and looked at the umpire, and I was just in disbelief."
The play unfolded with Beimel at second after he led off the inning with a single off the shallow wall in right-center field and was bunted up 90 feet by Shane Price. That brought up Kael Azzato, who had entered the game in the top of the inning at second base. Azzato got a good piece of a pitch from Clearfield starter and loser Jake Sorbera, but the ball was lined right at Peacock at third base.
The Clearfield sophomore than saw that Tim Beimel had strayed a bit from second and tried to double the St. Marys senior off the bag, but his throw got away and Beimel headed towards third and never stopped scoring on a play at the plate as the ball trickled away from Clearfield catcher Nathan Barr.
"We have been doing that all year," first-year St. Marys manager A.J. Meeker said. "Coach (Mike) Beimel, who coaches third base for me, if there is a chance we are going to do it if we have speed. Tim has the speed. When I saw the (error) I knew he was going to send him. I knew he was. What is the worst that could happen? He gets out and we go into extra innings? But that is the fun of this game. I knew he was going to send him. It was going to have to be a perfect throw, a perfect catch. That is just something these boys have been doing all season long."
It was a rollercoaster of an inning for both teams but especially for Tim Beimel, who took over on the mound for his cousin Nate Beimel in the sixth with two outs and St. Marys leading 2-1 after Nate Beimel reached the 100-pitch mark and had to come out by rule.
While Tim Beimel worked around a walk in the sixth, his wildness cost him and the Dutch in the seventh.
After Hayden Williams led off the seventh for Clearfield with an infield single that saw St. Marys shortstop Jared Groll slip a bit on the wet turf, Reese Wilson tried to bunt him up, but third baseman Matt Bellina fired to second to get the lead runner. Nathan Barr then grounded out to third with Wilson going to second, and St. Marys needed just one out for its first title since 2000 and just the third in school history.
But that out was hard to come by, as Tim Beimel walked Eli Glass on a 3-2 pitch after he and many in the St. Marys dugout had thought he had struck out Glass.
Seth Bumbarger then walked to load the bases, and Tim Beimel couldn't find the strike zone walking Ty Bender with the bases loaded to force in Wilson with the game-tying run.
Meeker had seen enough and went to Groll, who got Sorbera to ground out to the new second baseman Azzato, who entered the game when Groll took the mound. Azzato flipped to shortstop Hayden Tettis for the final out with the flip just beating Bender to second.
"I was definitely down coming up to the at-bat (leading off the bottom of the seventh)," Tim Beimel said. "But I knew once I got that hit that everything was changing."
Tim Beimel's single off the wall – about 317 feet away from home plate – in right-center field nearly cleared the wall but the short distance kept him to a single.
"I definitely felt like I got good tilt, good ball flight on it," Tim Beimel said. "It was a little off the end. I would have liked it a little more to left-center."
Tim Beimel was right in the middle of a lot of action for the Dutch including scoring the go-ahead run in the bottom of the fourth that put St. Marys up 2-1 when he stole home plate after noticing that Barr, the catcher, was not firing the ball back to the pitcher's mound with much effort.
After doubling with two outs in the fourth, Tim Beimel moved to third on a wild pitch and then waited for the right moment to swipe the plate doing so on ball four to Price.
"Me and my coach saw the catcher throwing it back, just lobbing it up kind of lackadaisical," Tim Beimel said. "He wasn't really making any effort, and coach (Mike Beimel) said 'you think you can get in there?' and I said 'yes sir' and just went as hard as I could."
It took plays like Tim Beimel made to win a tight pitchers duel between Sorbera and Nate Beimel.
Nate Beimel allowed just one run on three hits and four walks while striking out eight in his 5 ⅔ innings of work, while Sorbera gave up three runs, one earned, on three hits and a walk while striking out five in his 6 ⅔ innings.
"It was a tight matchup and I knew it was going to be," Meeker said. "I thought we would have an edge at the plate, but they had that edge at the plate tonight. Hats off to them."
St. Marys scored first getting a run in the first when Groll singled, stole second, went to third on a groundout by Nate Beimel and scored when Barr tried to pick him off third but had the throw get away from Peacock into foul territory.
Clearfield, which didn't have a hit through 3 ⅔ innings, tied the game with two outs in the fourth when Caullin Reed dribbled a ball to third base for the first hit of the game for the Bison and then scored when Peacock played pepper with the wall in center for an RBI double.
The title is St. Marys' first since taking the 2A crown in 2000 – ironically enough DuBois Central Catholic manager Adam Fox, whose team won the D9 1A title Tuesday night on the same field, was the star player on that team. The Dutch's only other title game in 1981 in Class 3A, and St. Marys had lost eight straight District 9 title games in various classifications prior to Wednesday night.
"This means a lot," Tim Beimel said. "It's one last chance to play here with St. Marys. It's a great feeling."
Meeker said the district title was one of the goals his team set back in January during open gym.
"One of the goals was let's win a district title," Meeker said. "Now, we move onto the next goal. Let's win some state playoff games. And then the next goal, let's win a state championship. Let's see what happens. I'm hoping we can do it. We have some of the best pitchers in the area. We are fortunate enough to have not just Nate but Timmy and Jared. I say why not? Why not try for it? Why not go for it? I think these boys are ready for that. It's more than just 'oh we won a district championship now we can say ok we have done something'. They want more. Our goal right now is we say four games. That all we've got four games left."
The Dutch will open PIAA playoff action Monday, June 4, against the WPIAL runner-up Ringgold at a site and time to be determined.
ST. MARYS 3, CLEARFIELD 2
Score by Inning
Clearfield 000 100 1 – 2
St. Marys 100 100 1 – 3
CLEARFIELD – 2
Reese Wilson cf 3100, Nathan Barr c 4000, Eli Glass lf 1000, Seth Bumbarger 1b 3000, Ty Bender dh 3001, Alec Graham rf 0000, Jake Sorbera p 4010, Cade Walker cr 0000, Caullin Reed ss 1110, Harrison Peacock 3b 3011, Hayden Williams 2b 2010, Allan Myers ph 1000. Totals 25-2-4-2.
ST. MARYS – 3
Brandon Sicheri lf/cf 3000, Jared Groll ss/p 3110, Nate Beimel p/1b 3000, Tim Beimel cf/p 3220, Shane Price dh 1000, Matt Bellina 3b 0000, Jesse McKee 1b/lf 2000, Kael Azzato 2b 1000, Hayden Tettis 2b/ss 2000, Brendon Rolley rf 2000, Jake Meeker c 2000. Totals 22-3-3-0.
LOB: Clearfield 10. St. Marys 1. Errors: Clearfield 2. 2B: Peacock. Tim Beimel. SB: Wilson, Glass. Groll, Tim Beimel, SAC: Price.
PITCHING
Clearfield
Jake Sorbera 6.2 IP, 3 H, 3 R, 1 ER, 1 BB, 5 K
St. Marys
Nate Beimel 5.2 IP, 3 H, 1 R, 1 ER, 4 BB, 8 K
Tim Beimel 1 IP, 1 H, 1 R, 1 ER, 4 BB, 0 K
Jared Groll 0.1 IP, 0 H, 0 R, 0 ER, 0 BB, 0 K
Winning pitcher: Jared Groll
Losing pitcher: Jake Sorbera