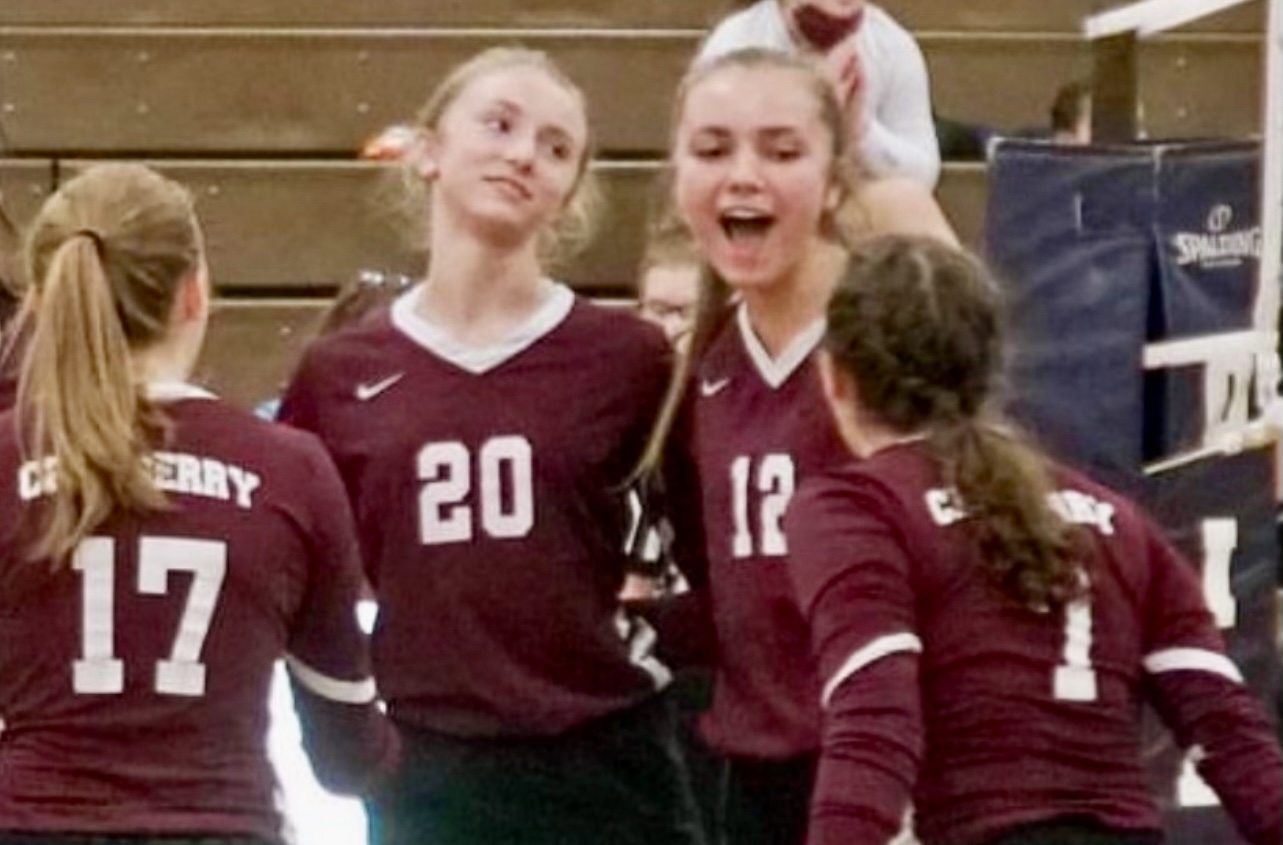 VENUS, Pa. (EYT/D9) — There were times early in Ayanna Ferringer's volleyball career when she loathed the sport.
The incoming junior at Cranberry High School was certainly not a fan.
Not one bit.
(Above, Ayanna Ferringer, left, and Ava Ferringer celebrate after a point during a match in the one season the sisters played together for Cranberry in 2020/submitted photo)
Her mother, Monica, played volleyball at a very high level at Cranberry and then at Clarion University. Her older sister, Ava, was also a star on the volleyball court for the Berries and is currently playing at Westminster College.
But Ayanna? Volleyball didn't hold the same affinity.
"I really wasn't comfortable with it," Ayanna said. "I guess I didn't like how I couldn't be totally in control."
Even current Cranberry volleyball coach Jennifer Stover noticed Ayanna's disdain for the game when she coached her in the seventh grade.
There was a time when Stover thought Ava was going to quit.
"She was one of the first kiddos we moved up to the eighth grade and I know in that first year she did not like volleyball at all," said Stover, who has spent the last two years as the Berries' head varsity volleyball coach. "I think she wanted to be with her friends in the seventh grade. I really thought we were going to lose her."
Cranberry Area High School sports coverage on Explore and D9Sports.com is brought to you by Redbank Chevrolet and DuBrook.
Ayanna, though, kept coming back. Part of it was the volleyball lineage in her family. She, Ava and her mother would often go outside to pepper each other with the volleyball. Ayanna had heard stories of how good her mother was in high school — even getting an offer to play at Penn State University — and also saw the success her older sister enjoyed with Cranberry.
The more Ayanna played, the more volleyball began to grow on her.
"I think I just decided it's a team sport and it's not all about me," Ayanna said. "Once I just accepted that and accepted that we are all gonna make mistakes, that I'm gonna make mistakes, and we all just need to get better and grow from it, I just started to like it more and appreciated my teammates and the game more."
(Ayanna Ferringer)
Ayanna had a standout sophomore season at middle hitter last year for Cranberry, which shook off a slow start to become one of the hottest teams around down the stretch.
The 5-foot-10 Ayanna — playing her first full season of volleyball because of COVID — led the Berries with 128 kills, was second on the team with 43 blocks and sported a 96% serving percentage with 138 points.
Not bad for a player who is really just scratching the surface on her ability.
"She only got two weeks her eighth-grade year before COVID shut us down, and then her freshman year, we had a shortened season," Stover said. "Last year she finally had the opportunity to have somewhat of a normal season, and I think she really hit her stride. She's such a natural athlete. She really wants to learn the game. She's one of those kids where you can have a talk with her about something, a change you want to make, and she really works hard to try to implement that.
"I think she's getting more confident in her skills," Stover added. "She was so quiet on the court, but she led us in kills and it was very obvious to me that she did not want to let the team down. I think that's why we did so well as the season rolled on last year."
Cranberry started 0-2 and 3-4 at one point before winning 11 straight, including a District 9 Class A playoff win over Northern Potter.
Ayanna had 12 kills in the first set of that playoff match.
The run ended in the second round with a loss to Oswayo Valley.
Ayanna was a big part of that late-season surge for Cranberry while following in Ava's footsteps.
"Ayanna had a big job because she was filling her sister's role," Stover said. "Ava was dominant at the net, and I didn't expect Ayanna to get there immediately as a sophomore, but she worked really hard and did a great job at it."
It was no accident.
Ayanna had watched Ava play for years. She looked up to her older sister. Wanted to be as similar force.
"Ever since we were little, we've always been going outside and playing volleyball and basketball and just pushing each other around and getting rough," Ayanna said, chuckling.
For a long time, Ava wasn't too keen on having a shadow following her around everywhere she went. But after awhile, Ava took her role as mentor more seriously.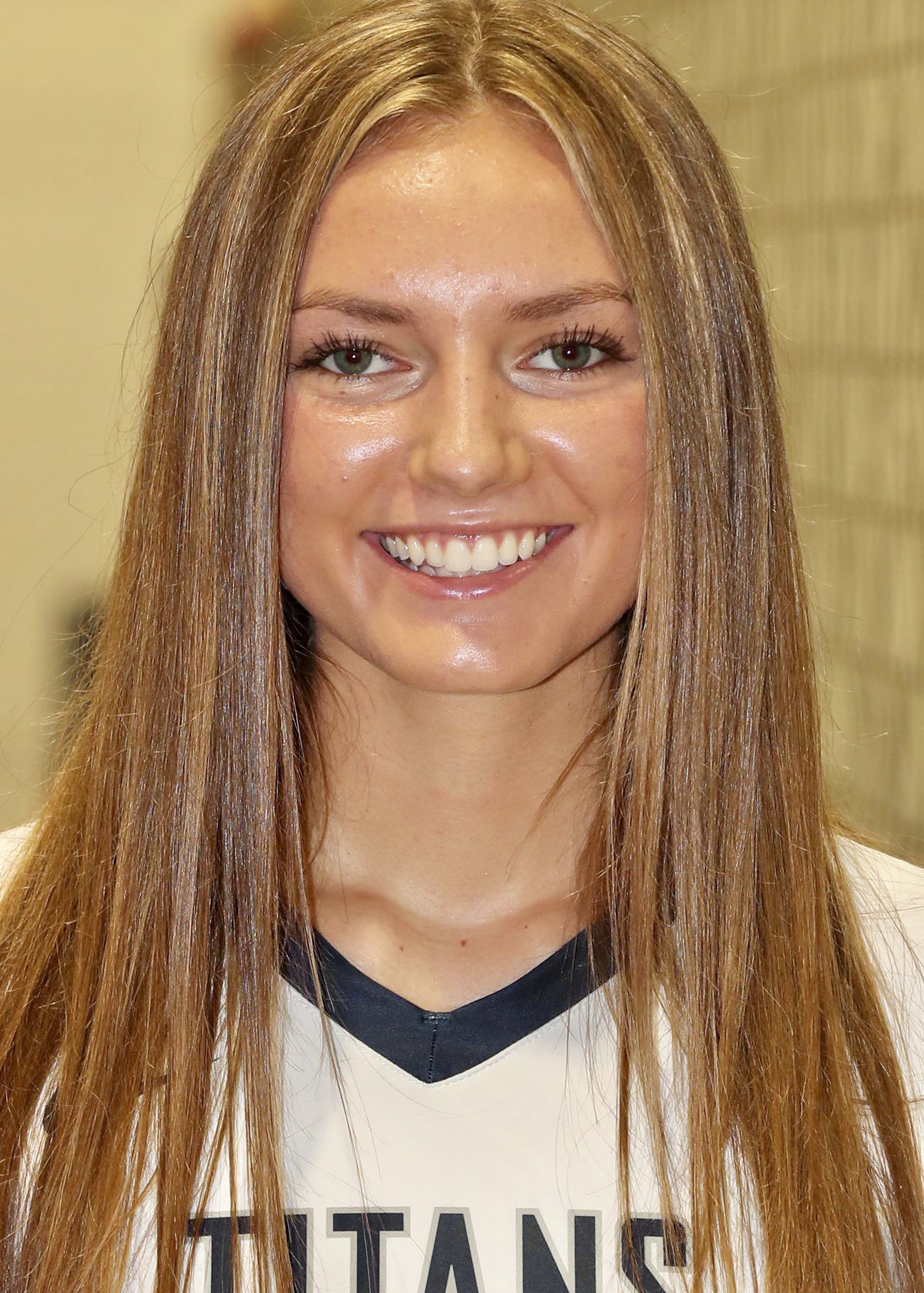 (Ava Ferringer)
"Honestly, at first, I felt like I was always dragging around my little sister," Ava said. "Now I'm like, 'Let's go play pickup with me and my friends.' She's part of the friend group. I honestly think that's helped her with her skill level, too. She's always been playing with older girls and older guys — in basketball, too.
"Probably every night it was, 'Let's go out and pepper each other. Let's go out and shoot hoops. Let's go out to the sand courts,'" Ava added. "We'd be out there for hours just ripping balls at each other. Sometimes it wasn't always the prettiest, but we had fun."
The sisters played one year together on the volleyball and basketball courts at Cranberry — even though both seasons were shortened by COVID.
"It was kind of a different setting because we had to behave a little bit," Ayanna said, chuckling. "We couldn't just go up and hit each other when we wanted to. It was definitely cool getting to play with her and looking up to her and to watch her play college volleyball at Westminster. She's always been someone that I've looked up to."
Last season was rough on both sisters. When Ayanna was playing, Ava was most likely either playing herself or at volleyball practice.
When a match or practice was over, the first thing Ava did was check to see how Ayanna and Cranberry did on the court that night.
"We'd usually have two-and-a-half to three-hour practices," Ava said. "I'd hurry out and call my mom or FaceTime to see how she did. I could never go to games in person, but I would always call mom from the locker room to see what happened. I mean, it kind of stunk. It was hard for my parents, too, to pick and chose who they would go watch, but they made it work."
Ava, also 5-10, is hoping to make thing work at Westminster.
As a freshman last season, she saw some time on the court for the Titans, who went 28-5 and won their third consecutive Presidents' Athletic Conference championship.
"In high school I was a middle hitter, but going into college as a mid to right-side, I really enjoyed it, more so the defense," Ava said. "You're the first defense against the other team's outside hitter. That's something I've really grown to enjoy. Personally, I want to improve. As a team, I want to get us back to that PAC championship. We've won three in a row, but one more would be great."
Ayanna also wants to bring even more success to Cranberry this season.
Now more confident — and with much more affection for volleyball than she had when she started — there's no telling what Ayanna can do.
"I definitely have high hopes for her," Stover said. "This summer we played in a summer league in Franklin and it's just obvious that she's continuing to learn and to see and be able to move on the court. She's got the height and she can jump as well, so she has both of those things going for her. She can sure hit the ball."
Cranberry Area High School sports coverage on Explore and D9Sports.com is brought to you by Redbank Chevrolet and DuBrook.