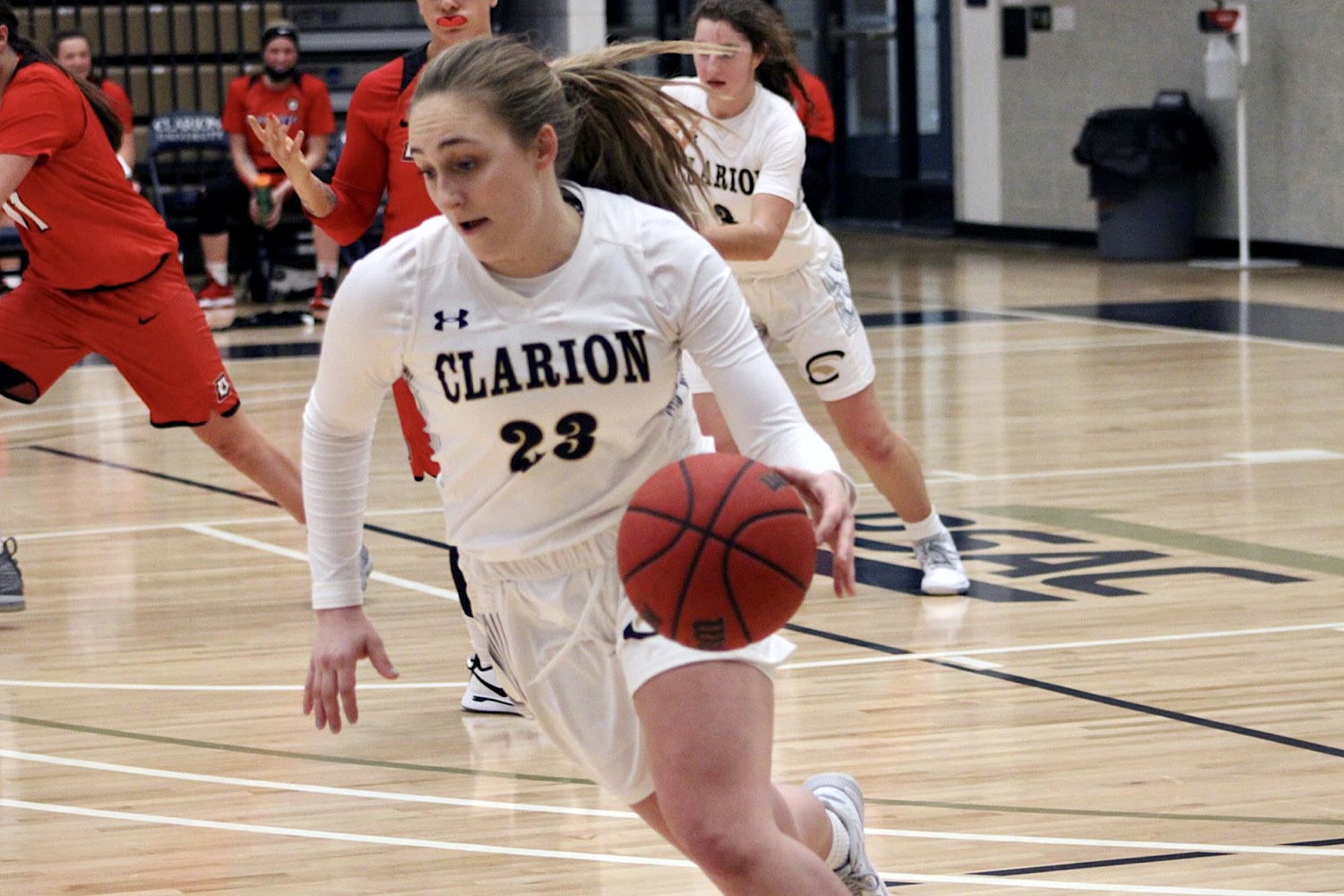 CLARION, Pa. (EYT/D9) — She's overcome a COVID-19 shortened season, a sudden coaching change and a serious knee injury.
Olivia Boocks basketball career has seen plenty of ups and downs.
(Photo courtesy of Clarion University)
Now a senior for the Clarion Golden Eagles women's basketball team, Boocks is focused on concluding a basketball career that started when she was just a 6-year-old on a high note.
"I learned that life is gonna throw a lot at you," said Boocks, an A-C Valley graduate. "As a person, I know I'm always gonna get through it. I know I have a great support system. That's gonna help me through anything."

Redbank Valley, Keystone, and Union/A-C Valley sports coverage on Explore and D9Sports.com is brought to you by Heeter Lumber.
Boocks can hardly believe her hoop odyssey is almost over.
To her, it seems like yesterday she was learning how to dribble and shoot at the YMCA.
"I'm sure I'll miss it," she said.
Boocks didn't miss much as a sharp-shooter at A-C Valley during her high school career.
Boocks was a star on both ends of the floor.
A guard who could handle the ball and shoot with the best of them, Boocks was named the Keystone Shortway Athletic Conference MVP after her senior season for the Falcons.
Boocks averaged 13 points, 5.2 rebounds, 4.4 assists and four steal per game that season for A-C Valley, which went 22-5 and fell to Kane in the District 9 Class A championship game. All the while, she played stellar defense — something that would become her calling card at Clarion University.
Boocks' senior season at A-C Valley was a triumph after she tore her ACL midway through her junior campaign. Boocks played in just 12 games that season, but made it a point to be with the team on the bench. Offering encouragement. Observing as an extra set of eyes for the coaches. Learning from a new perspective.
It was difficult for her not being able to play. But she used that experience wisely and it showed in the years that followed.
Boocks moved on to Clarion University where she played in 28 games and made four starts as a freshman, averaging 4.5 points per game.
She was looking forward to making even more strides as a sophomore.
Then the COVID-19 pandemic hit.
Clarion was limited to just 12 games the next season. Boocks played in all of them, scoring 5.8 points per game.
It was a difficult year, however, full of uncertainty.
"No one knew what was happening," Boocks said. "A lot of us had to make sure to take care of ourselves."
Last year, Boocks started 14 games and averaged five points per game.
In late July, head coach Jana Ashley unexpectedly resigned.
Jermaine Cooper, who has been on the Clarion staff for nine years, took over on an interim basis.
"I love coach," Boocks said. "He's a great coach and a great person."
Through it all, Boocks has been a defensive star for Clarion on the court.
It's something she has always prided herself on: the ability to affect a game on the defensive end.
"I'm not really an offensive player here," Boocks said. "I'm more of a defensive player. That's something I'm always working on. I'm always looking for where that next pass is going or taking a charge. That's something I can always do. Offensively, you can have off days shooting. But on defense, if you're playing hard, you won't have an off day."
That's one of the reasons why Boocks is a team captain.
She leads by example. And she sets a good one.
"Every practice, I tend to show up and give my 100% all the time," Boocks said. "I feel like people can't question my effort. I feel like that's how I lead."
Boocks has another year of eligibility because of the COVID-19 pandemic.
She, like many others who have been afforded the opportunity of an extra season, is passing it up.
"I just want to enjoy the time I have left with the team and my teammates," Boocks said. "Really, that's all I want to do. I want to help them as much as I can."
Boocks wants to move on with her life and her career.
She's studying audiology and has applied to several graduate schools to continue her studies and eventually become a doctor.
"I just want to impact people's lives," Boocks said.
Boocks wants to impact the Clarion basketball team in the time she has left.
She is surrounded by several District 9 alums.
Union graduate Dominika Logue, North Clarion grad Abby Gatesman and Redbank Valley product Tara Hinderliter are on the Golden Eagles' roster.
Boocks also played with Karns City grad Emily Hegedus, who is now an assistant coach at Edinboro University.
"It's so exciting," Boocks said of playing alongside so many former D9 players like herself. "It's awesome to be able to play with people that you played against."

Redbank Valley, Keystone, and Union/A-C Valley sports coverage on Explore and D9Sports.com is brought to you by Heeter Lumber.