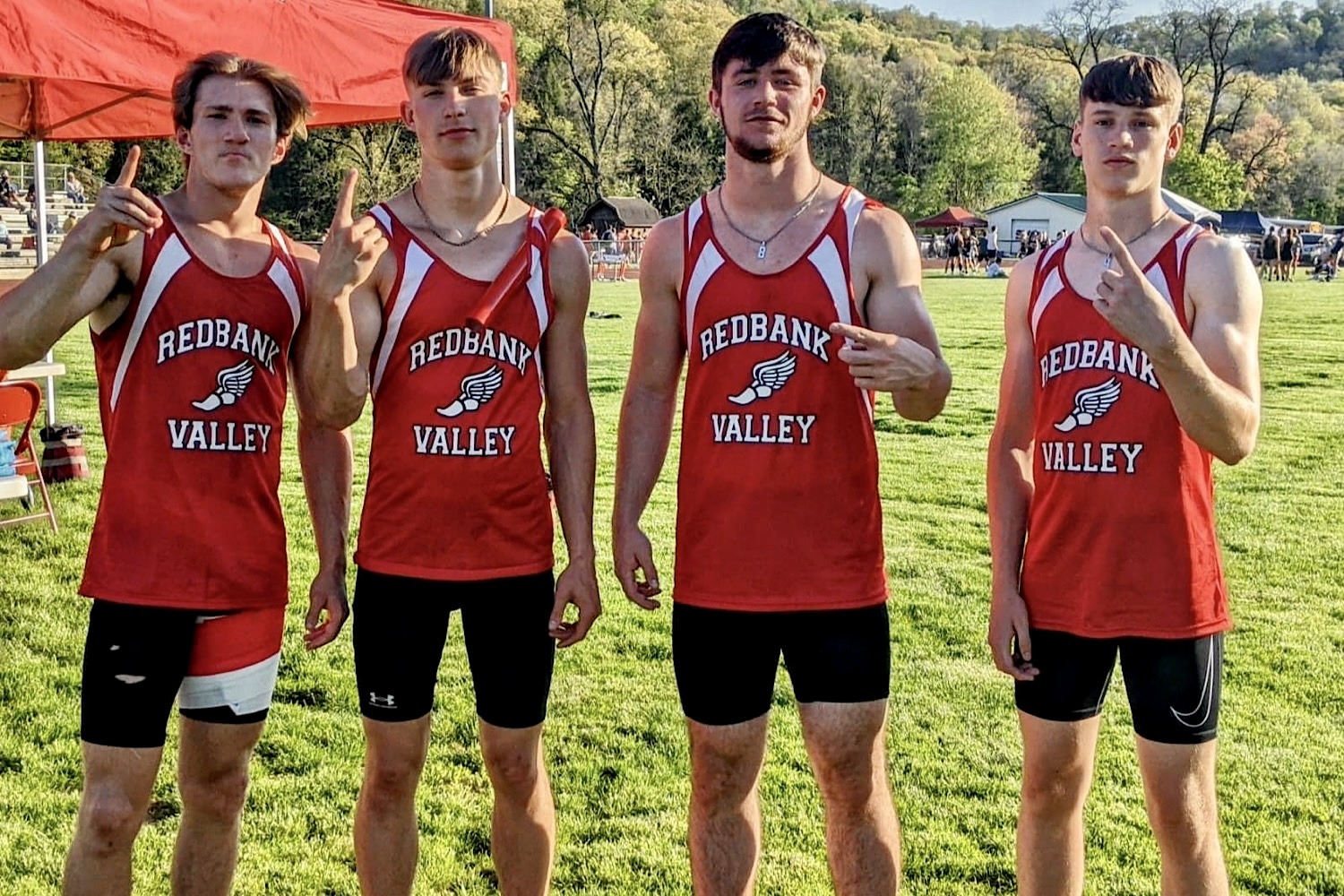 NEW BETHLEHEM, Pa. (EYT/D9) — They had been gunning for the mark all season.
It was a special one to get for Aiden Ortz and Owen Harmon in particular.
(Pictured above, from left, Redbank Valley's 4×100 relay team of Ashton Kahle, Aiden Ortz, Cam Wagner and Owen Harmon)
In 1997, the 4×100 relay team of Chad Ortz, Seth Rupp, Craig McElroy and Alan Clouse set the Redbank Valley school record.
Now, 26 years later, Aiden Ortz, Chad's son, Owen Harmon, Seth Rupp's nephew, Cam Wagner and Ashton Kahle have replaced them in the record book, running a time of 43.85 seconds at the Redbank Valley Invitational on Thursday afternoon.
"We really want to get it because Harmon's uncle was on it and my dad was on the 4×1 team that had it," Aiden Ortz said in April. "They want us to break it. They want us to get our names on the board."
And now they are.
Brookville's 4×100 relay team of Brayden Kunselman, Hayden Freeman, Nick Shaffer and Jack Pete edged Redbank Valley, though, for the gold, finishing in 43.11.
It was a big day for many athletes at the invite.
Freeman certainly had one.
He also won the 200-meter dash and the 400-meter dash. Freeman finished in 22.96 seconds in the 200 and in 51.08 in the 400.
Hayden Smith did Hayden Smith things again for Union/A-C Valley in the high jump.
Smith, the defending Class 2A state champion, cleared 6 feet, 8 inches to easily win the event and break the Redbank Valley Invitational record.
Aiden Ortz also broke another record on Thursday.
With a jump of 22 feet, 2.5 inches in the long jump, he broke the invitational record and his own school record.
Wagner also erased a meet record for Redbank, throwing the discus 165-4.
Clarion-Limestone's Ryan Hummell also shined. The senior threw 194 feet, 6 inches to break the meet record.
Franklin's Bryson Watson was also a multiple winner, claiming firsts in both hurdle events. He won the 110-meter hurdles with a time of 15.86 and the 300-meter hurdles with a time of 40.94.
On the girls side, Redbank Valley sophomore Mylee Harmon turned in two impressive victories.
Harmon blazed her way to a win in the 100-meter dash with a time of 12.70 seconds.
Harmon also won the 400-meter dash with a time of 59.72. Harmon is the defending PIAA Class 2A champion in that event.
Morgan Roemer of DuBois was quadruple winner.
She won three events and was on the winning 4×800 relay.
She was first in the 800-meter run with a time of 2 minutes, 21.11 seconds. She also won the 1,600-meter run (5:33.95) and the 3,200-meter run (11:12.70). That time is a Redbank Invitational record.
The Moniteau 4×100 relay team of Rylee Long, Katelyn Reott, Allie Pry and Jenna Zendron broke their own school record with a time of 52.05. They ran a time of 52.1 on Tuesday at against Karns City to originally set the mark.
For complete results, click here.