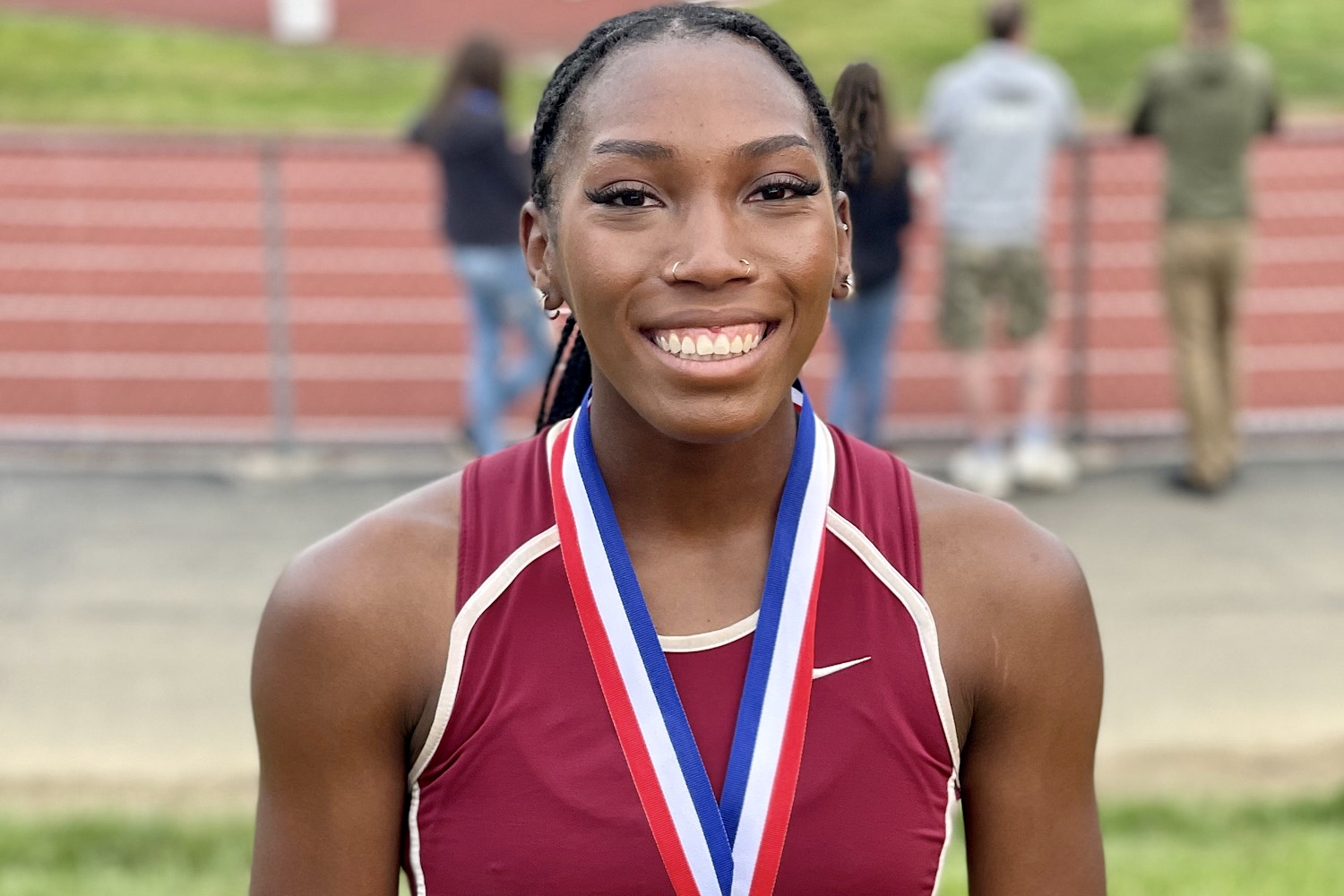 BROOKVILLE, Pa. (EYT/D9) — Redemption. Repeats. Resolve.
The usual suspects came up big again at the District 9 Track and Field Championships on Friday at Brookville High School.
(Pictured above, Cranberry's Laiyla Russell)
Also see Hayden Smith, Evie Bliss set records for Union/A-C Valley.
For Cranberry's Laiyla Russell, this meet was all about redemption.
Last year, she was bitterly disappointed with her second-place finish in the 100-meter dash. Even though she placed sixth in the event at the state meet the following weeks, Russell craved that district gold around her neck.
She got it.
Russell ran a time of 12.71 seconds to edge Mylee Harmon of Redbank Valley for the title.
"Honestly, I was kind of in disbelief," Russell said. "I never had a doubt in my mind, but it was still kind of a shock to actually do it."
It was the start of a big day for Russell.
The senior also won the long jump at 17 feet, 6 inches and finished second in the triple jump at 35-6.
She hopes history repeats.
Last year, she watched Union/A-C Valley's Baylee Blauser win the 100 and the long jump (as well as the triple jump) and then snag a state championship in the long jump.
"It kind of reminds me of Baylee," Russell said. "I'm kind of following in her footsteps. It's kind of surreal to me. I've always seen her as a top athlete."
Russell worked hard in the week leading up to the district meet on her blocks in the 100, hoping to shave those precious fractions of a second off her time.
It seemed to have been successful.
"We worked a lot on reaction times and getting out of the blocks fast," Russell said. "We did a little bit of technique for the long and triple, just going through the motions and going through the phases, but not heavy running. I just didn't want to jeopardize anything."
Russell was already competing with her right knee wrapped — wear and tear from a long season.
She said she will be ready for the state meet next week in Shippensburg, where she hopes to come home with even more medals around her neck.
And, hopefully, some of them gold.
"My heart is kind of with the long jump," Russell said. "I feel more confident doing it and feel in the groove of things. It'll be exciting. It'll be fun."
Finishing second in the 100 wasn't necessarily fun for Harmon, but she more than made up for it by repeating as the 400 champion with another sub-minute time of 59.76.
Harmon also won the 200-meter dash with a time of 26.62 seconds.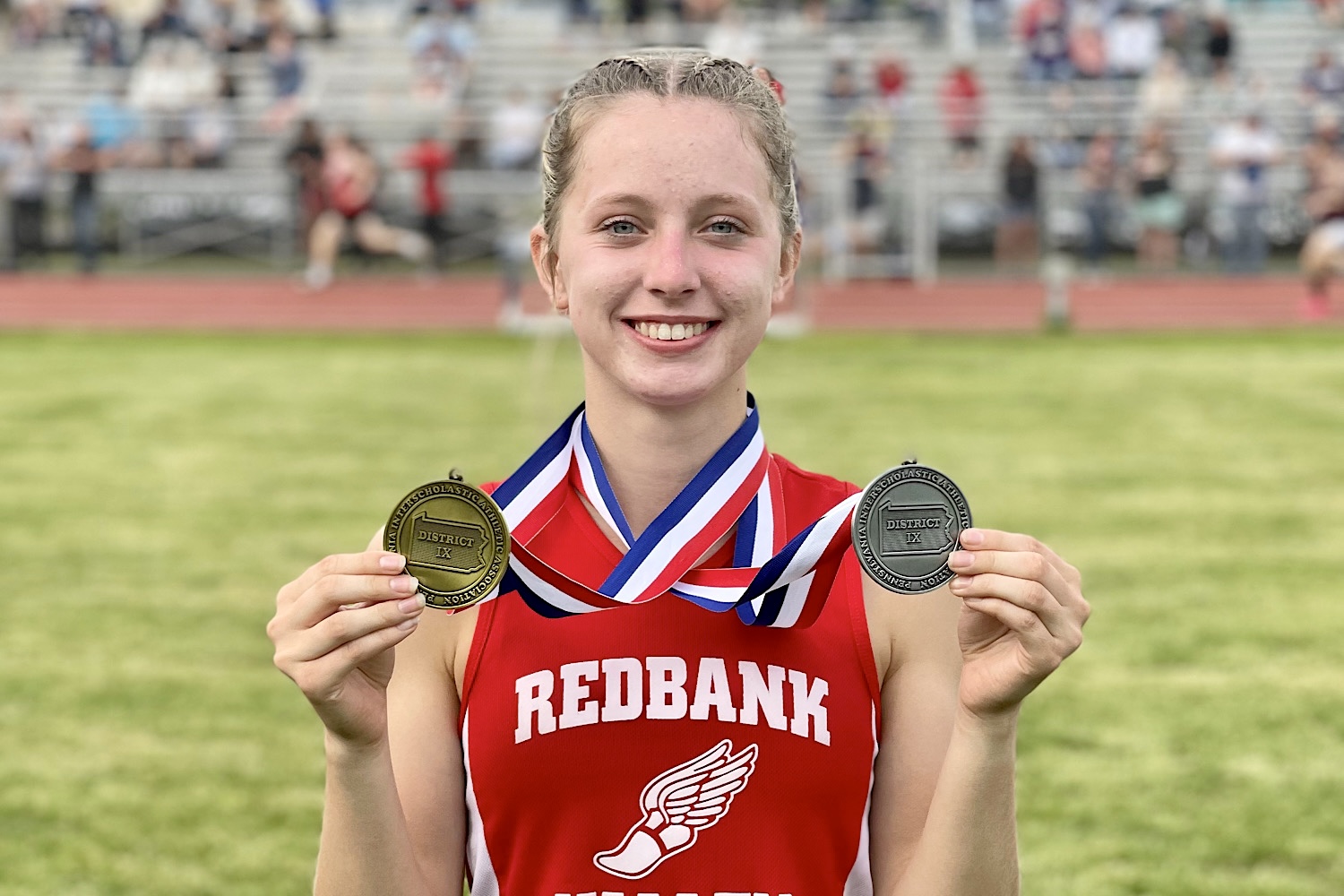 (Mylee Harmon)
That's three more to add to the sophomore's growing medal count in her career. Last year, she won three golds in the 200, 400 and high jump.
This was the first year Harmon has run the 100.
"I would say definitely the 100 is not really my race," she said. "I didn't run it lat year and me and Laiyla have been competing back and forth all year. I beat her twice and she's now beat me twice after today. Whatever happens, I'm happy with it."
It's the 400 that Harmon really cares about and she cruised to the victory in that race on Friday.
She won the state championship in the event with a legendary late kick to cross the finish line in 57.15 seconds in Shippensburg last year.
She's gunning for that again.
"There's a lot of competition and I hope that pushes me again," Harmon said. "I've been watching MaxPreps, stalking on that a little bit, so I know there's girls in the 57s. I feel like people now know that I get that kick in the last 150, 200 meters."
Harmon's teammate, Claire Henry, also found herself in a familiar place atop the podium with a repeat in the pole vault.
It's the junior's third consecutive D9 title in the event and she cleared a personal-best 10 feet, 1 inch.
"I was so nervous," Henry said, laughing. "I get so nervous for every meet, but districts especially. Once I get started, after that first jump, it's fine."
Henry had a little bit of extra nerves this year after an early mishap this season.
Her pole snapped, sending her plummeting hard to the ground.
Henry was uninjured, but the sound of the pole breaking haunted her for a time.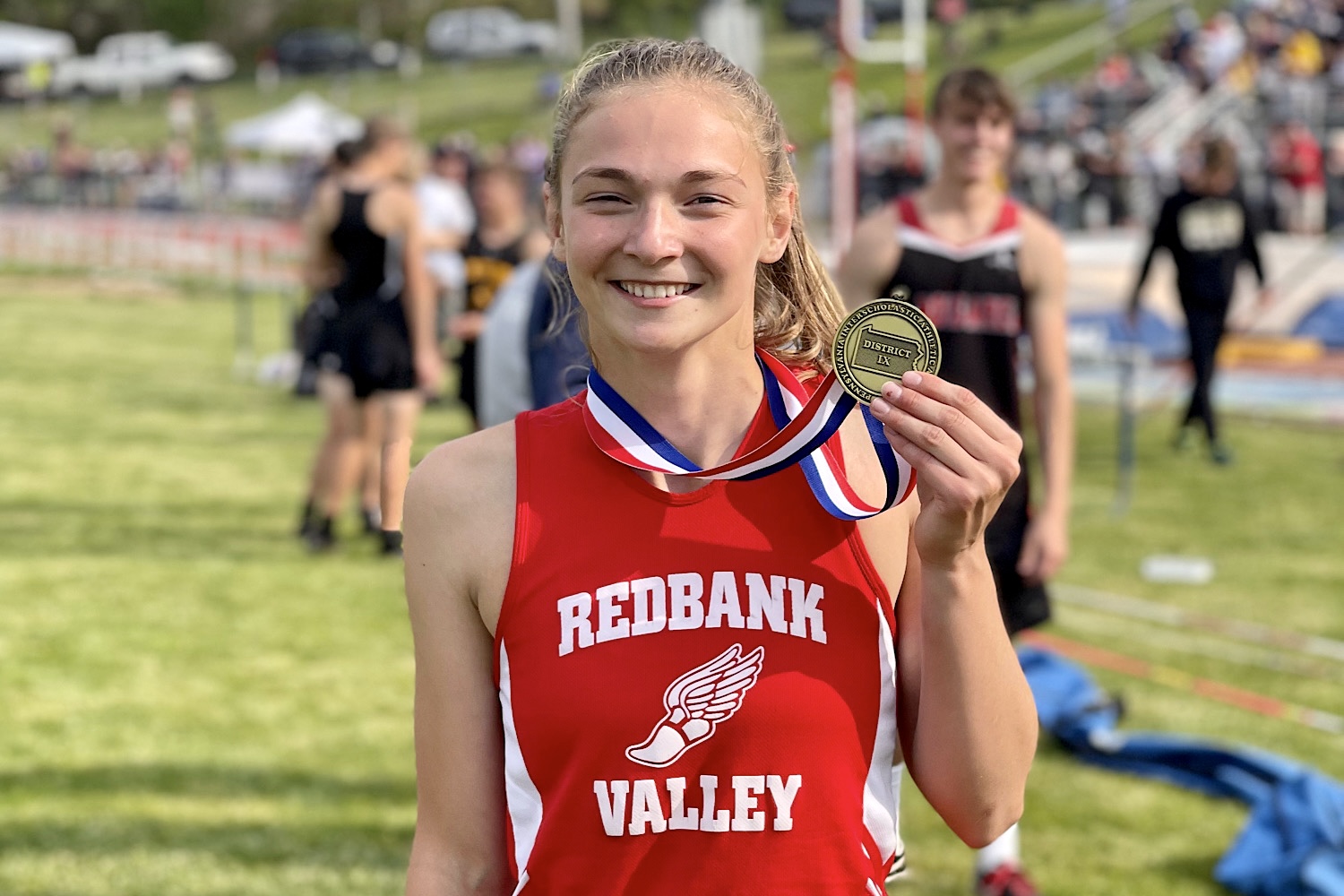 (Claire Henry)
"I started a little slower than I would have because of that pole breaking, then I started to get better," she said. "It was more the sound than the falling through the air for me. I tried to tell myself it didn't mess me up, but, yeah, it did. I felt it every time I put the pole down. I'd be terrified. But I tried to forget it."
Henry was ninth at the state meet last season — the worst place to be.
She wants that medal around her neck.
Henry appreciates the district one this year more than most because of her harrowing experience.
"I'm really thankful for everyone who helped me," Henry said. "It's really exciting for myself to get where I am. I worked a lot for it."
So has Brayden Kunselman and his 4×100 relay teammates at Brookville.
Kunselman scorched the track in the sprints on Friday, winning the 100 with a time of 10.97 seconds. He also won the 200 at 22.79 and teamed with Hayden Freeman, Nick Shaffer and Jack Pete in the relay to win at 42.57.
They currently have the best time in Pennsylvania in Class 2A.
"We focus on the relay a lot being ranked first in the state and everything," Kunselman said before cracking a grin. "We kind of have big heads right now, which probably isn't the best thing, but we know what we gotta do."
Brookville won the team title easily with 129 points.
Also see Moniteau girls get three golds, fare well.
Kunselman focused solely on track and field this year after football season, leaving the wrestling mat behind at Brookville.
It has allowed him to increase his speed.
"Going from 11.6 last year all the way down to 10.9 this year, it means a lot," Kunselman said. "This is my first full season of track, so I was able to actually showcase what I can do. We have bigger goals and aspirations."
Namely resolving to win a state title.
"We're gonna make sure our handoffs are perfect this week," he said. "Just make sure everything is good, everything is perfect."
Redbank Valley senior Aiden Ortz is certainly resolved, too.
He won the long jump at 21 feet, 11 inches, but isn't remotely satisfied yet.
Sure, the district gold is nice. He wants some state bling after finishing ninth and on the outside looking in last year.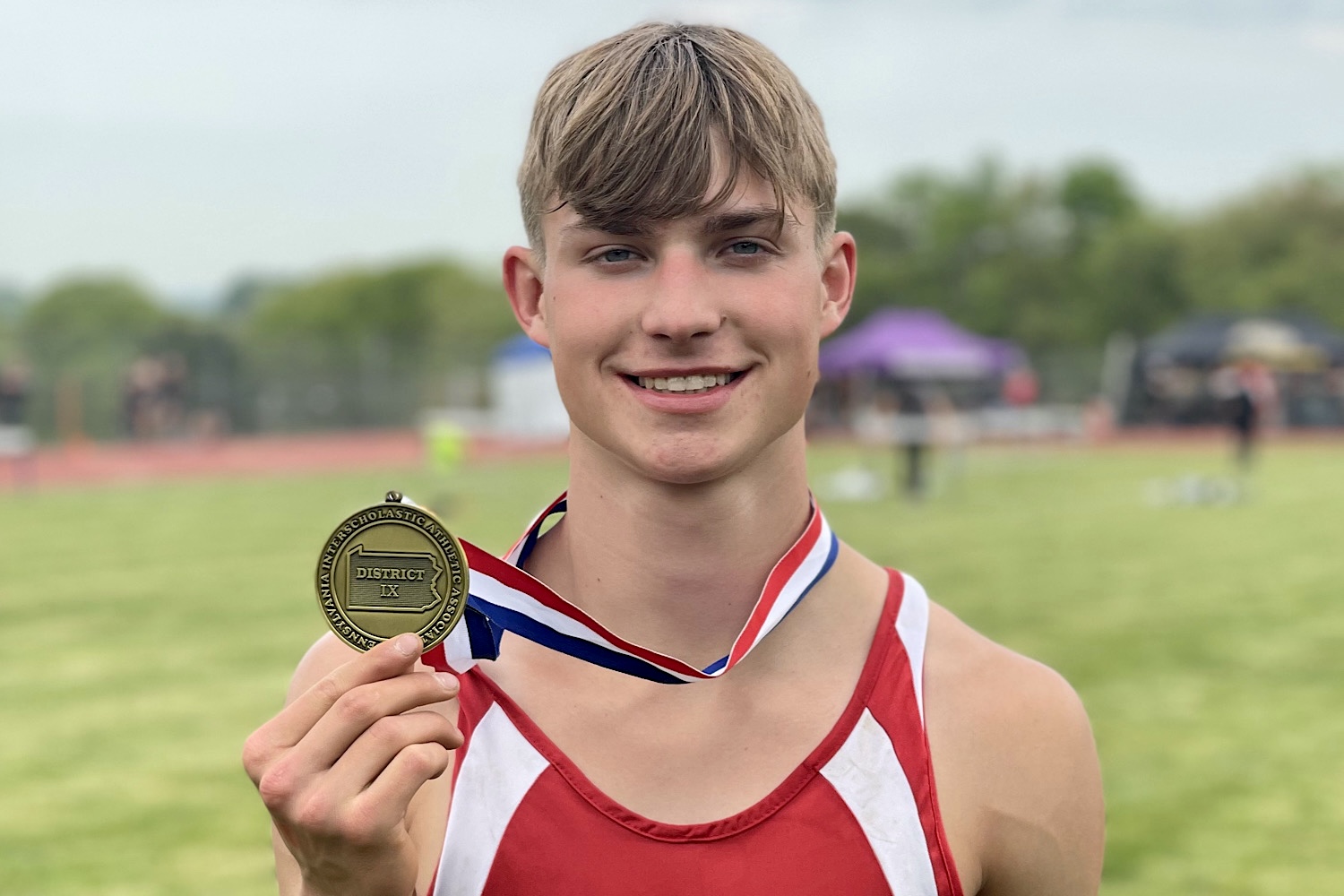 (Aiden Ortz)
"If I'm not getting first, I don't want anything else," Ortz said. "That's what I'm shooting for in the long jump. I'm not exciting. I'm eager. I want revenge. I want to get first so bad. I've been thinking about it every night."
Ortz also got a surprise on Friday. He ran the 100 for the first time since very early in the season and placed second to qualify for the state meet.
"I wasn't going to do the 100, but I got here, did it, and got second," he said, smiling.
Ortz also got a silver as part of the 4×100 with Cam Wagner, Ashton Kahle and Owen Harmon.
For complete Class 2A results, click here.