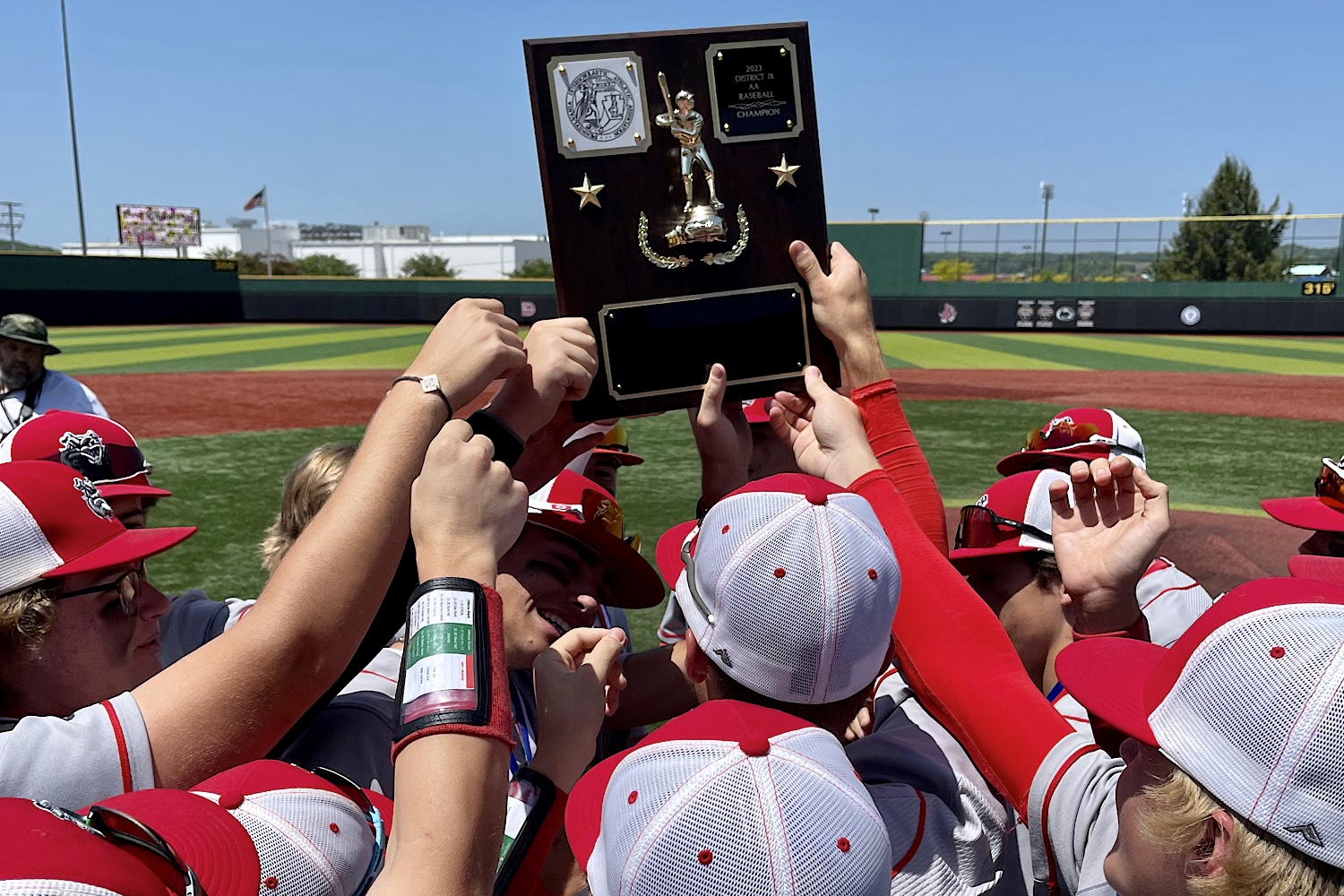 DuBOIS, Pa. (EYT/D9) — Outside of New Bethlehem, there wasn't a lot of buzz about the Redbank Valley baseball team coming into this season.
Graduation gutted the roster of big pieces of the Bulldogs' District 9 Class 2A runner-up team, a group that went in to stun Serra Catholic in the first round of the PIAA playoffs.
Inside the school, however, there was quiet confidence.
Now, as the chill of early spring has turned into the warmth of Memorial Day weekend — the unofficial start to summer — Redbank Valley has claimed its first District 9 title in 13 years with an 8-0 win over Karns City on Monday at Showers Field.
"If you want me to be honest, last year — we knew that we could be pretty good this year," said Redbank Valley coach Craig Hibell. "We knew a lot of guys who were going to contribute pretty strongly this year weren't necessarily the flashy players that everybody else knew about."

Redbank Valley, Keystone, and Union/A-C Valley sports coverage on Explore and D9Sports.com is brought to you by Heeter Lumber.
One player everyone did know about was Tate Minich. The senior stepped out from behind the plate again and took the mound with complete command.
Minich threw one-hit, shutout baseball through five innings.
Staked in a 3-0 lead in the first inning, the Keystone Shortway Athletic Conference MVP was sharp. He helped his cause in the bottom of the fifth inning with a three-run home run that doubled the Bulldog lead. They tacked on two more to complete the five-run inning that broke the game wide open.
"My goal is just to go out there and throw strikes," Minich said. "I got great defense behind me, so I'm juts trying to put the ball over the plate."
Minich struck out four and walked three in the win.
Freshman Jaxon Huffman worked the final two innings, giving up one hit while fanning three.
Minich was 2 for 3 at the plate and also doubled.
Mason Clouse delivered the big hit in the first inning with a two-run, two-out single off Karns City started Mallick Metcalfe. He later came around to score on a RBI single by Ty Carrier.
"It was a complete team effort," Minich said. "I mean every single guy on this team had a part in this win. And just to hang a banner for the first time in 13 years, it feels pretty good."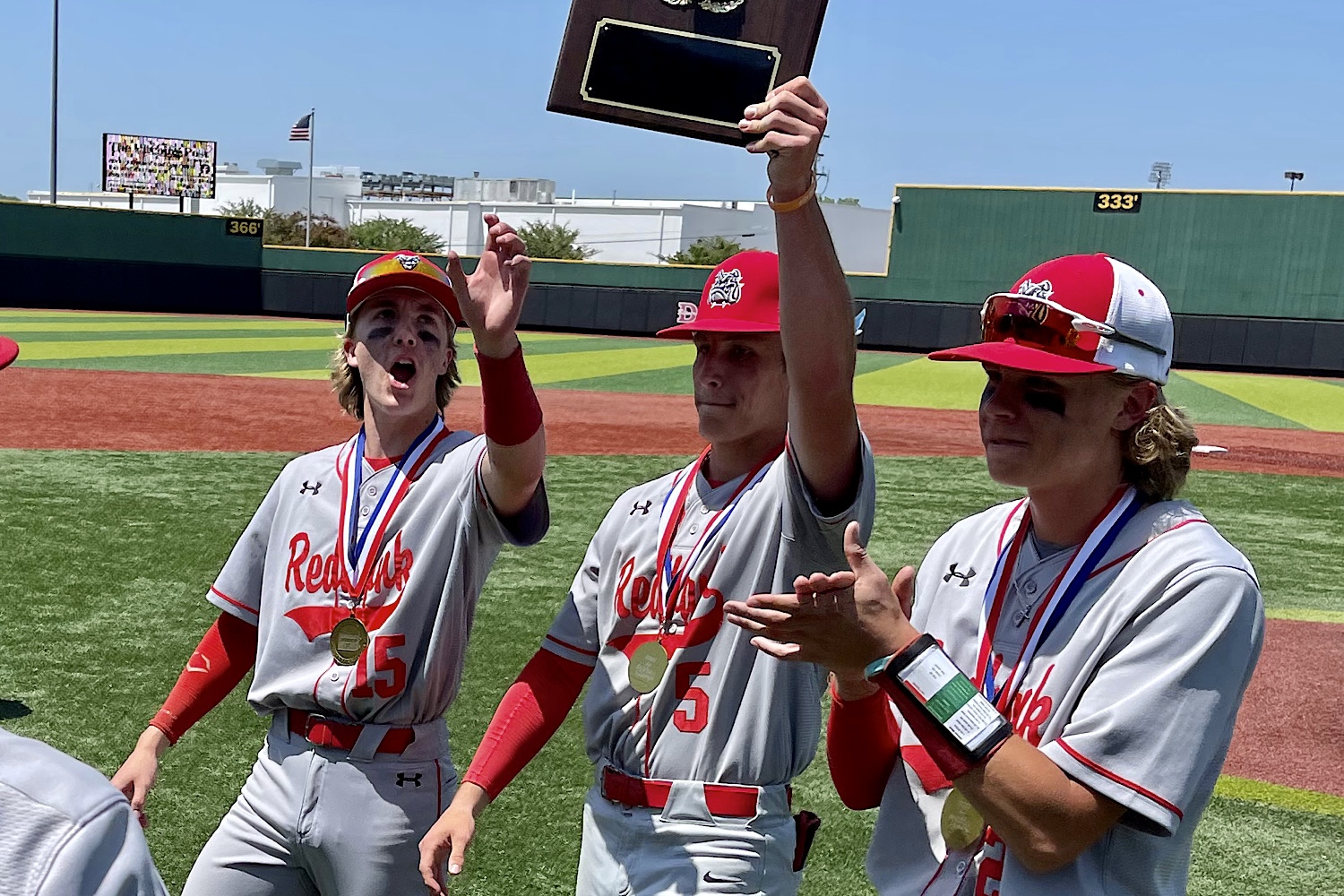 After the rocky first inning in which Metcalfe threw 28 pitches, the Karns City senior right-hander settled down.
He threw three scoreless inning after that, needing just 30 pitches to do it.
But he ran into trouble again in the fifth as Peyton Rearick led off with a double, followed by a perfectly executed bunt single by Owen Clouse put two runners on for Minich.
He delivered a shot that easily cleared the 366-foot sign in left-center.
"I didn't (know it was a home run) because in BP when I was hitting balls, they were just getting to the warning track in the left-center gap," Minich said. "This field plays pretty deep, so I'm definitely looking for three."
Minich has long been a potent bat in the Redbank Valley lineup. Just recently, though, the Bulldog has been a, well, bulldog on the mound.
He has seen his innings increase sharply down the stretch this season. In the past, he was used primarily as a closer or brought in to staunch the bleeding.
On Monday, he got the ball in the biggest game of the season.
"I definitely didn't expect it," Minich said. "I mean, going into the season, Ty (Carrier) is our guy. He's our ace."
"Tate is probably one of the best athletes in the district," Hibell said. "I could have put him at third or short or catcher or first base. He's just a very good athlete, an all-state football player, the league MVP. He does everything that an athlete is supposed to do. One thing that's probably a little bit different about him is that whenever het starts throwing a lot, there's days when he gets a little bit tired a little bit quicker."
Minich told Hibell in the fourth that he had one more good inning in him.
There were no qualms about turning things over to Huffman, 3-0 lead or 8-0.
"We had Jaxon and Braylon (Wagner)," Hibell said. "They may be freshmen, but we have confidence in those two. We knew if we brought those two in, they'd be able to slam the door late in the game."
Metcalfe, who was coming off a shutout win over Port Allegany on Thursday in the D9 semifinals, got the loss. He went 4⅔ innings, giving up eight runs on nine hits while striking out six.
"I told these guys, this game doesn't define your season or your career," said Karns City coach Josh "Sluggo" Smith. "After Mallick's last at bat, he was bummed out, but he was like, 'This doesn't define who I am as a leader or as a player.' We've had a great season and we're not done yet."
Karns City (15-7) will play the District 7 Class 2A champion when the state playoffs begin on Monday.
"I'm so proud of my guys and so proud of my coaches," Smith said. "I love my guys. I love coaching and that's why I do it. We just didn't have our day today. We get to live to fight another day."
Redbank (18-4) will have a few days to enjoy this District 9 championship.
Then it's back to work preparing for the third place team out of District 7.
"We're giving them a couple of days off — I gotta get out on the golf course myself," Hibell said, grinning. "We're gonna have a fun bus ride home."

Redbank Valley, Keystone, and Union/A-C Valley sports coverage on Explore and D9Sports.com is brought to you by Heeter Lumber.