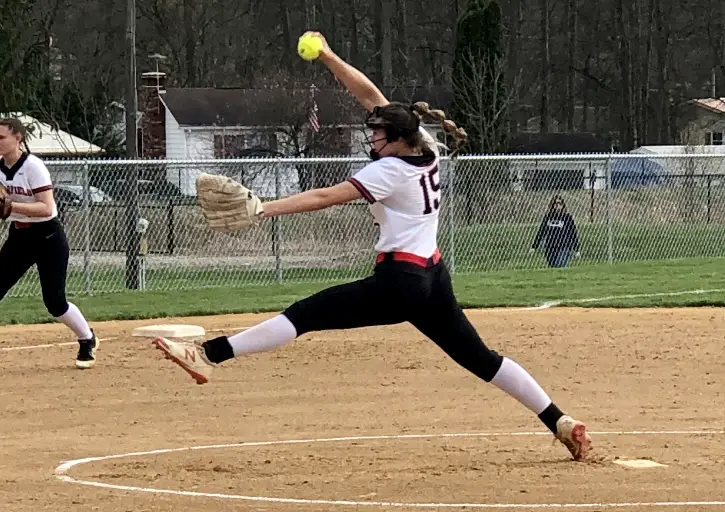 CLEARFIELD, Pa. (EYT/D9) — Emma Hipps was sure all the fanfare was over.
A little less than two weeks ago, the senior helped her Clearfield High School softball team to a dramatic 3-2 win over Tunkhannock in the PIAA Class 4A championship game at Penn State University.
She hoisted the trophy. Screamed. Cried tears of joy and wouldn't put the hardware down.
But another huge accolade came the pitcher's way Thursday when she was named the Pennsylvania High School Softball Coaches Association Pitcher of the Year in Class 4A.
"I didn't even see it until my mom texted me," Hipps said. "This is something different — it means so much more than any other award I've gotten this year. When I realized what it was, I kind of freaked out a little bit. My friend was here and I was like, 'Oh my gosh!'"
Hipps certainly did enough this season to earn the recognition.
The Clarion University recruit was 21-2 with a 1.00 ERA. Opponents batted just .137 against her. She also struck out 285 batters and walked just 28 in 153⅔ innings.
This was the first year the organization split up its player of the year award into pitching and position player categories.
Keystone junior Natalie Bowser was also recognized with the highest honor as the first baseman was named Position Player of the Year in Class 2A after another eye-popping campaign.
Hipps could have made a strong case for both distinctions in 4A.
She also hit .418 with seven home runs, eight doubles, three triples and 30 RBIs. She led the team in walks with 17, scored 32 runs and struck out just eight times in 98 plate appearances.
Hipps, though, is most proud of how her team was able to win a state title — a goal she had since her early days of playing softball.
"I think it's starting to sink in now," Hipps said. "I'm finally just now calming down a little bit from winning and I'm realizing what we did."
What Clearfield did was truly remarkable — especially in its postseason run.
Three of the Bison's four state playoff wins came it their final at-bat. It started with a 4-3 walk-off over Franklin in the first round of the PIAA playoffs.
After Hipps hurled a one-hitter to beat Hamburg in the quarterfinal round, Clearfield was at it again in the semifinals with a 2-1 win over defending state champion and previously unbeaten Beaver on a Ruby Singleton bases-loaded infield single in the bottom of the seventh inning.
In the state championship game, Clearfield did it again.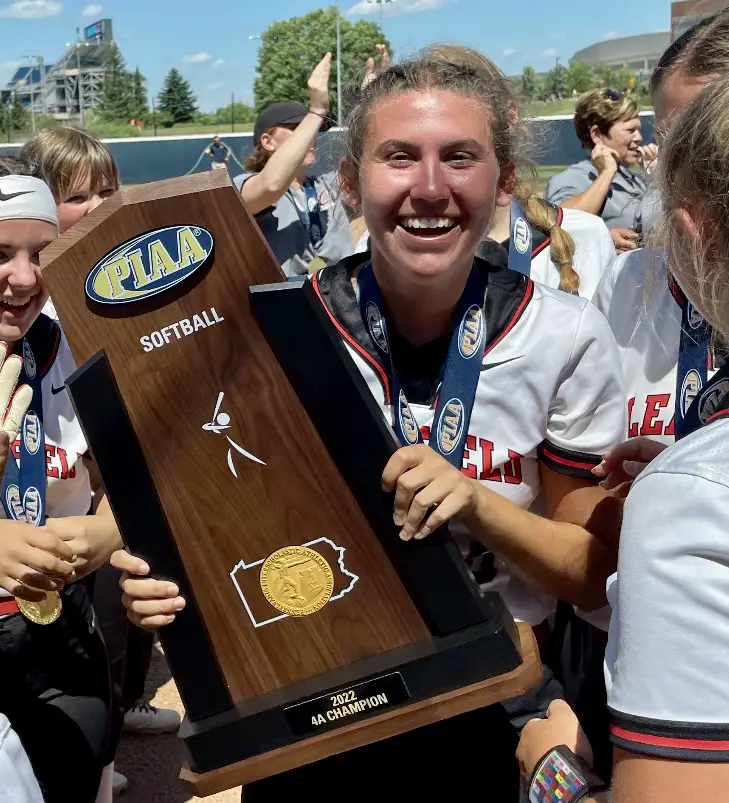 Down 2-0, the Bison tied the game on a two-run homer by Lauren Ressler in the bottom of the fifth inning to tie the game at 2-2 and won the championship on a walk-off, bases-loaded bloop single by Alexis Bumbarger in the bottom of the seventh.
"I think we were meant to win it," Hipps said. "I don't think it was a fluke. Coming in during our freshman year, I just always knew we were gonna win it."
Hipps and fellow seniors Ressler and Olivia Bender were first-team, all-state selections. Singleton was a second-team choice.
"That's awesome because I love seeing my teammates succeed," Epps said. "That was really cool."
So was being able to walk off the field for the last time in high school with a smile on her face.
That's rare and Hipps is certainly aware of that fact.
It made her sharper in the postseason, where she was 5-0 with a 0.80 ERA. In 35 playoff innings, she struck out 59 and walked just four.
"During the regular season, I'm focused, but you still have another game after that," Hipps said. "If you have a bad game, you can make up for it in the next one. In the playoffs, there wasn't a next one. It was all or nothing. So I was more focused.
"The hardest thing for me to realize now is that we went as far as we could and it's over," Hipps said. "Normally, you play and then you lose and it's over. But we won and it's over, so it's a little different. It's great."
Following is a complete list of D9 players who were selected to the Pennsylvania High School Softball Coaches Association All-State teams:
Class A
First Team
Noel Anthony (Clarion), outfield
Emma Suplizio (DuBois Central Catholic), outfield
Second Team
Jordan Best (Clarion), catcher
Jessy Frank (DuBois Central Catholic), catcher
Lauren Davidson (DuBois Central Catholic), second base
Kylee Beers (Clarion), third base
Madison Hoyt (DuBois Central Catholic), shortstop
Kayley Risser (DuBois Central Catholic), outfield
Emily Mourer (Elk County Catholic), designated player
Class 2A
First Team
Natalie Bowser (Keystone) Position Player of the Year, first base
Mackenzie Wall (Curwensville), third base
Joslynne Freyer (Curwensville), designate player
Second Team
Julie Peterson (Johnsonburg), pitcher
Julia Jones (Johnsonburg), third base
Natalie Dunworth (Johnsonburg), utility
Class 3A
Second Team
Marra Patton (Karns City), pitcher
Ashley Fox (Karns City), shortstop
Class 4A
First Team
Emma Hipps (Clearfield), Pitcher of the Year
Kendall Young (St. Marys)
Olivia Bender (Clearfield), catcher
Lauren Ressler (Clearfield), first base
Rosa DePrater (St. Marys), utility
Second Team
Olivia Eckels (St. Marys), second base
Ruby Singleton (Clearfield), outfield
Class 5A
First Team
Jaden Swatsworth (DuBois), second base
Second Team
Sarah Henninger (DuBois), shortstop
Morgan Pasternak (DuBois), outfield