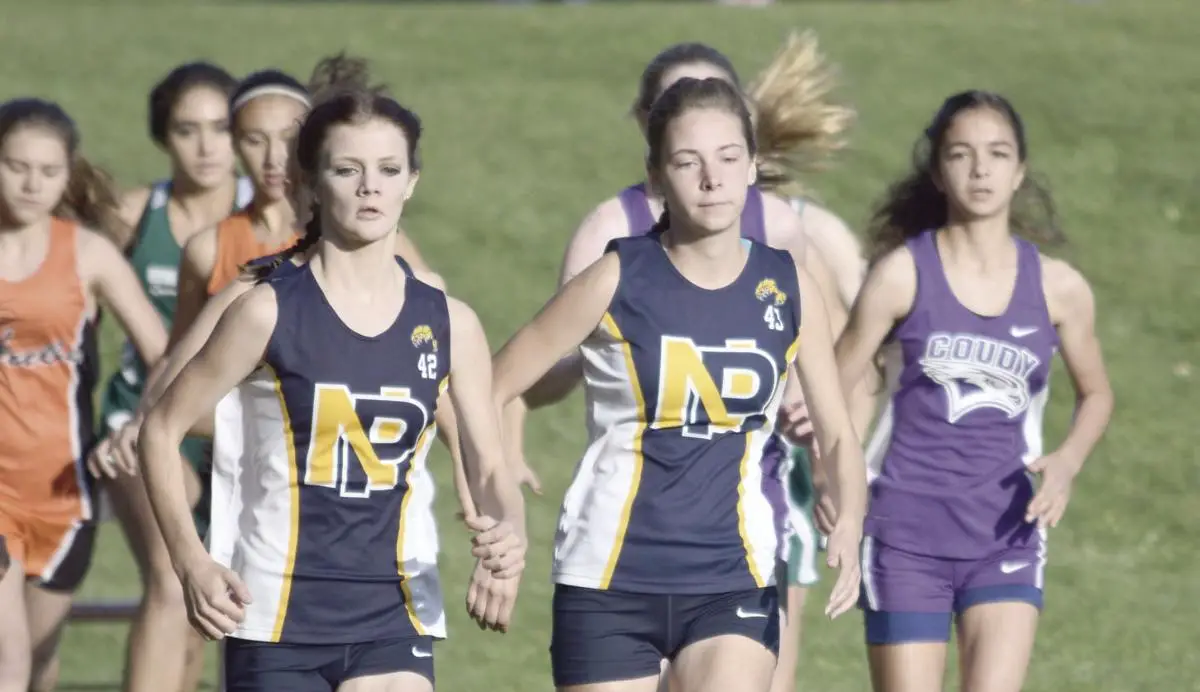 Between June 26 and July 30, D9Sports.com Sports Editor Chris Rossetti will be counting down his Top 25 favorites stories in District 9 from the 2017-18 school year starting with No. 25 June 25 and finishing with No. 1 July 30. Again these are Chris' favorite stories and are open for debate.
(Photo: Danielle Perry (left) finished fourth at the PIAA meet in 2017. Submitted photo. Photo by Nick Hartranft of Potter Leader-Enterprise)
No. 24: Two District 9 girls finish in Top 10 at District 9 Cross Country Meet
District 9 has quietly become a hotbed for cross country runners, and that was no different at the 2017 PIAA championships when a pair of District 9 girls' runners finished in the Top 10 – one in Class 1A and one in Class 2A.
Northern Potter's Danielle Perry rolled to the District 9 Class 1A title in a time of 19:47 nearly a minute ahead of second-place finisher Chelsea Hunt of Elk County Catholic.
At the PIAA meet, Perry, just a sophomore, continued her strong running taking fourth in a time of 19:47 just 16 seconds make of the champion and 40 seconds better than her time as a freshman when she finished 19th.
Amanda Foster of St. Marys was also well ahead of her competition at the D9 Class 2A meet winning the D9 title in a time of 19:16.9 over a half minute quicker than second-place finisher Rebecca Pennington of Karns City (19:52.1).
Foster, a senior, followed that title up with a sixth-place finish at the PIAA meet in a time of 19:08.
For an added bonus, Pennington gave District 9 three in the Top 20 taking 19th in 2A in a time of 19:44.
Chris Rossetti's Top 25 Sports Stories in District 9 for the 2017-18 School Year
No. 25 – A-C Valley girls win first PIAA playoff basketball game in school history
No. 24 – Two District 9 girls finish in Top 10 at District 9 Cross Country Meet
No. 23 – Coming June 28
No. 22 – Coming June 29
No. 21 – Coming July 2
No. 20 – Coming July 3
No. 19 – Coming July 4
No. 18 – Coming July 5
No. 17 – Coming July 6
No. 16 – Coming July 9
No. 15 – Coming July 10
No. 14 – Coming July 11
No. 13 – Coming July 12
No. 12 – Coming July 13
No. 11 – Coming July 16
No. 10 – Coming July 17
No. 9 – Coming July 18
No. 8 – Coming July 19
No. 7 – Coming July 20
No. 6 – Coming July 23
No. 5 – Coming July 24
No. 4 – Coming July 25
No. 3 – Coming July 26
No. 2 – Coming July 27
No. 1 – Coming July 30