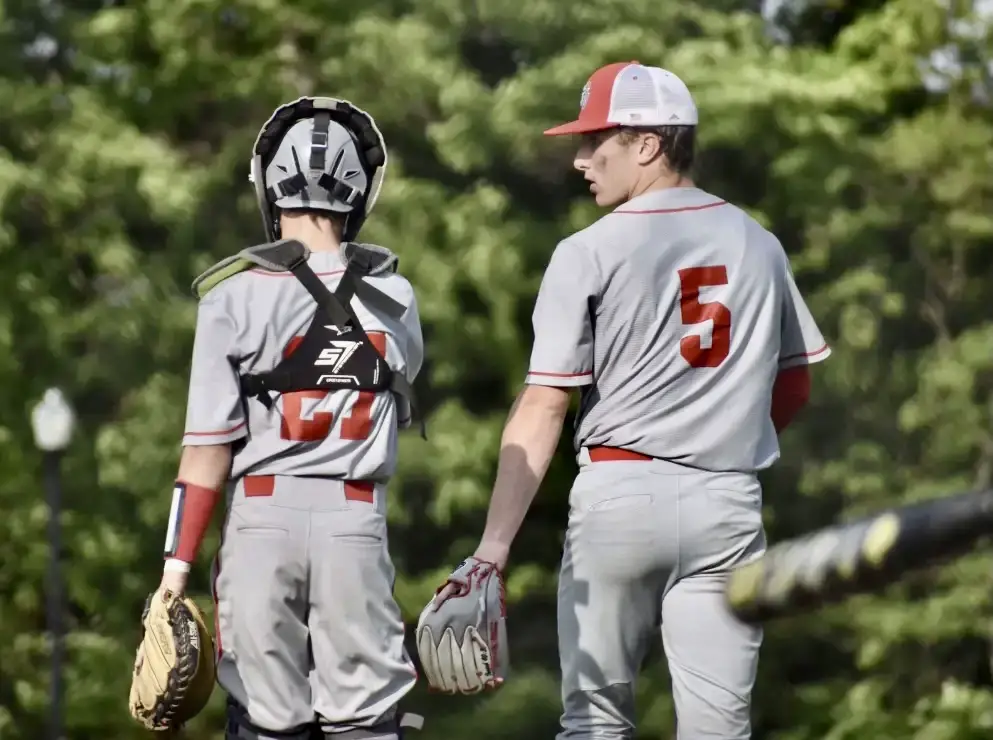 RIMERSBURG, Pa. (EYT/D9) — Tate Minich's fastball was running. The warm spring air gave his curveball some extra spin.
The senior on the Redbank Valley baseball team was feeling good in his bullpen session before his start against Moniteau in the District 9 Class 2A semifinals on Tuesday afternoon at Union High School.
Bad news for the Warriors.
(Pictured above, Tate Minich, right, talks with catcher Breckin Minich during a game last season/photo by Madison McFarland)
"I can tell when I'm warming up in the bullpen before the game if it's gonna be a good or bad day," Minich said.
It was a very good one.

Redbank Valley, Keystone, and Union/A-C Valley sports coverage on Explore and D9Sports.com is brought to you by Heeter Lumber.
Minich needed just 89 pitches in throwing a four-hit shutout as Redbank Valley moved on to a semifinal clash with old nemesis Johnsonburg with a 6-0 win over the Moniteau.
Minich struck out six and walked two. All four hits he surrendered were singles.
His younger cousin, Breckin, was the catcher. The two have a close relationship on and off the diamond.
Before the game they came up with a plan against Moniteau, which led Redbank Valley 7-5 in the seventh inning the last time the two teams played just five days ago before the Bulldogs rallied for the 8-7 win.
"Breckin and I talked before the game started about different approaches for different guys in their lineup," Minich said. "I knew they have a lot of really good hitters. They are a very, very good team and I think the way we went after them was perfect.
"We're neighbors and my grandma has a baseball field walking distance from both of our houses," he added about his close relationship with Breckin, a sophomore. "We've been playing football, blitzball, baseball — I mean, you name it, we played it. We have a batting cage up at my grandma's house and we're always working in there. We built a connection over the years being cousins and it has shown on the field this year."
It certainly showed against Moniteau.
Tate Minich had to be sharp in a close game.
Redbank Valley (16-4) took a 1-0 lead off of Moniteau starter Brock Matthews in the bottom of the first inning on a RBI triple by Tyler Hetrick.
That was all either team could muster until the sixth inning.
That's when the Bulldogs broke the game open with a five-run outburst that chased Matthews.
Peyton Rearick made it 2-0 with a RBI single. Owen Clouse then followed with a two-run single to push the lead to 4-0. Breckin Minich then sunk the dagger with another two-run single.
That was plenty of support for Tate Minich.
"It was nice," he said. "I mean, I was confident to go out there with it 1-0, but just to have those insurance runs, that definitely helped."
Owen Clouse, Ty Carrier and Rearick each had two hits for Redbank.
Matthews went 5⅔ innings. He was charged with four runs on seven hits and struck out five.
Keagan Book had a pair of singles for the Warriors (11-11).
It was a big day for Tate Minich, who was named the Keystone Shortway Athletic Conference MVP earlier on Tuesday.
"It's pretty cool, but obviously I'm focused on the season right now," he said. "I want to bring a district championship to this baseball team. That's more important than any award."
He has bigger goals in mind.
Much bigger.
Redbank will take on Johnsonburg, which beat the Bulldogs in the D9 title game last year, at 4 p.m. on Thursday at Showers Field in DuBois.
"We're playing the same guys who beat us on the same field," Minich said. "We're looking forward to Thursday."

Redbank Valley, Keystone, and Union/A-C Valley sports coverage on Explore and D9Sports.com is brought to you by Heeter Lumber.