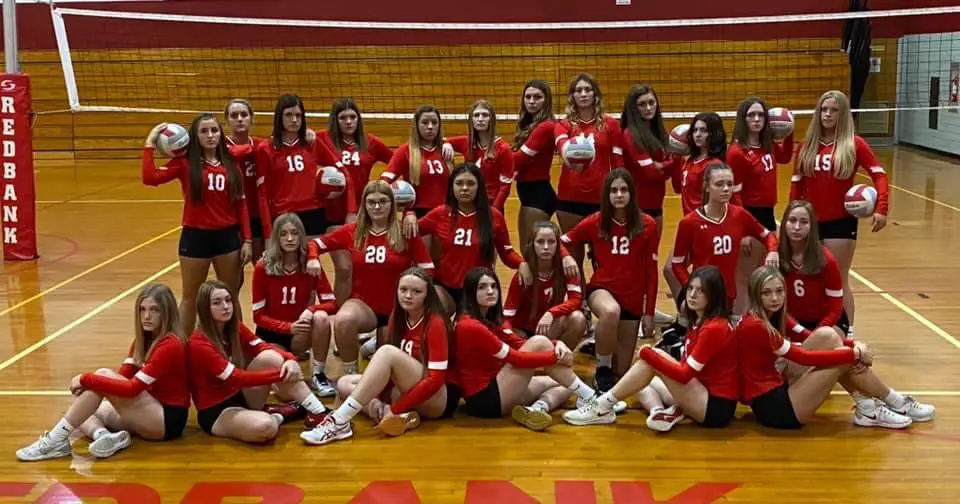 NEW BETHLEHEM, Pa. (EYT/D9) — Back and forth they went, neither team seizing control, neither team establishing unquestionable momentum, neither team surrendering to the big moment and to their own fatigue.
The Redbank Valley and Keystone volleyball teams played an epic five-set match Tuesday night — quite a way to open the season. In a rematch of the District 9 Class 2A championship game, Redbank outlasted the Panthers, 25-17, 14-25, 25-13, 14-25 and 20-18 in a dramatic final set.
"Going into it I told the girls, 'Stay positive, stay upbeat the whole time,'" said Redbank Valley coach Ashley Anderson. "They did that, even when they were down. We went back and forth all night. Win or lose, I wanted them to stay upbeat and come together as a team and they did that."

Redbank Valley, Keystone, and Union/A-C Valley sports coverage on Explore and D9Sports.com is brought to you by Heeter Lumber.
The final set was as dramatic as could be.
Neither team could pull away with the teams trading points throughout the deciding game. Anderson called a timeout to give her team a breather at one point.
And a pep talk.
"I just said to them, 'Keep pushing,'" Anderson said. "'You've come this far.'"
Alivia Huffman, who was an all-state selection last season, had nine kills. Caylen Rearick led the defense with 10 digs.
Redbank Valley also served well. Lilly Shaffer and Abby Young each had five aces.
Keystone also showed its grit. After losing the first set, the Panther stormed back with a convincing win in the second set. Then, after a lopsided loss in the third set, they bounced back again with another rousing game to force the fifth and decisive set.
"I was pretty proud of them," said Keystone coach Bryan Mong. "I think we had some first-game jitters going into it and I think we had double-digit service errors. Teams that are good like Redbank, you can't spot them that many points."
Leah Exley was a force at the net for Keystone with 12 kills. Sydney Bell pitched in seven kills for the Panthers, who also served well.
Natalie Bowser had five aces.
"You know, there was nothing for either team to be ashamed of," Anderson said. "If we would have come out losing, they still had nothing to hang their heads about. They left it all out there — so did Keystone. From the beginning to the end, both teams played excellent and really gave a good game to watch. I couldn't have asked for a better match in the home opener."
Mong doesn't expect the loss to dampen his team's expectations for the season.
"They went in with very high hopes to win and, obviously, they're disappointed," Mong said. "Maybe with the practice they had tonight, they'll come out with a chip on their shoulder."

Redbank Valley, Keystone, and Union/A-C Valley sports coverage on Explore and D9Sports.com is brought to you by Heeter Lumber.